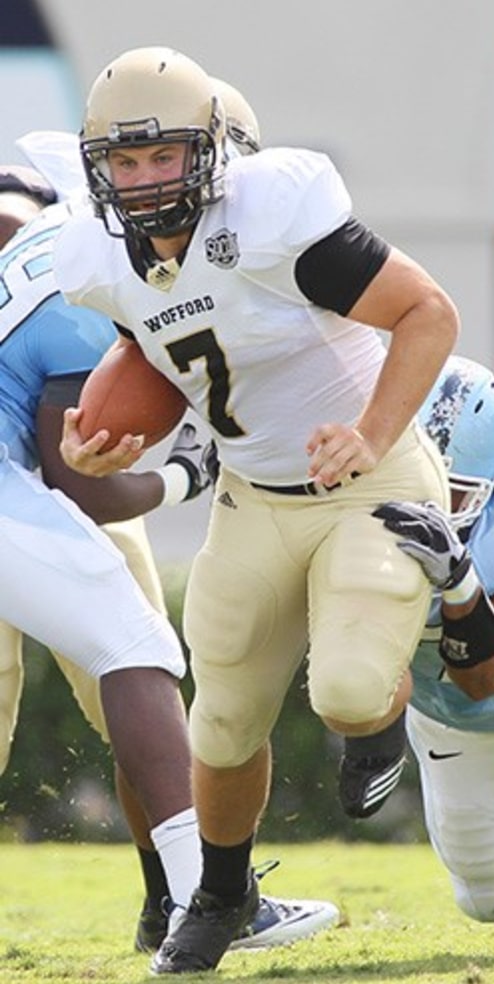 Last Updated on June 6, 2023 9:34 am
Watauga County native, former Watauga High football standout and record-setting Wofford career rushing leader Eric Breitenstein has been named to the 2024 College Football Hall of Fame ballot.
He is among the 101 Divisional Player Candidates up for consideration.
At Watauga, Breitenstein was a four-year letterman, lead the Pioneers to a conference championship and runner up in the western finals during his final season. His number 2 jersey was retired at Watauga in 2013.
At Wofford his impressive list of accomplishments include:
First-team All-American in each of his final three seasons
Finished his career as Wofford's career rushing leader with 5,734 yards, a mark that ranks second in SoCon history
Set the SoCon's single-game rushing mark with 321 yards in a win over Elon in 2012 and surpassed his own single-season school record with 2,035 rushing yards that season, second-most in league history.
He first set the school record with 1,639 rushing yards in 2010, finished his career with 32 games with at least 100 yards rushing, including an NCAA-record-tying 11 straight in 2012.
He ranks fifth in SoCon history in career rushing yards per game (114.6) and all-purpose yards (5,843) and is second in career carries with 912.
Is also third in SoCon lore with six 200-yard rushing games, 65 touchdowns scored and 65 rushing touchdowns and is fifth in career scoring (390) and seventh in yards per carry (6.3).
A two-time SoCon Offensive Player of the Year and the 2012-13
SoCon Bob Waters Male Athlete of the Year
Helped the Terriers reach the FCS playoffs and finish in the top 15 in the national rankings in each of his four full seasons.
Was inducted into Wofford's Hall of Fame in 2017 and had his No. 7 jersey retired by the school in 2019.
Becomes just the second Southern Conference Hall of Fame member from Wofford, joining football coach Mike Ayers who was inducted in 2018.
The ballot was emailed Monday to the more than 12,000 NFF members and current Hall of Famers, whose votes will be tabulated and submitted to the NFF's Honors Court, which will deliberate and select the class with the announcement in January 2024.
During the 2024 season, each member of the Hall of Fame Class will be honored on the field at his respective school with an NFF Hall of Fame On-Campus Salute. The formal induction ceremony will follow on Dec. 10, 2024, during the 66th NFF Annual Awards Dinner Presented by Las Vegas.