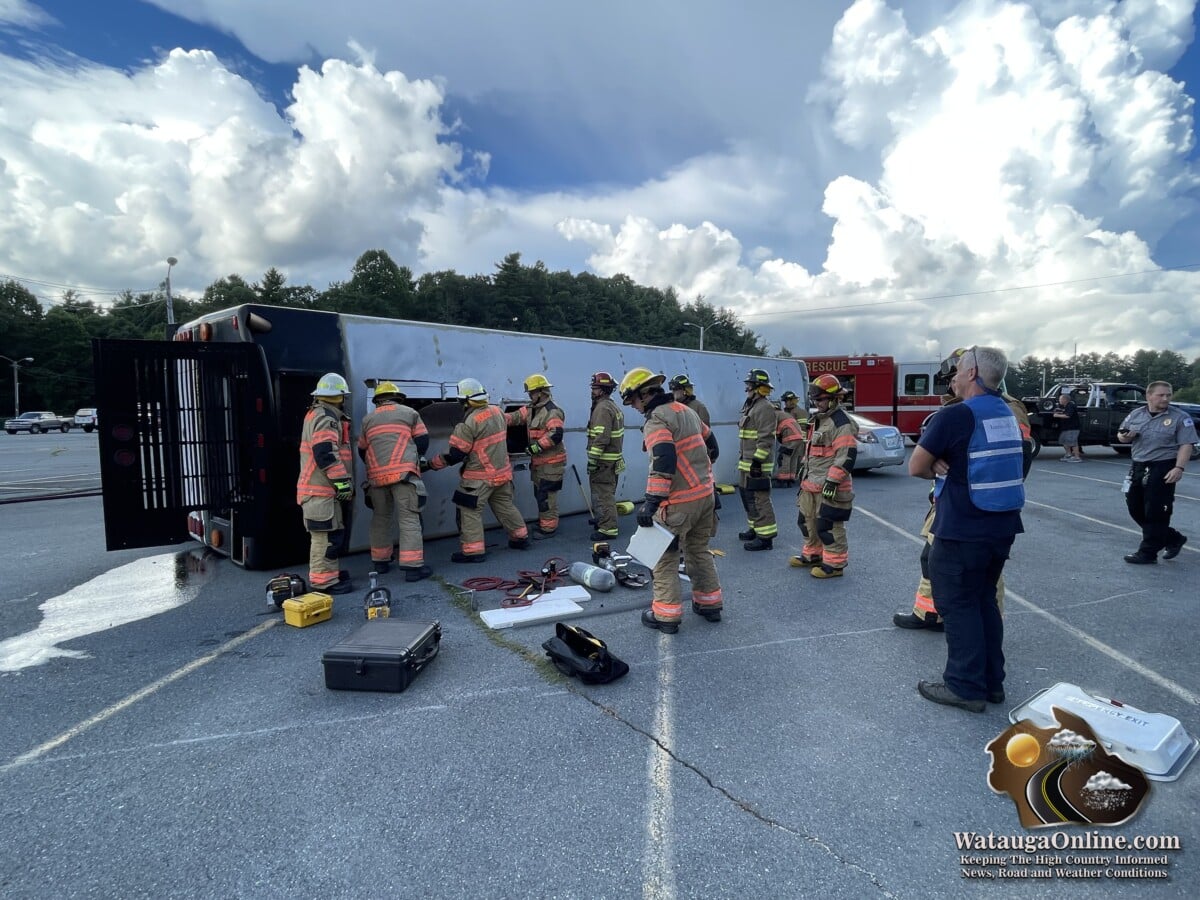 Last Updated on August 11, 2022 12:39 pm
Multiple agencies and departments came together on Monday evening for a unique opportunity to participate in a multi-causality extraction exercise. What made the situation unique was the chance to use an AppalCART bus as the focal point of the drill.
The exercise came to be thanks to a donation of a used bus by AppalCART. Dave Brown, assistant director for AppalCART, said the agency is in the stages of getting an electric bus through grant money from a nationwide Volkeswagon settlement. In order to get the grant money AppalCART had to remove a fuel burning bus from its fleet. Brown reached out to Mike Teague, Assistant Fire Chief with Boone Fire Department, to see if they would like to use the bus to practice extraction efforts.
Teague told WataugaOnline.com that he jumped at the chance, largely in part because buses are hard to come by for that kind of drill. Teague said they have been able to train using a school bus in the past.
To be used in the drill, the AppalCART bus was required for the frame to be cut where it can't be used and a hole drilled in the motor block so the engine couldn't be used.
Teague had the idea that with this rare opportunity to open up the training to all fire departments in the county, and approached Boone Fire Chief Jimmy Isaacs with the idea. Isaacs liked the idea and told Teague to run with it. Teague then reached out to other agencies that do extraction to gauge their interest. When that was well received the idea came up to use "patients" and practice actual extraction. That idea followed into the thought of using medics in the drill Teague said. He noted, "If we were going to extricate patients then why not triage them." The "patients" were the kids, and the friends of those kids, of Watauga Medics Director Craig Sullivan according to Teague.
Another aspect of the drill that was different was the chance to stop and start over if need be. Teague said that generally in a drill, evaluators don't have any input as they just evaluate and then discuss afterwards. Because this was the first chance for several participates to cut on a bus it was a great chance for teaching moments. Teague said the mindset was, "If something is not going right in the middle of it, let's just stop and learn. And that's what we did."
Teague said that every time he reached out to a department or agency about their interest in being involved they were enthusiastic about it. That included officials with Watauga Medical Center and Appalachian State which owns the former Watauga High School property where the drill took place.
Teague also wanted to thank Hampton's Wrecker Service and Body Shop for hauling the AppalCART bus to the drill location, hauling it away afterwards and for providing two other vehicles as part of the drill. "This could not have happen without their help." Teague stated.
Participating agencies where Boone Fire, Cove Creek Fire, Foscoe Fire, Deep Gap Fire, Blowing Rock Fire, Watauga Medics, Watauga Rescue, Watauga Medical Center, Watauga Emergency Management, App State Emergency Management and the American Red Cross
Photos & Videos: Kenneth Reece/WataugaOnline.com