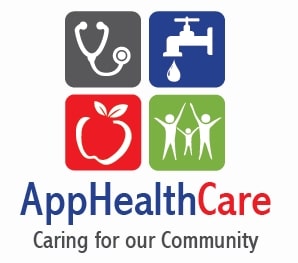 Last Updated on September 14, 2023 8:59 am
As we enter the Fall season, we anticipate an increase in respiratory viruses. Over the past few weeks, we have seen this trend reflected as COVID-19 has been on the rise locally, statewide and nationally. Local public health officials encourage everyone to take actions to protect themselves, family and loved ones this Fall season.
"As we enter the cold and flu season, it is important to take actions to protect ourselves, loved ones and the community. Getting a respiratory virus is no fun, even if you are fortunate enough to have a mild case. We can use the tools we have to protect ourselves, especially if we have health conditions that may make us more likely to have severe illness. Please talk with your healthcare provider, pharmacist, or call our office to make a plan to update your vaccines. They remain our best tool to guard against flu, COVID-19, and RSV" stated Jennifer Greene, Health Director, AppHealthCare.
COVID-19, Flu, and RSV
COVID-19, Flu, and RSV are monitored by key metrics including Emergency Department visits, hospital admissions and wastewater. According to the North Carolina Respiratory Virus Dashboard, increases have been seen statewide in each of these metrics over the past few weeks for COVID-19.
COVID-19 Updated Vaccine
The CDC recommends everyone 6 months and older get an updated COVID-19 vaccine to better protect against currently circulating COVID-19 variants. The recommendation is for both Moderna and Pfizer mRNA vaccines.
According to the CDC, "Vaccination remains the best protection against COVID-19-related hospitalization and death. Vaccination also reduces your chance of suffering the effects of Long COVID, which can develop during or following acute infection and last for an extended duration.  If you have not received a COVID-19 vaccine in the past 2 months, get an updated COVID-19 vaccine to protect yourself this fall and winter."
Since the updated COVID-19 vaccines are newly authorized, please allow time for healthcare facilities to procure the new vaccines. AppHealthCare will offer the updated COVID-19 vaccines by appointment once they are received.
COVID-19 Testing
If you are sick with COVID-19 symptoms, get tested. AppHealthCare offers testing by appointment, call (828) 795-1970 to schedule a sick visit. AppHealthCare has at-home test kits available and free of charge for anyone who wants one (available while supplies last). They can be picked up at AppHealthCare locations. For additional testing options, visit the NC DHHS Find COVID-19 Tests website. To learn more about COVID-19 testing, visit the CDC's website.
Treatment
If you test positive for COVID-19, seek treatment options right away. Treatment works best within the first days of symptoms. According to NC DHHS, "using antiviral treatments reduces the risk of serious illness and preliminary data indicates treatment is associated with reduced risk of developing long-COVID." Talk to your healthcare provider about treatment options that are best for you. If you don't have a regular healthcare provider, there are options for treatment:
AppHealthCare: Call (828) 795-1970 Monday through Friday 8:00am-4:45pm to schedule an appointment
Contact a telemedicine provider who can evaluate you for treatment over the phone. Treatment is available free-of-cost for many eligible individuals, regardless of insurance coverage, and requires just a home or laboratory positive test result. Find out if you qualify for a free Home Test to Treat program.
Flu
Influenza (flu) is measured similarly to COVID-19 by monitoring Emergency Department visits and hospital admissions. So far, trends in flu-like illness presenting to the Emergency Department and/or hospital have remained low. Flu infections are most common from late fall to early spring in North Carolina. Peak activity usually occurs in January or February, although it can happen much earlier, as it did last year. Since it can't be predicted exactly when flu will spike, it is best to be prepared with defenses in place from flu shots.
Vaccine
There are benefits to receiving the flu vaccine each year. According to studies cited by the CDC, flu vaccination can:
Protect people who are at greater risk of becoming seriously ill from flu, like older adults, pregnant women, people with chronic health conditions (including obesity) and young children
Make illness milder and reduce the risk of more serious outcomes
Protect pregnant women and their developing babies
You can get the COVID-19 and flu vaccines at the same visit.
Treatment
Antiviral treatment is available for individuals who test positive for the flu and is prescribed by a healthcare provider. If you're feeling sick, visit a healthcare provider to get tested.
Respiratory syncytial virus (RSV)
RSV is a common respiratory virus that causes cold-like symptoms. Most people can recover from RSV within a week or two but for some at higher risk, it can be a more serious illness. Among others, infants, young children, older adults and those with immunocompromising conditions or chronic illnesses can have more serious illness from RSV.
Vaccine
A vaccine is now authorized for adults aged 60 and older. Talk to a healthcare provider to determine if the vaccine is right for you. This is a relatively new vaccine so not all healthcare providers may have the vaccine now but it should become more readily available.
Two monoclonal antibody products – nirsevimab (Beyfortus) and palivizumab (Synagis) – can help protect babies and young children from severe disease from an RSV infection.
Nirsevimab (Beyfortus) is recommended for all infants younger than 8 months who are born during – or entering – their first RSV season (typically fall through spring). (CDC, 2023)
Palivizumab (Synagis) is limited to children under 24 months of age with certain conditions that place them at high risk for severe RSV disease. It must be given once a month during RSV season. (CDC, 2023)
According to the CDC, "Beyfortus a long-acting monoclonal antibody product, which has been shown to reduce the risk of both hospitalizations and healthcare visits for RSV in infants by about 80 percent."
Take Actions to Stay Healthy and Prevent Illness
Stay home if you're sick and seek medical care for treatment as directed by a healthcare provider
Get vaccines to prevent serious illness, especially if you are at higher risk
Wash your hands regularly
Cover your mouth and nose when you cough or sneeze
Additional Resources
For up-to-date information and data on respiratory virus activity in North Carolina, visit the North Carolina Respiratory Virus Dashboard.
The AppHealthCare Call Center is available Monday through Friday 8:00-4:45pm at (828) 795-1970 to help answer your questions.
AppHealthCare is available and on-call 24/7 to respond to public health emergencies. To reach AppHealthCare, call Watauga (828) 264-4995, Ashe (336) 246-9449, Alleghany (336) 372-5641 anytime and follow the prompts. For more information, visit www.AppHealthCare.com and follow them on Facebook or Twitter.