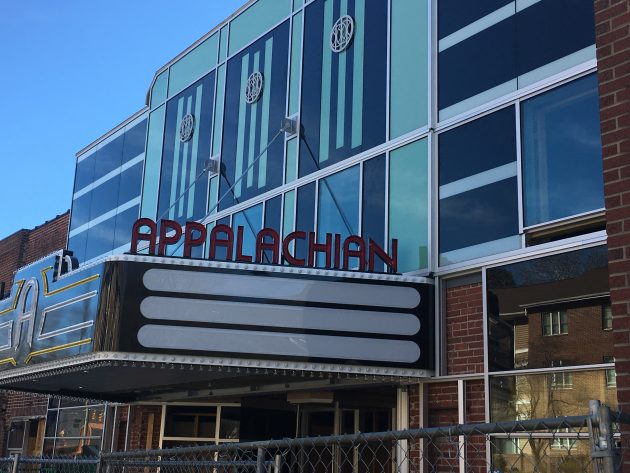 Last Updated on October 2, 2022 1:37 pm
The recently-announced Cinema Classic Sci-Fi Film Series at the Appalachian
Theatre of the High Country will screen its first film at 7 p.m. on Tuesday, October 4 with a
modern cult classic that celebrates several beloved film genres.
"Little Shop of Horrors" is a horror musical comedy film directed by Frank Oz, who began his
career as a master puppeteer. Oz created, voiced, and played Muppet characters Miss Piggy,
Fozzie Bear, Animal, and Sam Eagle in "The Muppet Show," and Cookie Monster, Bert, and
Grover in "Sesame Street." He also puppeteered and provided the voice for Yoda in the "Star
Wars" film series.
The film has a family-friendly start time of 7 p.m. with a budget-conscious general admission
ticket price of just $5 per person. The running time for "Little Shop of Horrors" is one hour and
34 minutes.
The Cinema Classic Sci-Fi Film Series is generously sponsored by Nancy and Neil Schaffel
and consists of four movies suggested by audience members and the general public. The other
films on the series are "Invasion of the Body Snatchers" on October 11, Stanley Kubrick's
epic "2001: A Space Odyssey" on October 18, and "Close Encounters of the Third Kind"
on October 30.
While the App Theatre's online ticketing system is accessible 24/7, customers can avoid the
online service fees by visiting the lobby box office between 11 a.m. and 3 p.m. from Tuesday
through Friday, or one hour prior to showtime for each film. For a complete performance
schedule of all upcoming events, or to sign up for the theatre's e-blast distribution list, visit the
organization's website at www.apptheatre.org
---
The Appalachian Theatre of the High Country has announced two additional
artists to their Fall 2022 concert series with live appearances scheduled at the historic
venue in downtown Boone, NC. Popular guitar legend Tommy Emmanuel, C.G.P. will
perform on Friday, October 7 and "Folk Music's Rustic Renaissance Man" John
McCutcheon will take to the stage at the historic venue on Friday, October 21.
---
Bluegrass virtuosos Molly Tuttle & Golden Highway will make their long-awaited App
Theatre debut on Sunday, November 13 with country and Americana singer-songwriter
Jim Lauderdale appearing in concert on Friday, November 18, 2022.
---
The Tommy Emmanuel concert is part of the recently-announced Mast Store
Americana Music Series on the Doc Watson Stage of the Appalachian Theatre. This
series is intended to be an ongoing, year-round program of artists and events celebrating
the genre unique to our country.

The "C.G.P." after Emmanuel's name stands for "Certified Guitar Player." This designation
assigned by the late Chet Atkins recognizes guitar players who excel far beyond the
normal line of playing. Atkins handed this title to only to four guitar players in his lifetime,
with the first one presented to Emmanuel.
The first quality that defines Emmanuel's greatness and is mentioned anytime you talk to
his legions of fans, whether musicians or civilians, is his extraordinary guitar playing.
Considered by those in the know to be among this planet's greatest guitarists, his playing
is simply miraculous, as it would take three musicians, or more, to do what Emmanuel
does solo. Who else, for example, when playing "Day Tripper," can lay down the rhythm
part, dig into the riff, and sing the melody all at once on just one acoustic guitar?

---
Folk legend Pete Seeger said, "John McCutcheon is not only one of the best musicians
in the USA, but also a great singer, songwriter, and song leader. And not just incidentally,
he is committed to helping hard-working people everywhere to organize and push this
world in a better direction."

For over 50 years, "Folk Music's Rustic Renaissance Man" (Washington Post) has been
everywhere in the folk music scene. He is a breath-taking multi-instrumentalist, a
traditional music archivist, one of the primary revivalists of the hammer dulcimer, a
pioneering children's and family artist, a prolific and wide-ranging songwriter, and the
very definition of the touring Road Warrior.

John's craftmanship began at an early age. No one remembers when the neighbors
started calling the McCutcheon household to complain about the loud singing from young
John's bedroom. It didn't seem to do much good, though. For, after a shaky, lopsided
battle between piano lessons and baseball (he was a mediocre pianist and an all-star
catcher), he had "found his voice" thanks to a cheap mail-order guitar and a used book
of chords.
---
Molly Tuttle & Golden Highway and her brand-new band of bluegrass virtuosos
featuring mandolinist Dominick Leslie, banjoist Kyle Tuttle, fiddle player Bronwyn Keith-
Hynes, and bassist Shelby Means, are touring the United States in 2022 in support of
Tuttle's forthcoming Nonesuch Records debut.
Tuttle, a native Californian and award-winning guitarist and songwriter, continues to push
her songwriting in new directions and transcend musical boundaries. Since moving to
Nashville in 2015, she has worked with many of her peers and heroes in the Americana,
folk, and bluegrass communities, and won Instrumentalist of the Year at the 2018
Americana Music Awards.
Her 2019 debut album, "When You're Ready," received critical acclaim, with NPR Music
praising its "handsomely crafted melodies that gently insinuate themselves into the
memory," and the Wall Street Journal lauding Tuttle's "genre-boundary-crossing comfort
and emotional preparedness," calling the record an "invigorating, mature and attentiongrabbing
first album."
Tuttle's accolades also include Folk Alliance International's honor for Song of the Year for
"You Didn't Call My Name," from her 2017 Rise EP, and consecutive trophies for the
International Bluegrass Music Association's Guitar Player of the Year. She was the first
woman in the history of the IBMA to win that honor.

At any given time, you're likely to find Jim Lauderdale making music, whether he's
laying down a new track in the studio or working through a spontaneous melody at his
home in Nashville. And if he's not actively crafting new music, he's certainly thinking
about it.

"It's a constant challenge to try to keep making better and better records, write better
and better songs. I still always feel like I'm a developing artist," Lauderdale says. This
may be a surprising sentiment from a man who's won two Grammys, released 34 fulllength
albums, and taken home the Americana Music Association's coveted Wagonmaster
Award. But his forthcoming album "Game Changer" is convincing evidence that the North
Carolina native is only continuing to hone his craft.

Operating under his own label, Sky Crunch Records, for the first time since 2016,
Lauderdale recorded "Game Changer" at the renowned Blackbird Studios in Nashville, coproducing
the release with Jay Weaver and pulling from songs he'd written over the last
several years. "There's a mixture on this record of uplifting songs and, at the same time,
songs of heartbreak and despair—because that's part of life as well," he says. "In the
country song world especially, that's always been part of it. That's real life."

All seats for Molly Tuttle & Golden Highway are $30. Ticket prices for Jim
Lauderdale are $20 for advance pre-sale purchase and $25 on the day of the show. For
tickets and more information on all events, or to join the theatre's eblast list and purchase
memberships, please visit the ATHC website at www.apptheatre.org.