Last Updated on February 5, 2018 6:06 pm
A local 911 director and local 911 dispatcher are among the first graduates of North Carolina's new Public Safety Answering Point (PSAP) Manager Certification Program.
Kevin Hardy, Director of Communications for Boone Police Department, and Bridget Klein, a Senior Telecommunicator with Town of Boone, were among the 28 graduates presented their certificates at the North Carolina 911 Board's monthly meeting on Friday January 26, 2018.
The PSAP Manager Certification Program consists of five classes, each taking five weeks to complete. Students cover the history of the 911 system and the NC 911 Board, budgeting, finance, human relations, operations and technology, at absolutely no cost to students. This effort was a result of requests from PSAP managers across the state for specific training about North Carolina's 911 system and state laws.
Dana Crawford, Chief of  Boone Police, said "I am very proud of Kevin and Bridget for completing this senior management program.  This being the inaugural certification course shows their commitment to learning new methods and technology.  This is another example of how our employees have dedicated themselves to providing excellent quality service to the citizens of the Town of Boone".  
"This has been a great collaborative effort between the North Carolina 911 Board and the North Carolina Community College System to fill an educational void had by the men and women in charge of our 911 centers," said Richard Taylor, Executive Director of the NC 911 Board.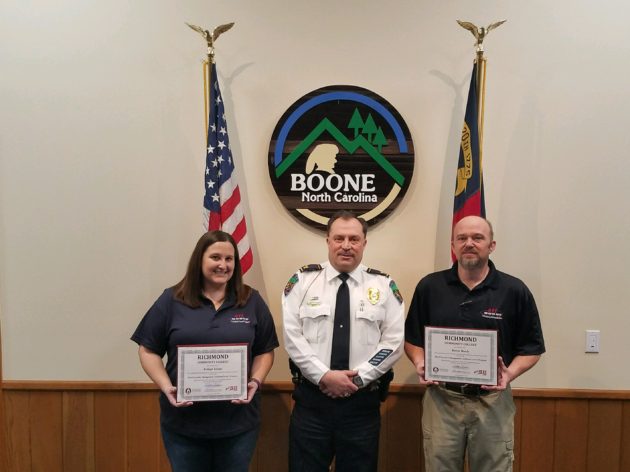 Graduates from other areas are:
Christi Colbert-Yadkin County
Stephanie Conner – Surry County
Allen Cress – Rowan County
William Gibbs – Lincoln County
Ronald Hall – Stokes County
Wanda Hall – Jackson County
Monica Howard – City of Havelock
James Lambert – Gaston County
James McGuinn – Polk County
Marty McGuinn – Polk County
Tricia McKnight – Hoke County
Tobie McPherson – Pasquotank County
Allen Moore – City of Rocky Mount
Chanda Morgan – Haywood County
Tammy Myers – Davie County
Teresa Ogle – Madison County
Laura Piche – Orange County
Rodney Pierce – Davie County
Valecia Pike – Columbus County
Ronald Rombs – Lincoln County
Myron Shelor – Gaston County
William Smith – Richmond County
Misty Tabor – Swain County
Mark Von Behren – City of New Bern
Nancy Williams – City of High Point