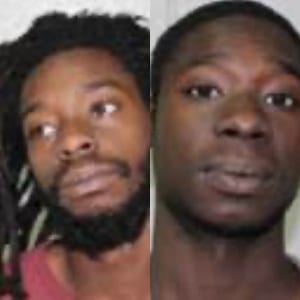 Last Updated on October 24, 2022 12:47 pm
The Watauga County Sherriff's Office (WCSO) has arrested two men after break-ins at two local stores.
On October 17, 2022 at around 12:47 am deputies responded to a commercial burglar alarm at the Cove Creek Store on Hwy 321 North, according to a WCSO report.

A white pickup truck was seen leaving the scene.
Deputies stopped a white pickup truck that was seen leaving the scene and began an investigation, which led to the arrest of Jarvis Devante Carter age 28 and Demarko Montel Carter age 24, both of Deland Florida.
The store had been broken into and money was taken and an ATM was damaged in an attempt to remove it from the store and access its contents, according to the report. It was also discovered that a vehicle parked nearby had been broken into as well.

Both face charges of: Felony Breaking/entering, Breaking/entering a motor vehicle, Larceny after Breaking and Entering, Misdemeanor Larceny.

A similar robbery occurred on September 23rd 2022 at the Valley Pantry in Zionville, according to WCSO. Similarly, an ATM machine was removed from the store.
As a result of that investigation and video images, Jarvis Devante Carter has been charged with Breaking and entering and larceny and possession of burglary tools, from the Valley Pantry incident as well.