Last Updated on February 12, 2022 6:28 pm
4:30am – many roads in Watauga are reported slick as sleet fell overnight. In the 4am hour the sleet has changed to rain with temps above freezing, however freezing rain is in the forecast for this morning.
4:30am – getting a lot of reports of power out around Boone. 5,221 in the Blue Ridge EMC member area also out
Widespread outages in Watauga at 4:42am – http://bremco.maps.sienatech.com/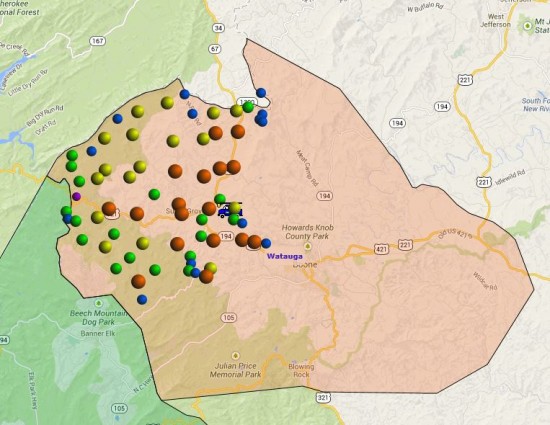 Watauga, Ashe, Avery schools all on two hour delay – http://wataugaroads.com/closingscancellations/
5:21am – temps in Boone have bounced up to 38 at 5am from 32 at 2am
5:25am – Foscoe Fire Dept reports roads are good in Valle Crucis with melting occurring with the bump up in temps in the last few hours
5:32am – widespread power outages continue – 5,226 in Blue Ridge EMC member area
Winter Storm Watch from 11/27/2013 12:00 AM to 11/28/2013 1:00 AM EST for Ashe County, Watauga County. http://1.usa.gov/1bRx8wF
5:53am – no reported road issues have been reported, mainly due to the increase in temps. Power outages still the main problem.
6am – still no reported road issues with the increase in temps over the last few hours and that's a great thing considering the power outage situation. 5,226 in Blue Ridge EMC member area still without.
6:18am – an official with New River Light & Power says that a transmission circuit broke on BREMCO's transmission effecting NRLP customers. Approximately 500 customers still out on the south west side of the NRLP service area (oak Grove Substation) hopefully will be back on within the hour.
7am – due to the warm temps there are no road related items at the present time. For power updates check this link – http://wataugaroads.com/widespread-power-outages-tuesday-nov-26/
1:30pm – High Wind Warning 4pm-midnight, Winter Storm Watch late today-late Wednesday, Flood Watch through late tonight. Heavy rains continue this afternoon
2:21pm – Expect delays on 321 at Bethel Road due to a tractor & trailer on fire. Fire Dept heading to the scene.
3:16pm – Watauga is now under – Winter Storm Warning from midnight tonight-6pm Wednesday, High Wind Warning until midnight, Flood Watch thru late tonight