Last Updated on November 18, 2014 4:45 am
4:43am – Snow covered and slick conditions all across the county, including the main routes per incoming reports. Wind chills have dipped down to -8 in Boone this morning. Blowing snow also causing visibility problems.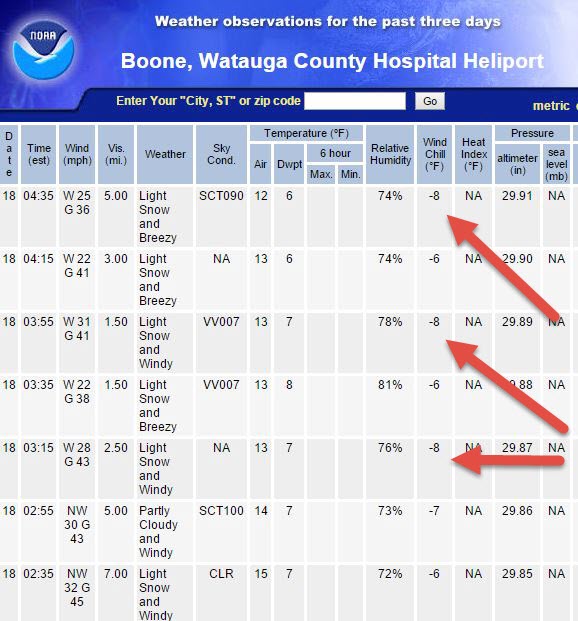 US HWY 321 S at Fairway Dr. pic.twitter.com/QKzUlyddoh

— WataugaCommCenter (@WataugaCommCent) November 18, 2014
HWY 105 Extension near State Farm Rd pic.twitter.com/JBvuEPPhiK — WataugaCommCenter (@WataugaCommCent) November 18, 2014
1 degree on Grandfather Mountain with a wind chill of -26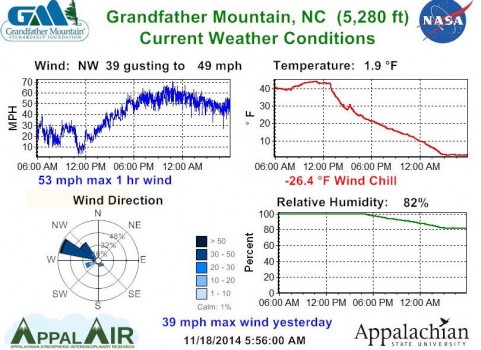 6am – Main roads continue to be snow covered and slick per incoming reports. Blowing snow also continues to be an issue with winds gusting to over 40 mph this morning.
US Highway 421 north looks very good between hill top and the bottom of the mountain

— WataugaCommCenter (@WataugaCommCent) November 18, 2014
6:35am – Not hearing of any accidents via scanner. A sign that drivers are being careful or staying home for now. Plenty of slick spots in the county but travel appears to be going pretty smooth. Blowing snow, high winds and bitterly cold temps are the main storylines this morning. Be safe and allow extra travel time.
From Watauga County Schools Superintendent Dr. Scott Elliott
This is pretty typical of the roads I checked this morning. Be safe out there! pic.twitter.com/QYOYL0vYKN

— Scott Elliott (@scottelliott_nc) November 18, 2014
84% of the US below freezing this morning. Coldest November morning since 1976. Graphic : Weather Bell

8am – Roads have improved with DOT working on them this morning. Shouldn't have any problems on main roads, still slick areas so use caution. Secondary and gravel roads are more problematic than main roads per incoming reports. Below zero wind chills will still be a factor this morning, along with gusts up to 45 mph all day. Winter Weather Advisory still in effect until 12noon.
8:23am – If you're traveling old 421 be aware of a mini slide near Sherwood. Report says it's not in the road but looks like it could at any moment.