Last Updated on October 2, 2022 5:50 pm
5:11am – getting the first report of light snow in the area (Valle Crucis).
5:16am- Snow starting to stick to side roads and parking lots on 105/105 extension. Cars are covered per incoming report.
5:51am – more reports of falling snow continue to come in, blowing snow also creating some visibility problems per a report from Facebook.
Snow in Boone just before 6am

6:20am – still not getting any reports or hearing scanner information of any accidents or delays due to the snow yet.
6:26am – from a report via facebook "Just came from Boone to Wilkes on 421north snowing pretty good until lewis fork but roads are just wet just sticking to sides and grassy areas."
6:36am – from a report via facebook "421 from Food Lion to Bamboo is wet but getting slushy in spots. Bamboo to Wilson Ridge has snow covered spots. Wilson Ridge to Deerfield is getting snow covered. Caution advised for two-wheel drive. Deerfield to Bamboo to Boone International Airport is snow covered."
6:55am – from a facebook report "Use caution if traveling the beginning of the two lane into Blowing Rock from BlackBerry Road to Boone. Roads have not been plowed or treated. Boone looks better."
7:30am – snow continues to fall and still getting reports of some snow covered roads. Not hearing of any major delays or accidents at this time.
7:41am – getting reports of wreck on 221 going towards Boone with a lot of traffic back up both ways and traffic at a stop on 321 out of Blowing Rock.
8am – getting more reports that 321 out of Blowing Rock heading into Caldwell is basically a parking lot due to some vehicles off the road.
8:30am – have not received any update info about 321 heading to Caldwell. No reports of other problem areas are coming in currently.
8:47am – Both lanes 321 on the move now south of Blowing Rock. Some minor stop and go congestion.
Photos from highway 321 this morning. Photos: Samantha Fuentes-Farris
1033 AM EDT TUE MAR 25 2014
THE FOLLOWING ARE UNOFFICIAL OBSERVATIONS TAKEN DURING THE PAST 6
HOURS FOR THE SNOW THAT HAS BEEN AFFECTING OUR REGION. APPRECIATION
IS EXTENDED TO THOSE WHO PROVIDED REPORTS. THIS SUMMARY IS ALSO
AVAILABLE ON OUR HOME PAGE AT WEATHER.GOV/BLACKSBURG.
********************STORM TOTAL SNOWFALL********************
LOCATION STORM TOTAL TIME/DATE COMMENTS
SNOWFALL OF
/INCHES/ MEASUREMENT
NORTH CAROLINA
…ALLEGHANY COUNTY…
ROARING GAP 3.8 1001 AM 3/25 PUBLIC
3 ENE GLADE VALLEY 2.3 800 AM 3/25 COCORAHS
…ASHE COUNTY…
6 NW LANSING 3.0 800 AM 3/25 COCORAHS
1 ESE WEST JEFFERSON 1.7 900 AM 3/25 TRAINED SPOTTER
3 ESE JEFFERSON 1.2 830 AM 3/25 COCORAHS
…WATAUGA COUNTY…
3 ENE BLOWING ROCK 3.5 900 AM 3/25 COCORAHS
4 NE BLOWING ROCK 2.8 700 AM 3/25 COCORAHS
VALLE CRUCIS 2.5 835 AM 3/25 TRAINED SPOTTER
1 WSW FOSCOE 2.1 700 AM 3/25 COCORAHS
ZIONVILLE 2.0 925 AM 3/25 PUBLIC
1 SE BEECH MOUNTAIN 1.7 600 AM 3/25 COCORAHS
RUTHERWOOD 1.3 627 AM 3/25 OTHER FEDERAL
BOONE 0.7 700 AM 3/25 CO-OP OBSERVER
4pm – white out in Boone
4pm at Tynecastle on 105 in Avery County.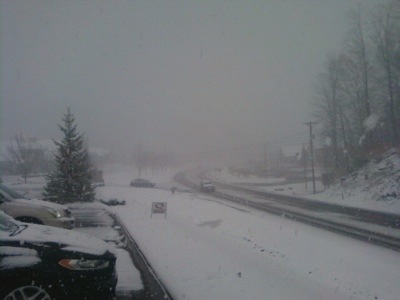 4:43pm – white out conditions have subsided. No reported travel issues or accidents currently.
5:30pm – 4 car wreck on 421 at Pine Run Road. EMS enroute, expect big delays in that area. Reported southbound lanes per scanner.
5:51pm – getting a report that 105 between 7 Devils and Invershiel is shut down for the time being.
6:34pm – getting a report that 105 is back open between Seven Devils and Invershiel in Foscoe.
7:24pm – Fire Department clear of multiple wreck scene at 421/Pine Run Road.
7:33pm from Watauga County dispatch – Accidents on 1200 block Poplar Grove Rd, NC Hwy 105 Bypass at Hodges Gap Rd, Russ Cornett at Poplar Grove Rd. Poles are down on Meat Camp Rd near Calvin Byers Rd (Phone) and Hodges Gap Rd at George Wilson Rd (power).