Last Updated on January 20, 2014 9:12 pm
*Updated weather and road conditions will be posted here throughout the day*
6am – snow still expected to begin between 8-9am with the heaviest starting around midday or slightly after.
6:18am – getting report of sleet in Vilas/Silverstone area. Few scattered flurries being reported in far western Watauga County.
7:20am – nothing new to pass along currently. Along with the snow arriving later this morning will be much colder temps dropping into the 20s today,wind chills as low as 15 below tonight.
Possible flagging ops/lane closures on 321 in Blowing Rock today south of GreenParkInn, weather permitting. Call 828-964-3260 for info.
Lane closure on 321 in Blowing Rock today at Cliff Dwellers Inn, expect delays. Call 828-964-3260 for info.
10am – light flurries again in the western part of Watauga, and a report of some very light snow around Blowing Rock
Light snow showing up on radar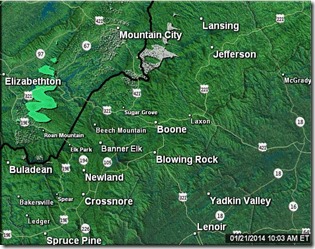 10:34am – more reports of big snow flurries now in Valle Crucis, Zionville, Banner Elk
10:48pm – the western portion of Watauga seeing steady snowfall currently while the eastern side still has some reports of blue skies
Meat Camp at 11am. Photo: Kari Nathan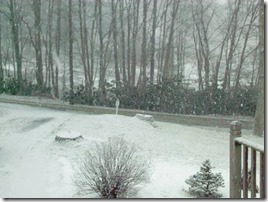 Remember that wind chills are forecast to be well below zero for tonight and tomorrow: Preventing and Thawing Frozen Pipes –http://wataugaroads.com/preventing-thawing-frozen-pipes/
11:56am – very heavy sleet around Valle Crucis
12noon – still not enough snow to have an impact on travel yet as it continues to melt for the most part after each wave. That is forecast to change this afternoon.
12:20pm – and now the wettest snow of the day is falling in the western & southern end of the county
around 12:30pm in Boone. Photo:Amalia Yosefa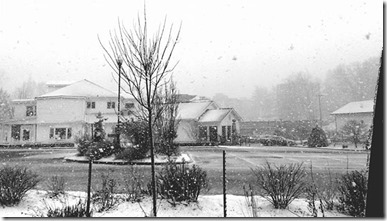 The difference in Banner Elk and Boone at 12:53pm – http://wataugaroads.com/cams/
Just across the stateline in Doe TN. Photo:Melissa Dyson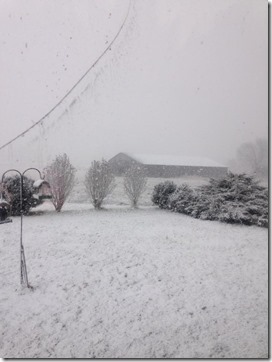 1:38pm – delays on Old highway 421 near Mabel Baptist Church due to a roll over wreck. Road is slick per scanner report. Use caution on any area roads especially in the western part of the county.
3pm – getting reports that Tynecastle  area of 105 just inside the Avery County line and 105 in Foscoe is slick.
3:27pm: Watauga Sheriff's officers report secondary roads off of 321 North are snow covered and slippery.Officers report 321 N at county line is snow covered.
4:17pm via email – "105 on the Watauga/Avery line is extremely slick and covered in snow. There are a few people stuck going up the mountain. Advise people not to travel Boone."
4:18pm – Accident 321 south just out side Blowing Rock near water Plant. Emergency vehicles on scene.
4:22pm – near white out in Banner Elk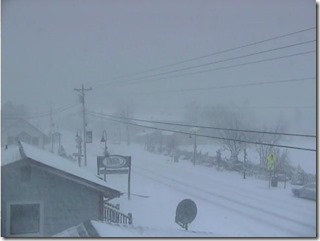 Be careful on the roads this afternoon and evening. Flipped car in Blowing Rock on hwy 321 taken at 4:15 pm. No apparent injuries according to the photographer Tamieka Roy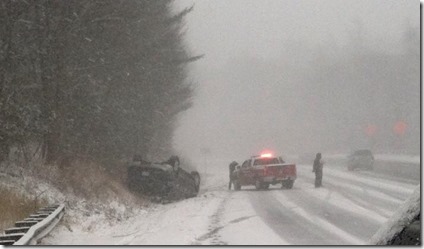 4:43pm – wrecked car on Fallview Lane going into cottages of Boone and Accident 105 S at Bairds Creek Rd and Accident 800 block Old US Hwy 421 Zionville.
5pm – Too many wrecks to be able to report them all currently. If you must travel use caution and slow down, travel is not advised
5:45pm – still so many wrecks in Boone and mainly the western and southern parts of Watauga. Travel is not advised but if you have to slow down. Also don't forget wind chills well below zero tonight and tomorrow, make sure to leave little water dripping to avoid frozen pipes tonight.
From the top of the AppState library parking deck tonight. Photo: Leander Hutton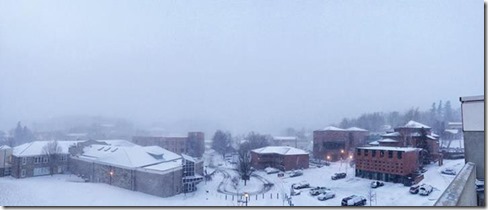 6:31pm – the number of wrecks have decreased dramatically, at least per scanner communications. However there are still many snow covered roads so travel with caution. Also don't forget wind chills well below zero tonight and tomorrow, make sure to leave little water dripping to avoid frozen pipes tonight and bring those pets in.