Last Updated on February 17, 2015 5:32 am
Ice meets Appalachian State. Photo: Charlie Cole.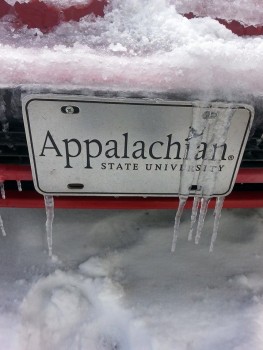 Middle Fork of the New River down to one lane and covered in snow at @faithbridgeumc #blowingrock #snOMG @wxbrad pic.twitter.com/LGqDPGxsZU

— Ben Carson (@BenGCarson) February 17, 2015
Yeah it's cold but at least the sun is out. #boonenc #booneview
11:37am – No reported problems on the main roads at this hour. Secondary roads are still between partially or fully snow covered. Gravel roads are covered.
9:23am – nothing new to pass along in the last hour. Caution is advised traveling, especially on secondary and gravel roads.
8am – main roads continue to improve, secondary and gravel roads still in rough shape per incoming reports.
No construction ops scheduled on 321 in Blowing Rock today due to weather.
7:27am – from the Live Cam page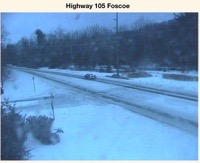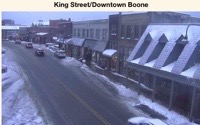 6:59am from Watauga County Communications – "Please make sure that you have your vehicle ready for slippery roads. Mains are in fairly good shape,but secondary and back roads are bad.
421 N from TN line to Boone is in fairly good shape. We are in a good temp range for salt to work. DOT is out in force.
Deputies reporting 421 S in good shape, 194 N and S scraped fairly well. Back roads bad."
6:50am – main roads in Boone have improved but still slick spots per incoming report.
6:26am – no reported power outages in Watauga currently.
6:16am – Broadstone Road through Valle Crucis snow covered but passable per incoming report.
6:09am – Boone to Blowing Rock – Roads are covered but quickly melting because the salt trucks have been busy. Globe Road is covered but has relatively good traction per incoming reports.
5:53am – 105 from Foscoe to Invershield is scraped but slick per incoming report.
5:39am – Over 500 accidents overnight in Watauga according to a WBTV report.
5:30am – all roads across the county are snow covered and slick, according to overnight and early morning incoming reports. The Live Cam page also shows downtown Boone snow covered at this hour.