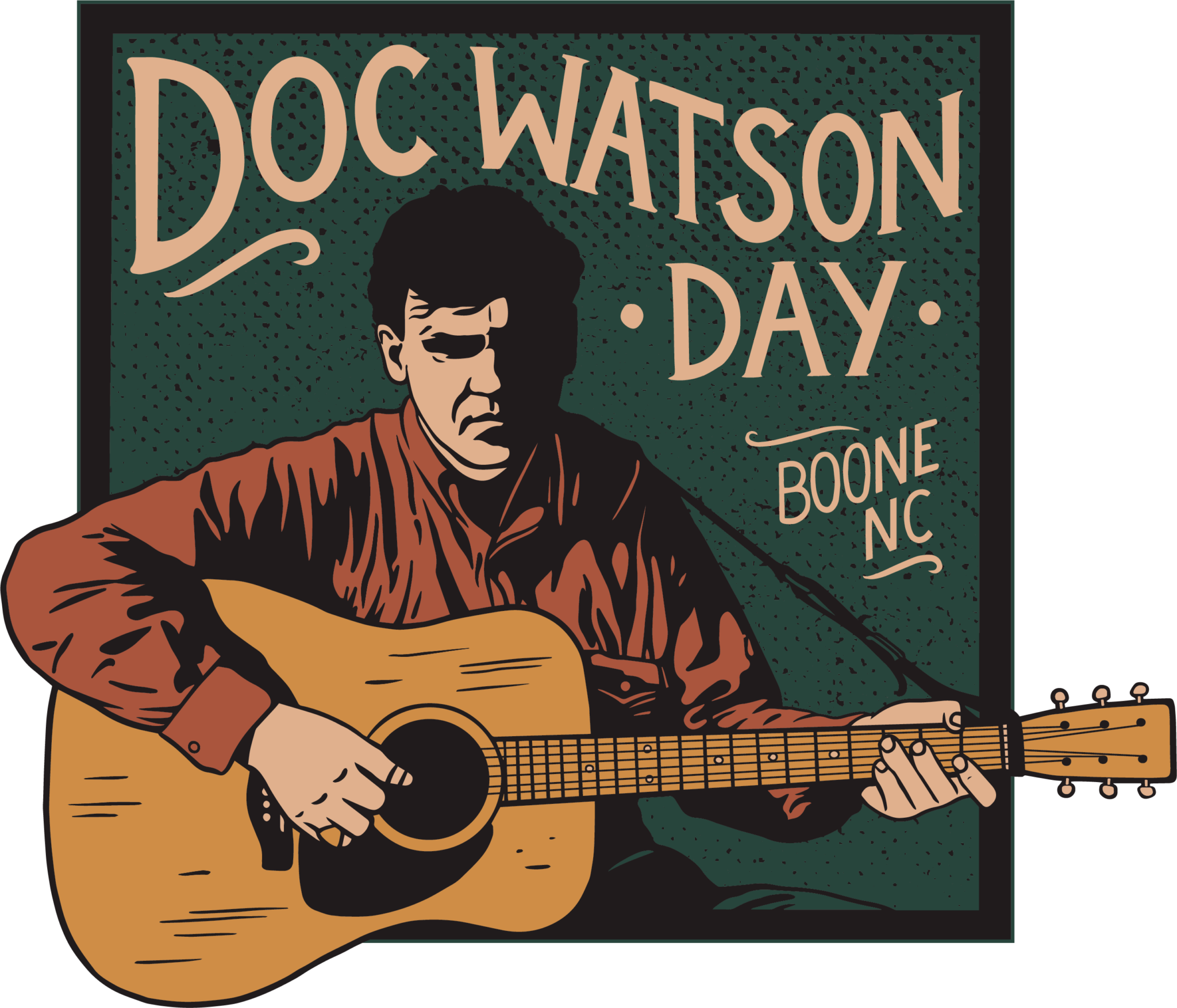 Last Updated on August 14, 2023 8:32 am
Boone, NC – August 9, 2023 – Doc Watson, a legendary 7-time Grammy Award winner, left an indelible mark on the world of music. His residence in Deep Gap and frequent visits to Boone made him an integral part of the community. An inspiration to generations of musicians, his innovative flat-picking style continues to resonate.
Blind since childhood, Doc Watson's legacy goes beyond his musical prowess. He wanted to be remembered as a devoted community member, a loving husband, a cherished father, and a doting grandfather.
Unveiling of a Tribute: On Friday, June 24, 2011, downtown Boone paid homage to this iconic figure with the unveiling of a life-sized bronze statue. Designed by artist Alex Hallmark, the statue stands proudly at the corner of W. King St. and N. Depot St. During the planning, Doc Watson emphasized that the statue should be accompanied by a plaque bearing the words, "Just one of the people."
Annual Celebration: To honor Doc Watson's contributions, the Town of Boone and then-Mayor Loretta Clawson declared Doc Watson Day – an annual town celebration. Since that historic day, the Town of Boone has commemorated his legacy with the highly anticipated Doc Watson Day Concert.
Upcoming Events: Join us in downtown Boone this weekend for a celebration of Doc Watson's life and music. On August 18th at the Jones House, starting at 5:30pm, enjoy a captivating concert featuring storyteller Orville Hicks, the old-time stringband The Mustard Cutters, guitar flat pickers David Grier and Jake Stargel, as well as regional traditional music masters Laura Boosinger and Josh Goforth. Admission is free, and downtown parking meters are free after 5pm. Don't forget to bring your own chairs or blankets to savor the music from the lawn. While alcoholic beverages are permitted for legal-age patrons, open containers are not allowed beyond the Jones House property. Treat yourself to delectable offerings from Boone Dawgs hot dog cart, Little Wing ice cream, and Simple water available on-site.
On Saturday, August 19th, The Appalachian Theatre will host two Doc Watson-themed events. At 11am, join speaker Willard Watson for an enlightening lecture titled "Deciphering Doc Watson", offering a blend of music, film, family anecdotes, and ethnomusicology. Admission to the lecture is free. Later that evening, at 7:30pm, the theatre will resonate with the sounds of the award-winning bluegrass band, Appalachian Road Show, joined by western North Carolina native and flat pick guitar virtuoso, Bryan Sutton. For tickets and more information about Doc Watson Day at the Appalachian Theatre, please visit www.AppTheatre.org.
For more details about the Doc Watson Day events at the Jones House, please visit www.joneshouse.org/docday.