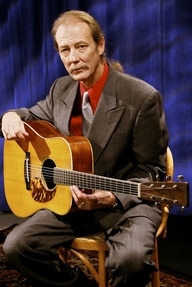 Last Updated on December 29, 2020 12:15 pm
An icon in the bluegrass music industry, David Anthony "Tony" Rice, passed on Christmas Day. Rice, a once frequent performer at MerleFest, had also performed at the former Shadracks in Boone when it was still in operation. Rice was 69 years old.
Ricky Skaggs released this statement on Saturday evening:
Sometime during Christmas morning while making his coffee, our dear friend and guitar hero Tony Rice passed from this life and made his swift journey to his heavenly home. It's still quite a shock to the whole family. After talking with Tony's wife Pam and their daughter India, they asked if I would make a statement on their behalf and give them some privacy to process during this difficult time. I was honored to help out. Tony is also survived by his brothers Wyatt and Ronnie, and all of you who loved his music and those who will continue to share it with others.
Tony Rice was the single most influential acoustic guitar player in the last 50 years. Many if not all of the Bluegrass guitar players of today would say that they cut their teeth on Tony Rice's music. He loved hearing the next generation players play his licks. I think that's where he got most of his joy as a player. With many IBMA Awards and a Grammy Award, Tony was a gracious recipient of the International Bluegrass Music Award's highest honor as an inductee into their Hall Of Fame in 2013.
Not only was Tony a brilliant guitar player but he was also one of the most stylistic lead vocalist in Bluegrass music history. When I joined the group The New South in 1974, I knew I'd found a singing soul mate with Tony. Our voices blended like brothers. In 1980 we recorded the album "Skaggs And Rice" for Sugar Hill as a tribute to our duet hero's with just the simplicity of guitar, mandolin, and our voices. All these years later people tell me how much the purity of that record still touches their heart. That's who Tony was, a singer from the heart.
I will miss him as I'm sure all of you will. But where Tony is right now, he's not missing us. He's in the place that God has prepared for those who love Him and receive Him. Rest In Peace dear brother. Thank you for your great talent and the music that will continue to inspire more and more generations to come.
– Ricky Skaggs