Last Updated on May 15, 2014 4:59 am
4:55am – already getting one report of flooding issues. Hwy 321 from Walgreens to Middle Fork Road flooding already occurring. Water gushing across the road in several places. Use caution this morning.
Radar view just before 5am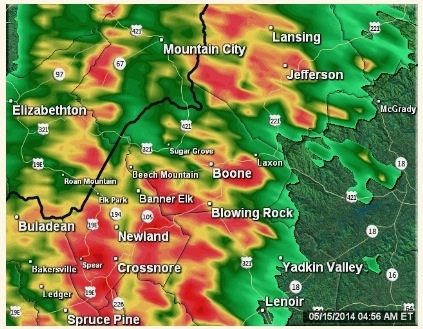 5:06am – also getting a report that 105 has standing water in many places.
* FLASH FLOOD WARNING FOR…
WATAUGA COUNTY IN NORTHWEST NORTH CAROLINA…
ASHE COUNTY IN NORTHWEST NORTH CAROLINA UNTIL 1130 AM EDT
* AT 532 AM EDT…DOPPLER RADAR INDICATED SHOWERS AND ISOLATED
THUNDERSTORMS PRODUCING HEAVY RAIN ACROSS THE WARNED AREA. UP TO
TWO INCHES OF RAIN HAVE ALREADY FALLEN AND ANOTHER 2 INCHES MAY
OCCUR THIS MORNING AS SHOWERS CONTINUE TO TRAIN ACROSS THE REGION.
FLASH FLOODING IS EXPECTED TO BEGIN SHORTLY.
* SOME LOCATIONS THAT WILL EXPERIENCE FLOODING INCLUDE…
BOONE, JEFFERSON, WEST JEFFERSON, BLOWING ROCK AND BEECH MOUNTAIN.
6:13am – nothing new to pass along yet. Use caution on area roads this morning and allow extra travel time.
7am – other than the early morning reports about 321 and 105 have not received any other reports about weather related issues at this time.
10am – so far still no reported weather or road related issues this late morning. For the most part moderate rain continues to fall with pockets of heavy rain. Flash Flood Warning is still in effect until 11:30am. Flash Flood Watch is in effect until Friday morning.
10:41am – Flash Flood Warning is CANCELLED for Watauga & Ashe. Flash Flood Watch remains until Friday morning.
2pm – rain continues across the area but no reported problems since very early this morning. Flood Watch remains through Friday morning.
4pm – heavier bands of rain across the county but still no reported problems or issues.
4:35pm – getting a report that a Fedex truck is on it's side at the corner of 105 near Peabody's. May be some delays in that area.
4:43pm – Bamboo Road Road near Brook Hollow Road in Boone. Traffic moving slow due to water on the road. Photo: Juliana Harrison