Last Updated on January 17, 2013 5:55 am
*reports from the facebook & twitter pages, along with text messages and emails coming in*
6am – Heavy rain continues in the area this morning. The change over to snow is still expected later this morning.
Winter Storm Warning in effect starting at noon to 1am Friday (5-9 inches possible), Flood Watch still up until noon.
REMINDER – Take time to prepare for possible power outages. Wind gusts up to 35mph are forecast along with the heavy wet snow. As wet as the ground is that could spell trouble for trees and power lines.
Still just a cold moderate to heavy rain in the area – 8:15am
NWS Update at 8:30am
Avery County Schools will close at 11 a.m. Thursday
Watauga County Schools will dismiss at 11:30am, High School at noon.
11:33am – The Flood Watch is still up until noon then a Winter Storm Warning goes in effect until 1am Friday.
NWS graphic of the possibility of at least 4 inches of snow through Friday.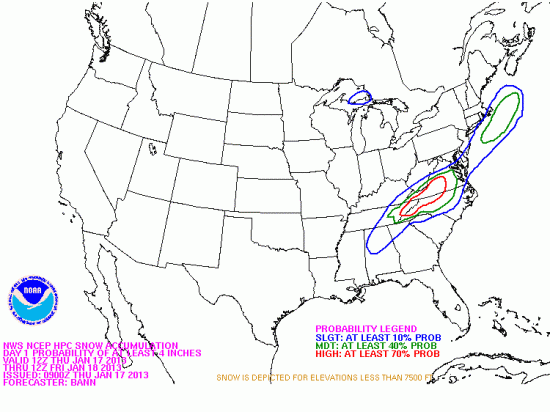 11:58AM – Ashe County schools dismissing early: elementary schools at 1:15, middle school at 1:30, high school at 1:45pm.
12noon – Winter Storm Warning now in effect until 1am Friday
12:35pm – no snow in the area yet, still just heavy rain
12:48pm – Reports of sleet/rain in Sugar Grove
1pm – Brad Panovich says heavy snow will be developing in the mountains very shortly.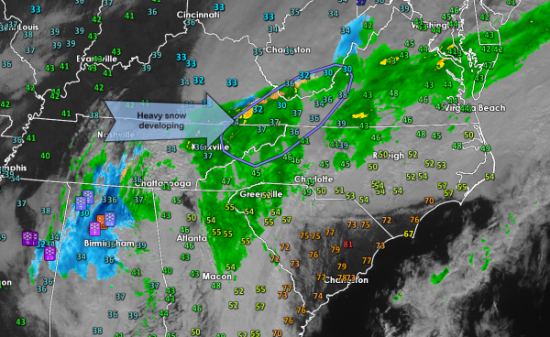 1:09pm – Mixture of heavy rain and sleet/snow in Meat Camp right now
1:44pm – temp has dropped to 32 at Ashe County Airport. 40 in Boone
2pm – Blue Ridge Electric On High Alert – http://wataugaroads.com/blue-ridge-electric-on-high-alert/
2pm – here we go with the temp drop – temps have hit 38 in Boone, 10 degree drop from the high at midnight. 32 at Ashe County Airport
2:27pm – Just turned to snow in Beaver Dam on Stone Mountain
2:28pm – parts of Mountain City TN, and at the state line reporting snow now
2:30pm – huge flakes on Beech Mountain per their fb page
2:34pm – some fb reports of power flickers around Blowing Rock
3pm – snow/sleet/rain/mix: that's situation depending on where you are. Snow reports from TN and near the TN line started around 2:30pm, Ashe County also reporting snow fall in some locations.
via twitter – Rain just changed to a rain/sleet mix on top of App Ski Mountain. (3:05 pm)
3:16pm – lots of reports coming in of big flakes on Rich Mtn, Howard's Creek, Matney.
3:20pm – Here we go! For those wondering where the snow was. BIG flakes coming down all across the county.
from our fb page "half dollar size flakes up rich mountain"
4pm – heavy snow falling in the northern and western parts of the county.
4pm – snow in Valle Crucis, Castle Ford, Sugar Grove. rain in Blowing Rock
4:07pm – from our fb page – Pouring snow in Zionville. Ground nearly covered. Slush on the roads.
4:10pm in Valle Crucis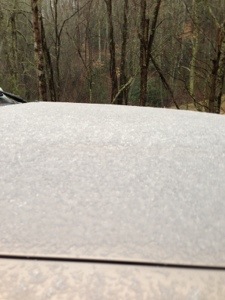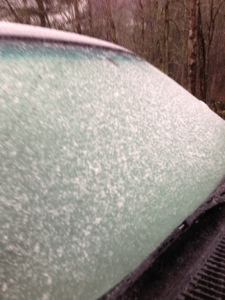 Banner Elk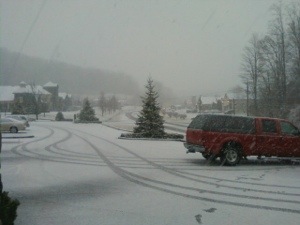 105bypass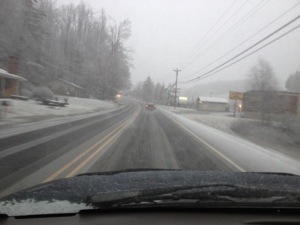 Here are some of the fb reports coming in just before 5pm:
Very nasty at TN/NC state line. Trade is bad, in Mtn City now and roads are covered here as well.
Roads in Newland getting slick ground is covered with snow
Bad on old 421 in Vilas and getting worse by the minute
Valle Crucis roads are covered.
5:11pm – roads across the area are snow covered with most slick already. Use caution if you are out tonight.
More reports from the facebook page just before 5:30pm:
105 rock crusher hill is BAD!!
Slow moving on 221 in fleetwood
421 after new market starts to get sketchy
Slushy and slippery on 421 into Deep Gap.
105 is terrible right before Tynecastle cars stuck on the side of the road.
Reports since 5:30pm from the facebook page:
421 from Boone all the way to the Tennessee state line are covered in slick slush
Seven Devils and Junalaska Roads have cars blocking them due to wrecks.
Beech Mountain is slick
Highway 105 at the Avery/Watauga line is completely snow covered. Lots of cars off the side of the road there. Would not attempt without 4 wheel drive.
via twitter – moving at 5 mph down 421 to Vilas. Backup of traffic starts before Hilltop. Slushy and slick.
Snow covered and bad on Highway 194 N and Bill Hill Road
AppalCart has announced that their routes will be closing at 7 p.m. on Jan. 17.
6:16pm – just got a report of thunder snow in Valle Crucis
6:30pm – Roads are BAD BAD BAD AND BAD to say the least. Numerous wrecks across the county per fb, twitter comments and scanner reports.
Some of the reports coming in at 6:30pm
321 between Blowingrock and Boone is a mess less than 20 mph visibility very low
several cars stuck coming up hill on 105 above rock quarry USE CAUTION in area
6:45pm – Power out in Banner Elk near LeesMcRae College
6:49pm – Power outages: Watauga 22, Caldwell 9, Ashe 402, Alexander 0, Alleghany 27, Avery 0, Wilkes 1
6:56pm – scanner report of at several vehicles off the road at 321/Rominger Road including two tractor and trailers.
7:15pm – officials are trying to get a tractor and trailer backed down 105 on Foscoe Mountain.
7:20pm – Power outages: Watauga 70, Caldwell 38, Ashe 519, Alexander 0, Alleghany 27, Avery 0, Wilkes 1
7:24pm power outage UPDATE – Watauga 162, Caldwell 401, Ashe 2,550, Alexander 0, Alleghany 72, Avery 0, Wilkes 4
7:38pm – still numerous wrecks around the area, EMS officials continue to work to clear.
7:45pm – per scanner part of a bank has slid into the road on highway 321 near the Bethel turn off, also a tractor trailer is in the roadway near that location blocking a lane.
8pm – Power outages: Watauga 297, Caldwell 407, Ashe 5,335, Alleghany 1,409, Wilkes 13
8:23pm – roads continue to be snow covered and slick. Overnight travel is not advised, but if you do so use caution.
8:30pm Power outages: Watauga 387, Caldwell 407, Ashe 4,924, Alleghany 2,017, Wilkes 13 in Blue Ridge Electric member area.
9pm – Power outages: Watauga 404, Caldwell 105, Ashe 4,969, Alleghany 2,197, Wilkes 57 in Blue Ridge Electric member area.
9:18pm – parts of 421 from the bottom of Wilkes Mountain to the 421/221 intersection remain closed due to the weather per scanner information.
THE NATIONAL WEATHER SERVICE IN BLACKSBURG HAS ISSUED A
* FLOOD ADVISORY FOR SOUTHWESTERN WATAUGA UNTIL 330 AM EST
* AT 931 PM EST…MINOR FLOODING WAS OCCURRING ON THE WATAUGA RIVER NEAR SUGAR GROVE. MINOR FLOODING IS EXPECTED TO CONTINUE NEAR SUGAR GROVE AND AREAS DOWNSTREAM INCLUDING FOSCOE…AND MINOR TRIBUTARIES OF THE WATAUGA RIVER.
* SOME LOCATIONS THAT WILL EXPERIENCE MINOR FLOODING INCLUDE ROMINGER…VALLE CRUCIS AND FOSCOE.
10.5 inches in downtown Sparta in Alleghany. Photos by Carolynn Choate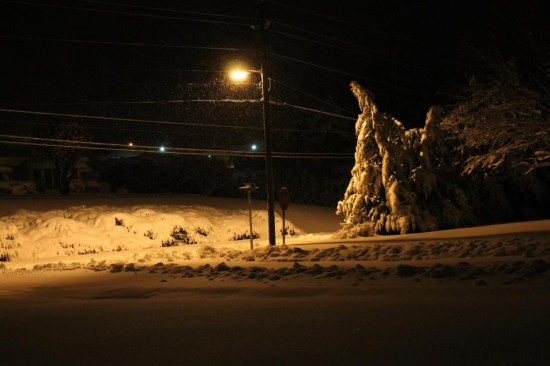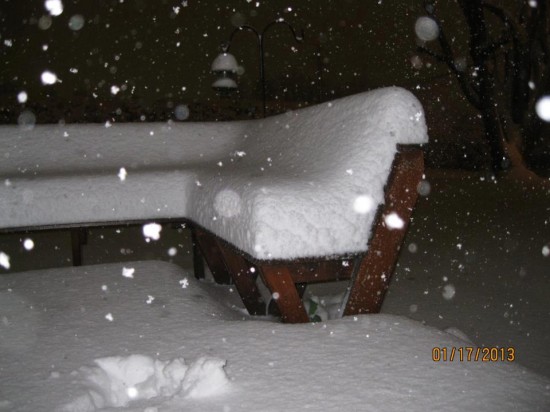 Winter Storm Warning is CANCELLED as of 10:26pm by NWS
10:45am – Power outages: Watauga 604, Caldwell 1, Ashe 4,658, Alleghany 1,050, Wilkes 52 in Blue Ridge Electric member area.