Last Updated on October 2, 2022 5:40 pm
8:14am – winds have picked up this morning, bundle up
8:53am – spotty rain in Boone. One report of light sleet around Boone.
9:33am – rain has picked up on the west end of Boone
Town Of Boone trucks look ready for the snow. Photo by Joe Bentley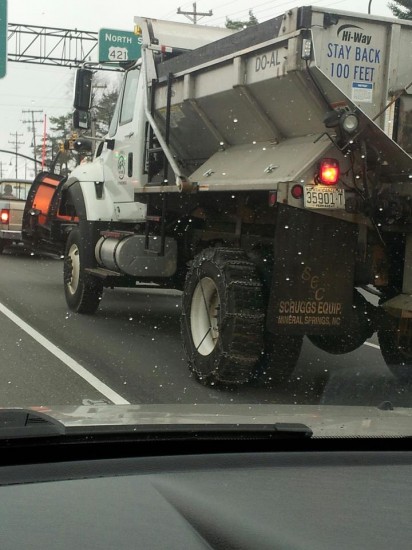 National Weather Service video update
1:36pm – getting a report that it's snowing in Zionville, started as a mix then turned to all snow
2:19pm – winds and rain have REALLY picked up for most of the county now
2:24pm – 100mph+ winds reported in Sevierville TN, roads closed there. Click here for more info
3pm – getting report of some sleet in Boone
3:20pm – besides the increase in wind and rain the most noticeably difference has been the swirling winds.
3:22pm – possible delays at 321/Boone Mall intersection due to wreck.
3:23pm – Event extended (time). High Wind Warning from 12/20/2012 7:00 PM to 12/22/2012 6:00 PM EST for Wilkes County, Ashe County, Watauga … http://1.usa.gov/Yqmnj7
3:47pm – high winds, heavy rain and fog continue across the area this afternoon. Snow still forecast to begin after midnight. Check out the forecast here.