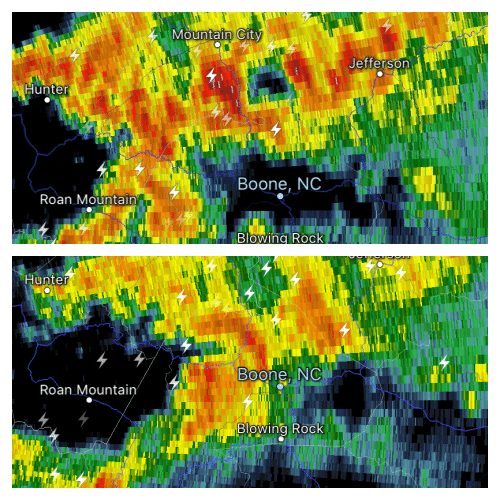 Last Updated on April 9, 2020 10:53 am
Strong to severe thunderstorms Wednesday night and early Thursday morning lead to power outages in four counties in the Blue Ridge Energy service area.
Storms in Ashe and Alleghany resulted in outages on Wednesday night. As of Thursday morning at 9:58am repairs were still ongoing in Ashe.
Outages in Watauga County began just after 4am due to lightning and wind. Below are the outage details from each of the four counties and a radar loop of the storms from 3:28am to 4:01am Thursday April 9, 2020‬. Outage information provided by Blue Ridge Energy.
Radar screen shot at 3:48am.
Storm radar view 3:58am Thursday April 9 2020
Watauga:
1. Number of Outages: 4
2. Total number of members affected: 57
3. Time outages began: 4:09am on 4/9/20
4. Time outages ended: Ongoing – Number of members still off: 1
5. Longest duration: 3hr 36min
6. Causes: Weather (Lightning / Wind) & Device failure (broke fuse)
7. Areas affected: Sherwood, Deep Gap, Boone areas
---
Caldwell:
1. Number of Outages: 1
2. Total number of members affected: 19
3. Time outages began: 6:21pm on 4/8/20
4. Time outages ended: 7:09pm on 4/8/20
5. Longest duration: 47min
7. Areas affected: Kings Creek Area
---
Ashe:
1. Number of Outages: 10
2. Total number of members affected: 867
3. Time outages began: 6:50pm on 4/8/20
4. Time outages ended: Ongoing – Number of members still off: 4
5. Longest duration: 3hr 32min
6. Causes: Weather (Lightning / Wind) & Device failure (broke fuse)
7. Areas affected: Widespread – Creston, Beaver Creek, Lansing, Smethport, Obids areas
---
Alleghany:
1. Number of Outages: 4
2. Total number of members affected: 33
3. Time outages began: 7:17pm on 4/8/20
4. Time outages ended: 6:23am on 4/9/20
5. Longest duration: 1hr 20min
6. Causes: Weather (Lightning / Wind) & Connector – Broke jumper
7. Areas affected: Glade Valley, South Sparta, and Ellis