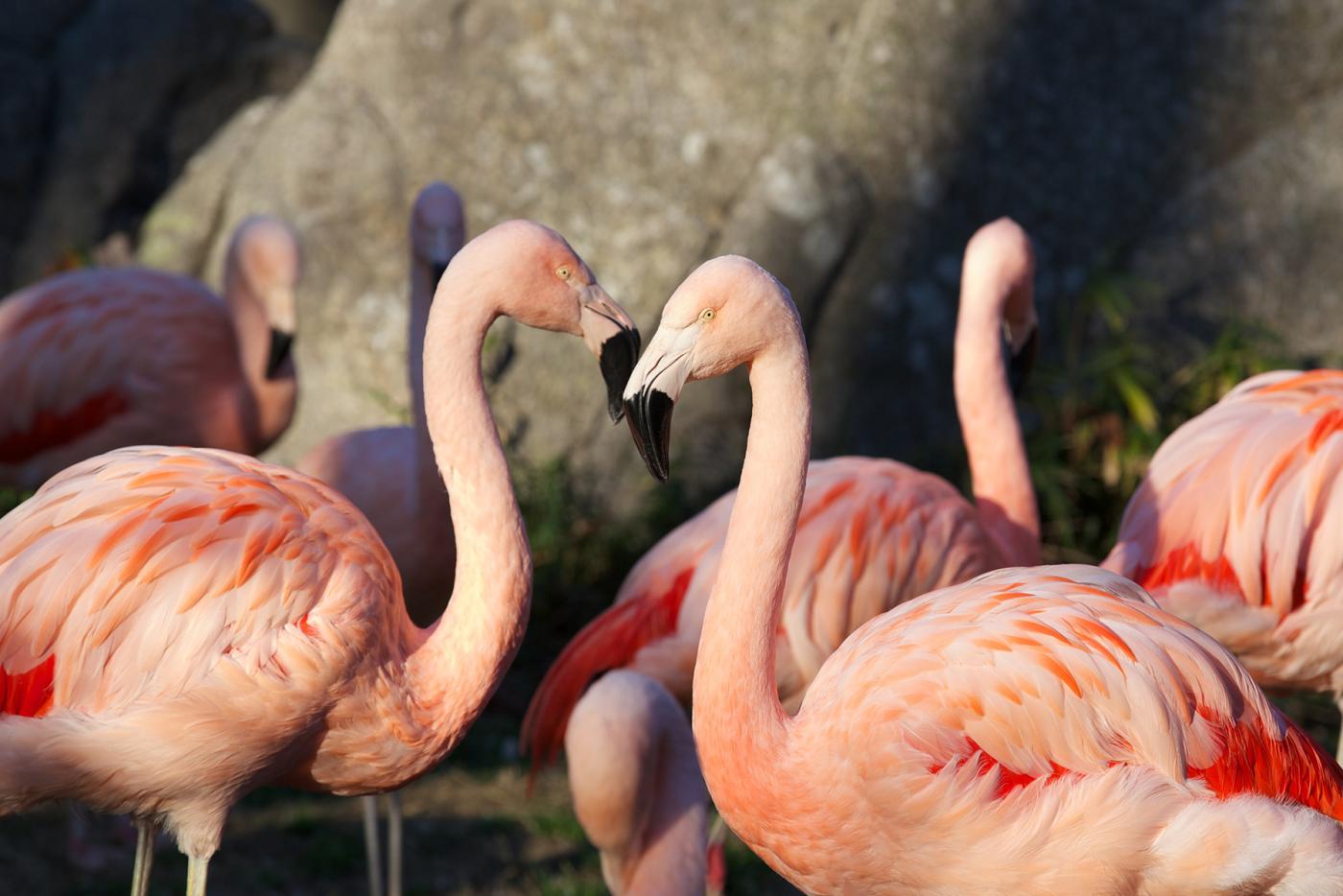 Last Updated on August 28, 2023 9:32 am
A demolition project at the North Carolina Zoo will require the transfer of birds from a long-time favorite habitat to another zoo.
The North Carolina Zoo will relocate its flock of 15 Chilean Flamingos to the Greenville Zoo in South Carolina in late September where they will join a flock of 19 flamingos.
Flamingos are unique and easily recognizable birds and have been a part of the North Carolina Zoo for the last 41 years. They are social birds, and the chance to be part of a larger flock will enrich them. This will also help make the transition easier as they follow the flock to find food and get in and out of the pool. In addition, the flamingo habitat at the Greenville Zoo has a large spring-fed natural lagoon for the flamingos to enjoy for bathing, feeding, and just spending time in.
The North Carolina Zoo's flamingo habitat is adjacent to the Aviary, which closed in 2022 due to the building outliving its lifespan. To demolish the Aviary building, the flamingos must be relocated. The Zoo is hopeful for funding to rebuild a new Aviary, but it is too soon to know if flamingos will be part of the plans for a new Aviary.
Several flamingos in the current flock are from the original flock, which arrived at the North Carolina Zoo in August 1982. Flamingos can live up to 50 years under human care, compared to 25 to 30 years in the wild. They can grow up to 51 inches in height. Chilean flamingos are considered "Near Threatened."
The North Carolina Zoo will welcome guests to bid the flamingos farewell before they head to South Carolina. On Aug. 26, from 10 a.m.-4 p.m., flamingo keepers will host a special "Farewell Flamingos," event at the habitat. We encourage guests to wear something pink to honor these iconic pink birds.
About the North Carolina Department of Natural and Cultural Resources
The N.C. Department of Natural and Cultural Resources (DNCR) manages, promotes, and enhances the things that people love about North Carolina – its diverse arts and culture, rich history, and spectacular natural areas. Through its programs, the department enhances education, stimulates economic development, improves public health, expands accessibility, and strengthens community resiliency.

The department manages over 100 locations across the state, including 27 historic sites, seven history museums, two art museums, five science museums, four aquariums, 35 state parks, four recreation areas, dozens of state trails and natural areas, the North Carolina Zoo, the North Carolina Symphony, the State Library, the State Archives, the N.C. Arts Council, the African American Heritage Commission, the American Indian Heritage Commission, the State Historic Preservation Office, the Office of State Archaeology, the Highway Historical Markers program, the N.C. Land and Water Fund, and the Natural Heritage Program. For more information, please visit www.ncdcr.gov.