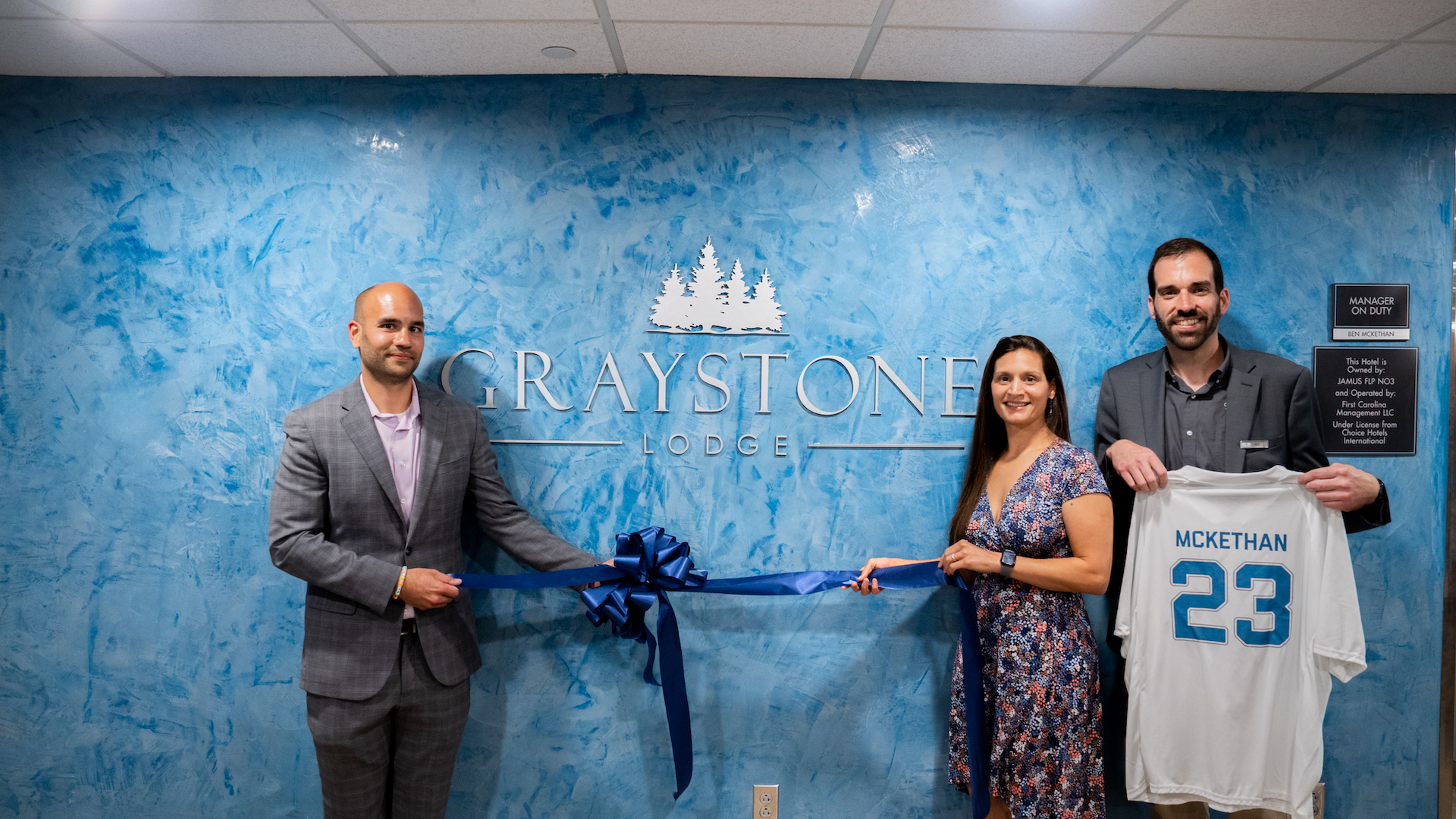 Last Updated on June 26, 2023 10:33 am
BOONE, NC (June 23, 2023) – Inspired by the spirit of the High Country, a beautiful, revitalized hotel is giving travelers even more reason to visit the charming mountain town of Boone, NC. The Graystone Lodge, an Ascend Hotel Collectionâ property, celebrated its grand opening on Tuesday, June 20. 
The boutique hotel, situated perfectly in the heart of the stunning Blue Ridge Mountains at 2419 NC-105, features 101 rooms with a welcoming mountain ambiance, enhanced modern design and upscale amenities. Its mission is to provide a casually elegant yet comfortable getaway, genuine hospitality and personalized service so guests can relax, unwind and enjoy the charming mountain town of Boone.
The Graystone Lodge is owned by Boone natives and siblings, Justin Patel and Selina Bell, who have been in the hotel industry for more than 30 years. Boone native and Appalachian State University graduate, Ben McKethan, is the new general manager of the Graystone Lodge. McKethan has served general management roles for 20 years and won numerous awards throughout his career.
The hotel originally opened as the Graystone Lodge in 1987, then transitioned to a hotel collection in 2006 to meet the needs of the evolving hospitality industry. In 2023, Patel and Bell re-established its original name as the Graystone Lodge after completing an extensive multi-million-dollar interior and exterior renovation including:
· Complete transformation of 98 hotel rooms and three suites – two king suites featuring a new Peloton and a family suite with a king and a bunk bed (coming soon)
· New hardwood flooring throughout the entire hotel
· A full exterior building transformation with new rock décor, lighting, painting
· A redesigned, polished bathroom with glass-enclosed showers in each guest room
· Resurfaced ceilings with updated walls, electronic additions to the rooms and modern furnishings
· Brand new, custom made furniture
· New décor with local photography and artwork showcasing the natural beauty of Boone
· A brand new heated indoor pool and renovated pool facility with new ceilings and an ADA compliant lift
· A new state-of-the-art fitness center with Precor equipment
· A new outdoor area with a gas fire pit
· A completely revitalized lobby and mercantile
· Renovated paneling in the elevators
· A resurfaced parking lot with enhanced lighting
· The original grand fireplace has been maintained, updated and continues to serve as the historical, signature centerpiece of the Graystone Lodge. It also features a stunning focal point of beautiful artwork of Julian PriceLake by Angelia Young.
"The new Graystone Lodge honors its past and provides an unparalleled experience for the next generation of guests with modern custom developments," said Patel. "We're eager to welcome guests on their next trip to the High Country as they explore everything that makes Boone so special."
Local elements have also been incorporated into all aspects of the Graystone Lodge to provide guests with a truly authentic Boone experience. The hotel features local photography, artwork from Angelia Fine Art, roasted coffee from Hatchet Coffee, decadent handcrafted chocolates from Venture Chocolate & Wine Co, baked goods from Stick Boy Bread Co., as well as special offers for outdoor adventures, family attractions and more.
The Graystone Lodge also partners with Humankindâ, an organization dedicated to supplying clean drinking water to those in need. Each room includes a complimentary 23.7-ounce bottle of water, with additional bottles available for purchase in the gift shop. 100 percent of the profits of each bottled water goes directly towards helping people receive clean drinking water throughout the globe. With contaminated water being the leading cause of death among children worldwide, this is Graystone Lodge's way of giving back on a global as well as a local level.
"Boone truly is a charming town with unique shops and restaurants that you won't find anywhere else. As a native, it's a part of the Boone spirit to champion other members of the community, and we're excited to share the local experience with our guests" said McKethan. "Supporting these local businesses and giving back to a good cause are simple ways to connect and create meaningful relationships with our guests and our community."
About the Graystone Lodge
The Graystone Lodge, an Ascend Hotel Collectionâ property in Boone, NC, is a 101-room boutique hotel that captures the spirit of the High Country with a warm, welcoming ambiance of a mountain lodge featuring an enhanced modern design and upscale amenities.
The Graystone Lodge's centralized location at 2419 NC-105 is within close proximity to the many area attractions. Guests can enjoy endless adventures at Grandfather Mountain, breathtaking views of Blue Ridge Parkway, family fun at Tweetsie Railroad, thrilling Appalachian State University sporting events, shopping and dining in downtown Boone, and so much more.
To learn more, please visit www.graystonelodge.com, Facebook, Instagram and LinkedIn.
Boone Chamber Photo Left to Right :
Patrick Setzer – Director of Member Engagement, Boone Area Chamber of Commerce
David Jackson – President/CEO, Boone Area Chamber of Commerce
Tim Futrelle – Town of Boone Mayor
Selina Patel Bell – Co-Owner of Graystone Lodge, Ascend Hotel Collection
Justin Patel – Co-Owner of Graystone Lodge, Ascend Hotel Collection
Ben McKethan – General Manager of Graystone Lodge, Ascend Hotel Collection
Christy Williams – Regional Area Director of Franchise Services for Choice Hotels
Rafael Mendez – Upscale Area Director of Franchise Services for Choice Hotels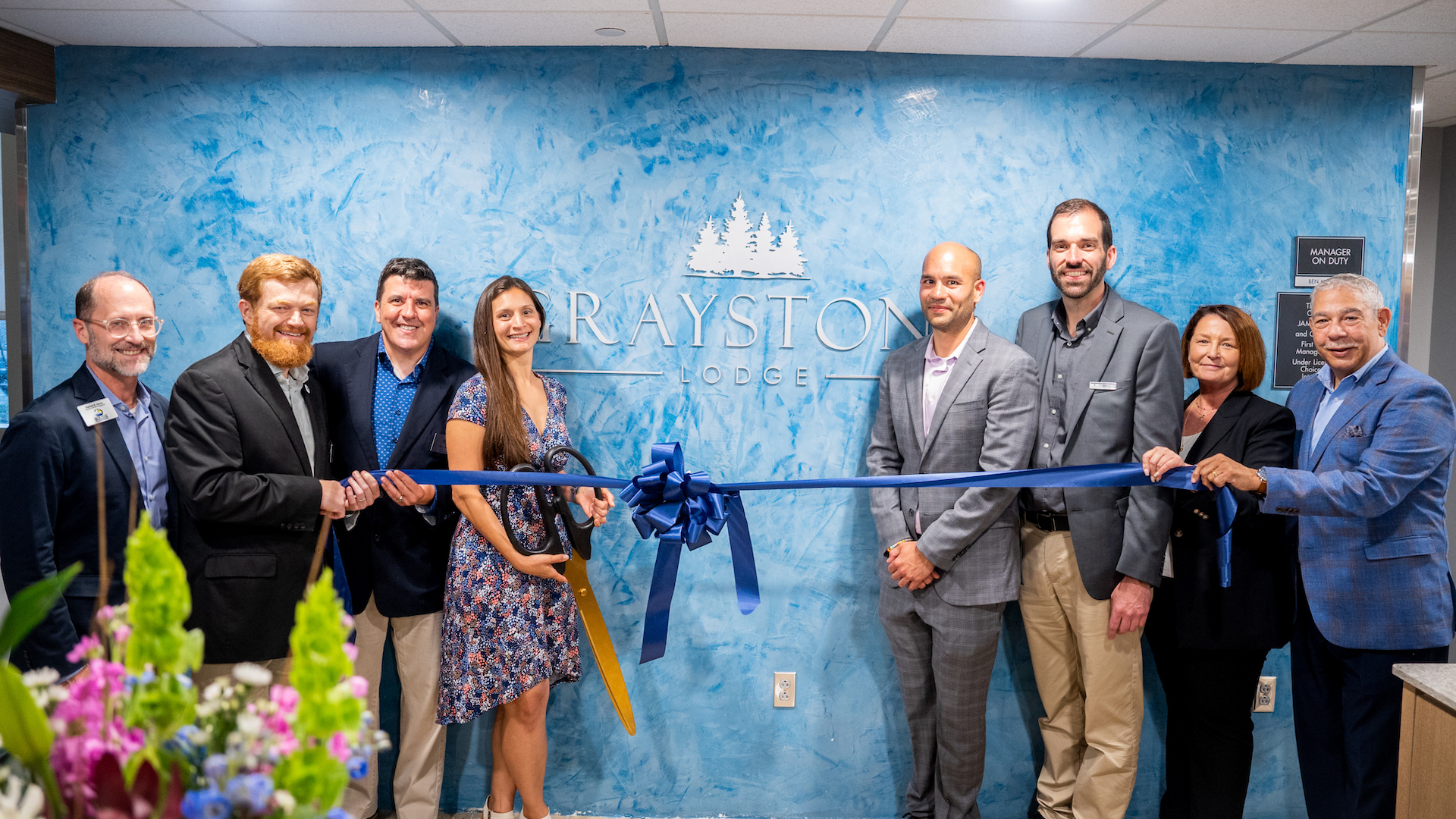 Justin Patel – Co-Owner of Graystone Lodge, Ascend Hotel Collection
Selina Patel Bell – Co-Owner of Graystone Lodge, Ascend Hotel Collection
Ben McKethan – General Manager of Graystone Lodge, Ascend Hotel Collection