Last Updated on October 2, 2022 6:04 pm
Other than a lack of sleep for many High Country residents there appears to have been little to no damage after a couple of rounds of storms moved across the area Sunday evening and late Sunday night.
The storms prompted a flurry of weather watches and warnings for western North Carolina, including a Tornado Warning for Avery County. That warning was the first one for Avery since 2005 according to Brad Panovich with NBC Charlotte.
The wind rotation is visible in the image below and in the the radar loops at the bottom of the page. All of the High Country was issued a Tornado Watch from 6:35pm until 1am.
There were some very scattered power outages in Watauga County according to comments to the Watauga Roads facebook page, but Blue Ridge EMC did not report any widespread outages.
The story was much different just across the stateline as at least four tornado reports were recorded in East Tennessee. Hail, downed trees and power lines resulted in widespread problems for residents there.
These photos from Mountain Electric Cooperative facebook page show down trees and damage to a Mountain Electric company vehicle in Mountain City, Tennessee.
Hail in Mountain City, TN on Sunday. Photo Laura Minetti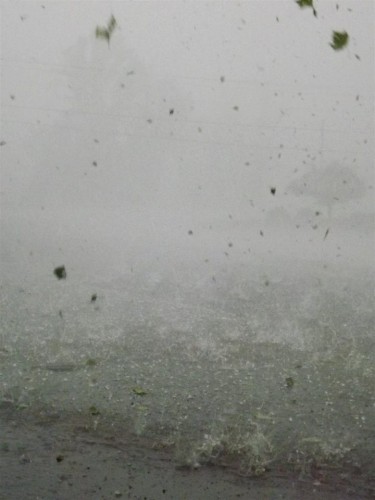 Radar loop – wide view Sunday July 27 evening
Radar loop – wide view Monday July 28 – around midnight
Radar loop – close view Sunday July 27 evening

Radar loop – close view Monday July 28 – around midnight