Last Updated on May 5, 2013 4:01 pm
4pm – scanner report of large tree blocking 2 lanes of traffic on 421 in Zionville, DOT and Fire Dept reporting to the scene. Use caution. 4:23pm – tree is cleared, road is open
4:02pm – also report of a tree down near Mabel School Road. 4:13pm – tree is cleared and road is open.
4:15pm – Some standing water on Blowing Rock Road. Use caution along any route that normally has issues during heavy rain.
4:28pm – power outages in Blue Ridge service area – Watauga 61
4:40pm – The 105 / 321 intersection is "a lake" per one report
2 WSW Silverstone [Watauga Co, NC] emergency mngr reports FLASH FLOOD at 04:40 PM EDT http://mesonet.agron.iastate.edu/lsr/#RNK/201305052040/201305052040/0100
5pm – mudslide with trees blocking Laurel Branch Road according to report into the NWS
5:05pm – River up to bridges on Roby Greene Rd
5:07pm – scanner report of tree in the road on 105 bypass near Greer Lane. 5:31pm – Fire dept has the road clear
5:15pm – power outages in Blue Ridge service area – Watauga 64
Below are reports into NWS as of 3:12pm
NATIONAL WEATHER SERVICE BLACKSBURG VA
312 PM EDT SUN MAY 5 2013
…PRECIPITATION TOTALS…
THE FOLLOWING IS A LIST OF UNOFFICIAL PRECIPITATION TOTALS.
THESE REPORTS ARE FROM A COMBINATION OF SOURCES INCLUDING COOP
OBSERVERS…IFLOWS GAGES…ASOS…AND SOCIAL MEDIA AND HAVE NOT
BEEN QUALITY CONTROLLED.
NORTH CAROLINA
…ASHE COUNTY…
0.51 NF NEW R. / CLIFTON IFLOWS
0.50 NF NEW/ASHLAND IFLOWS
…WATAUGA COUNTY…
1.76 SANDY FLATS IFLOWS
1.71 VALLE CRUCIS / TWITTER
1.36 MF NEW RIVER IFLOWS SG
1.29 WATAUGA R/FOSCOE IFLOWS
1.08 BOONE 1 SE COOP
1.07 5 ESE BANNER ELK CCR
1.00 BOONE / TWITTER
1.00 PARKWAY SCHOOL IFLOWS
0.85 BOONE RG (TVA)
0.84 TRIPLETT RG DCP
…WILKES COUNTY…
0.64 ELK CREEK AT ELKVILLE DCP
By Airport and Samaritans Purse, creek is almost out. Photo of Jennifer Spink
5:33pm – Alex Kimbro sends in this photo of Beech mountain Pkwy
6:08pm – power outages in Watauga down to 16
Water over Dewitt Barnett Bridge in Valle Crucis. Photo:David Yates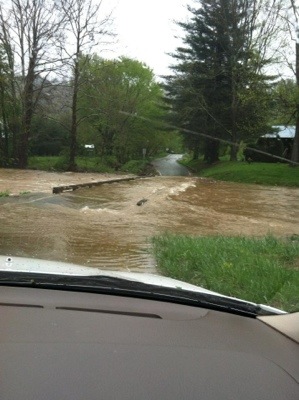 7:15pm – power outages – Watauga 141, Alleghany 58
7:30pm – power outages – Watauga 5,062, Alleghany 58, Avery 14 in Blue Ridge member area
8:25pm -  only 4 members of Blue Ridge Electric area in Watauga are without power
8:45pm – all power in Watauga is back on
REMINDER: Flood Warning for Watauga until 2:30am, Avery until 2am & Ashe until 6:15am Monday, Flood Watch for the High Country through Monday evening.
Rain reports into NWS as of 6:50pm
NATIONAL WEATHER SERVICE BLACKSBURG VA
650 PM EDT SUN MAY  5 2013

...PRECIPITATION TOTALS...

THE FOLLOWING IS A LIST OF UNOFFICIAL PRECIPITATION TOTALS SINCE
MIDNIGHT. THESE REPORTS ARE FROM A COMBINATION OF SOURCES INCLUDING
COOP OBSERVERS...IFLOWS GAGES...ASOS...AND SOCIAL MEDIA AND HAVE NOT 
BEEN QUALITY CONTROLLED.


NORTH CAROLINA


...ASHE COUNTY...

    1.26   NF NEW/ASHLAND IFLOWS
    1.10   NF NEW R. / CLIFTON IFLOWS
    1.07   BUFFALO CREEK IFLOWS
    1.00   LAUREL SPRINGS RAWS

...WATAUGA COUNTY...

    2.59   SANDY FLATS IFLOWS
    2.57   VALLE CRUCIS / TWITTER
    2.32   MF NEW RIVER IFLOWS SG
    1.93   WATAUGA R/FOSCOE IFLOWS
    1.83   TRIPLETT RG DCP
    1.76   BOONE RG (TVA)
    1.72   PARKWAY SCHOOL IFLOWS
    0.99   SHAWNEEHAW FD IFLOWS

...WILKES COUNTY...

    1.35   ELK CREEK AT ELKVILLE DCP
    1.32   RENDEZVOUS MTN RAWS SITE
    1.20   HAYS / FACEBOOK 
    1.04   WILBAR RG DCP
    0.71   W KERR SCOTT RESV COOP/DCP
Valle Crucis [Watauga Co, NC] public reports HEAVY RAIN of M3.06 INCH at 09:16 PM EDT bit.ly/119ngzu?RNK
9:27pm – Laurel Creek Rd. bridge is under water per report coming in via facebook
Water running into the ice cream shop at Mast Store Annex in Valle Crucis on Sunday evening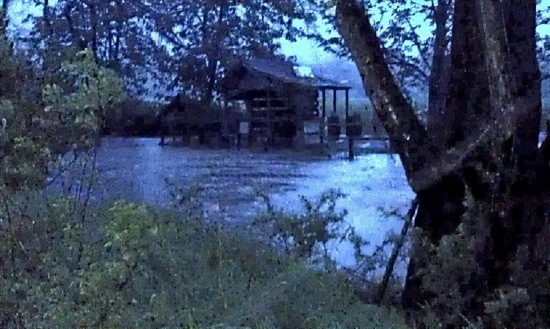 Mast Store Annex in Valle Crucis 8:15pm. Photo: Anita Presnell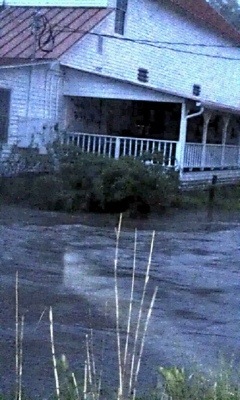 Video update from Brad Panovich 9:41pm Sunday night