Last Updated on April 11, 2019 9:06 am
Update Saturday April 13 8:20am – The updated graphic showing the extended enhanced risk area for Sunday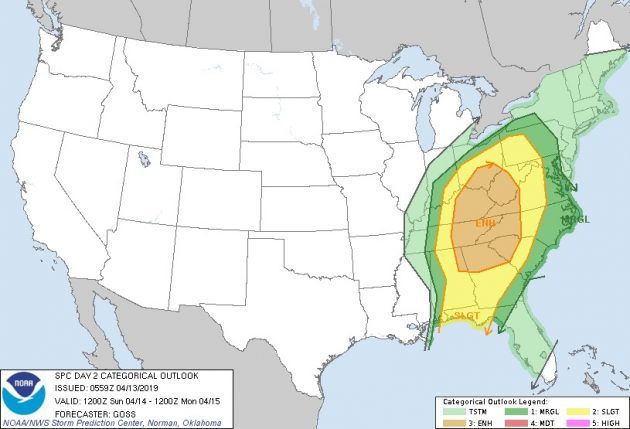 Update Friday April 12 6:45am – For Sunday that is now an enhanced risk of severe thunderstorms. According to NWS the main threat with these thunderstorms will be damaging wind gusts. A few tornadoes will also be possible as well as hail the size of quarters or larger. These storms will also produce heavy rain that could lead to areas of flooding or flash flooding.
Severe weather outlook for Friday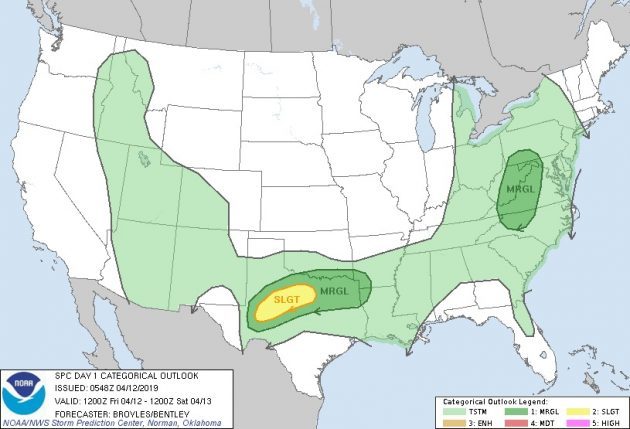 Severe weather outlook for Saturday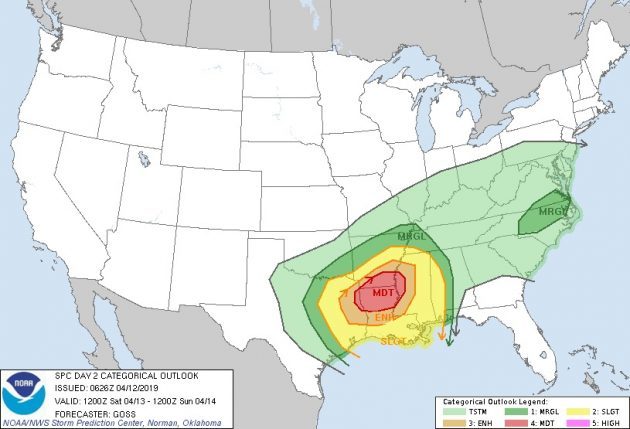 Severe weather outlook for Sunday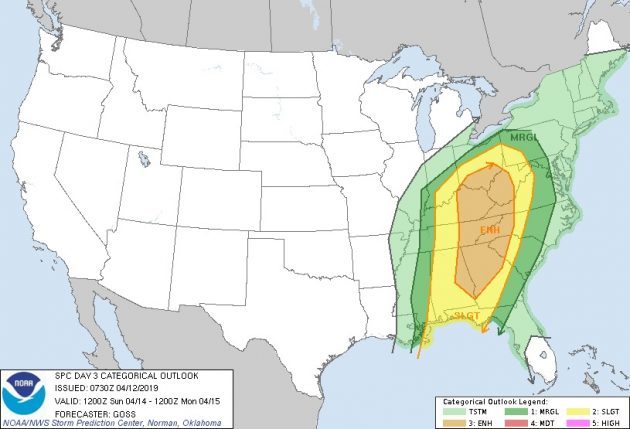 ---
After a mostly sunny week, a change is coming weather-wise for the weekend that could be strong to severe.
A sunny, but windy, Thursday will give way to rain moving into the area starting Thursday night. Wind gusts up to 35 mph are possible for Thursday night and Friday, according to the National Weather Service (NWS). The rain and windy conditions continue Friday and Friday night with not much in the way of severe weather expected for the High Country. That could change on Saturday.
NWS says in a Thursday morning briefing, "we will need to keep increasing track on rainfall as the day-after-day wet pattern begins to move the soil conditions back into the saturated category as we dealt with so much during this past fall and winter. Rainfall amounts through this period should be mostly in the 1-2 inch range, which will get the ground good and saturated and lead to wet antecedent conditions as we move into Sunday, when we will be much more concerned with a strong storm system."
The storm on Sunday will bring the possibility of flooding, as heavy rainfall is expected in what could be strong to severe storms at times.