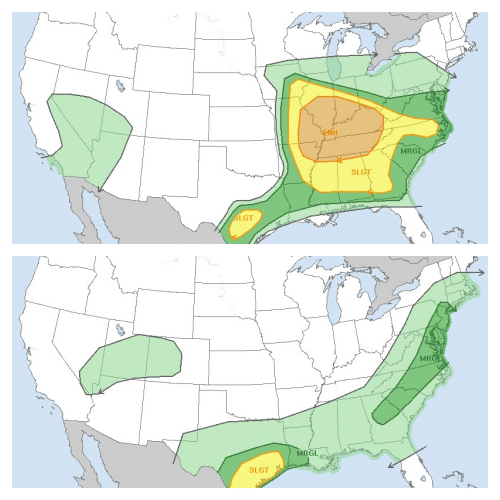 Last Updated on April 8, 2020 10:01 am
Scattered strong to severe thunderstorms will be possible today, according to the National Weather Service (NWS).
In this morning's Hazardous Weather Outlook, NWS also states that thunderstorms this afternoon and evening will be capable of producing large hail and damaging wind gusts.
Strong to severe storms are also possible on Thursday morning, along with high wind gusts. NWS says that a High Wind Warning may be issued due to gusts of 50 to 60 mph Thursday night.
High temperatures today are expected to be in the upper 60s today, dropping into the upper 50s on Thursday.
Then more winter like conditions will be the weather story starting on Thursday night as low temperatures drop into the lower 30s. And then snow showers are possible for Friday morning. Wind gusts of up to 50 mph are forecast, dropping to around 40 mph in the afternoon. Forecast highs are in the upper 40s.
Saturday – Mostly sunny. Not as cool with highs in the upper 50s, according to NWS.
Showers return to the forecast for Saturday night through Monday.
Strong to Severe Thunderstorm outlook for Wednesday April 8 and Thursday April 9. Graphics: NWS