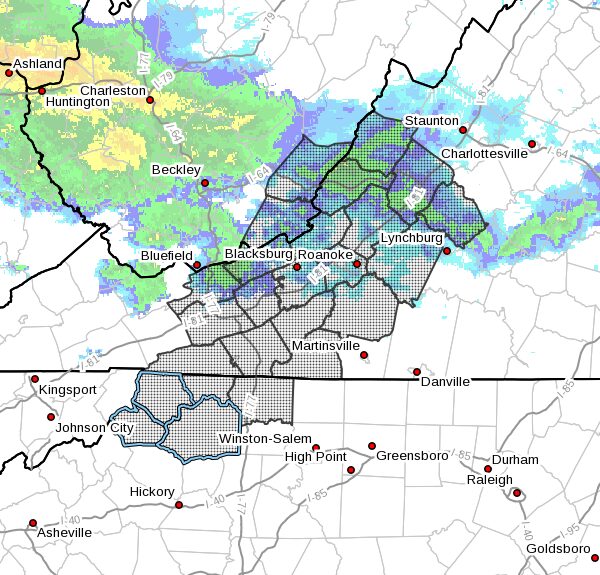 Last Updated on February 24, 2022 6:26 pm
NCZ001>003-018-019-VAZ010>020-022>024-032>035-WVZ044-507-250315-
Ashe-Alleghany NC-Surry-Watauga-Wilkes-Bland-Giles-Wythe-Pulaski-
Montgomery-Grayson-Carroll-Floyd-Craig-Alleghany VA-Bath-Roanoke-
Botetourt-Rockbridge-Patrick-Franklin-Bedford-Amherst-Monroe-
Eastern Greenbrier-
Including the cities of West Jefferson, Sparta, Dobson, Boone,
Wilkesboro, Bland, Pearisburg, Wytheville, Radford, Pulaski,
Blacksburg, Independence, Whitetop, Troutdale, Volney, Galax,
Floyd, New Castle, Clifton Forge, Covington, Hot Springs,
Roanoke, Salem, Fincastle, Lexington, Buena Vista, Stuart,
Rocky Mount, Bedford, Amherst, Union, Lewisburg,
White Sulphur Springs, and Alderson
622 PM EST Thu Feb 24 2022
…REDUCED VISIBILITY ALONG THE BLUE RIDGE THIS EVENING…
Low clouds and rain have resulted in areas of dense fog across the
Blue Ridge this evening from Boone to Hillsville northeast toward
Roanoke and Lexington. Visibilities in these areas, especially above
2000 feet, will drop to less than one mile and in many locations to
a half mile or less. This will significantly impact the Blue Ridge
Parkway from the North Carolina/Virginia line toward Bent Mountain
and also Interstate 77 between Hillsville and the North Carolina
line.
If you are planning travel through these areas this evening, use
extreme caution. If you find yourself in areas of dense fog, reduce
speed, allow extra distance between you and the vehicle in front of
you, and use low beam headlights.