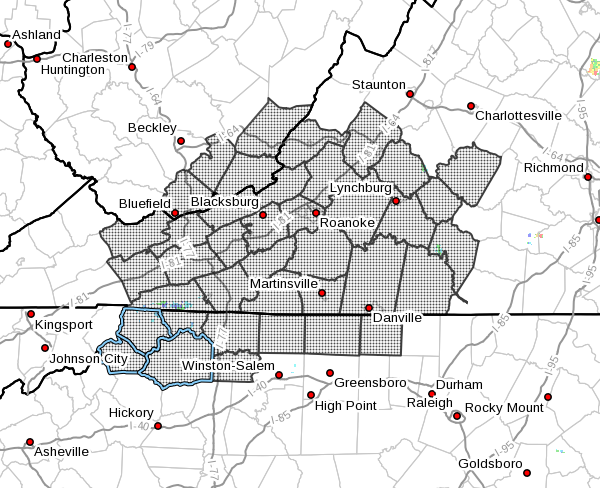 Last Updated on January 2, 2023 4:21 am
NCZ001>006-018>020-VAZ007-009>019-022>024-032>035-043>047-058-059-
WVZ042>044-507-021230-
Ashe-Alleghany NC-Surry-Stokes-Rockingham-Caswell-Watauga-Wilkes-
Yadkin-Tazewell-Smyth-Bland-Giles-Wythe-Pulaski-Montgomery-
Grayson-Carroll-Floyd-Craig-Alleghany VA-Roanoke-Botetourt-
Rockbridge-Patrick-Franklin-Bedford-Amherst-Henry-Pittsylvania-
Campbell-Appomattox-Buckingham-Halifax-Charlotte-Mercer-Summers-
Monroe-Eastern Greenbrier-
Including the cities of West Jefferson, Sparta, Dobson, Danbury,
Eden, Yanceyville, Boone, Wilkesboro, Yadkinville, Tazewell,
Marion, Bland, Pearisburg, Wytheville, Radford, Pulaski,
Blacksburg, Independence, Whitetop, Troutdale, Volney, Galax,
Floyd, New Castle, Clifton Forge, Covington, Roanoke, Salem,
Fincastle, Lexington, Buena Vista, Stuart, Rocky Mount, Bedford,
Amherst, Martinsville, Danville, Lynchburg, Appomattox,
South Boston, Keysville, Bluefield, Flat Top, Hinton, Hix, Union,
Lewisburg, White Sulphur Springs, and Alderson
259 AM EST Mon Jan 2 2023
…BE PREPARED FOR AREAS OF FOG THIS MORNING…
Fog is being reported throughout the region this morning, with the
greatest concentrations in the mountain valleys, and lowland areas
near creeks and streams, where the fog tends to settle.
Visibility of less than a mile will be common this morning, with
patchy areas of dense fog reducing the visibility to a quarter
mile or less at times. Dense fog advisories have been issued for
areas where the dense fog is more widespread…such as the New
River valley, and the North Carolina piedmont.
A dense fog advisory is in effect until 10:00 AM for the
foothills and piedmont of North Carolina and into several Virginia
counties which include Martinsville and Danville where the fog is
particularly dense this morning. A dense fog advisory is also in
effect along the Interstate 81 corridor from Christiansburg to
Bristol until 9:00 AM.
Elsewhere, the dense fog will be patchier in nature, but will
favor the valley bottoms. The Greenbrier Valley of West Virginia,
which is particularly prone to fog, will see reduced visibility
this morning…impacting areas near the rivers.
If traveling this morning, be prepared to rapid changes in
visibility and poor driving conditions. Slow down, use low beams,
and allow extra distance between vehicles.