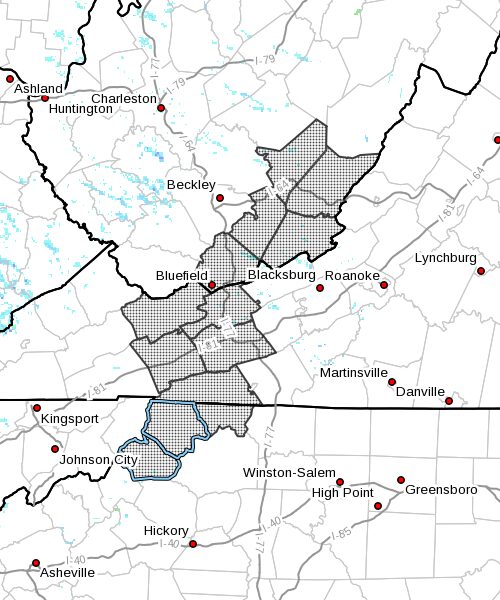 Last Updated on February 18, 2022 9:31 am
NCZ001-002-018-VAZ007-009-010-012-015-WVZ042>044-507-508-181700-
Ashe-Alleghany NC-Watauga-Tazewell-Smyth-Bland-Wythe-Grayson-
Mercer-Summers-Monroe-Eastern Greenbrier-Western Greenbrier-
Including the cities of West Jefferson, Sparta, Boone, Tazewell,
Marion, Bland, Wytheville, Independence, Whitetop, Troutdale,
Volney, Bluefield, Flat Top, Hinton, Hix, Union, Lewisburg,
White Sulphur Springs, Alderson, Quinwood, Duo, and Rainelle
924 AM EST Fri Feb 18 2022
…Light Snow Accumulations Possible For Elevations Above 3000 ft.
Through the Morning from Scattered Snow Showers…
A strong cold front moved through the region overnight. Much colder air was spreading into the region from the west behind the front, which was now located across eastern Virginia and eastern North Carolina. The combination of cold air spreading into the region from the northwest combined with enhanced northwest upslope flow along the mountains near the North Carolina/Tennessee line northward to along the West Virginia/Virginia line has resulted in scattered snow showers this morning.
Isolated snow accumulations up to 3 inches will be possible in isolated locations such as Beech Mountain, Whitetop, Mount Rogers and similar higher elevations above 4000 ft. Snow accumulations of 1 to 2 inches will be possible in areas such as Flat Top, Bluefield, Marion, Bland, and Tazewell, with possibly an inch in locations such as Boone, Jefferson, Independence, and Wytheville. Further east, little to no snow is expected.
If you are planning travel through the higher elevations, especially at or above elevations of 3000 ft. and areas west of the Interstate 77 corridor, be prepared for occasionally snow covered roads and reduced visibility in snow showers. Reduce speed, leave extra distance between you and the vehicle in front of you, and allow extra time to reach your destination.