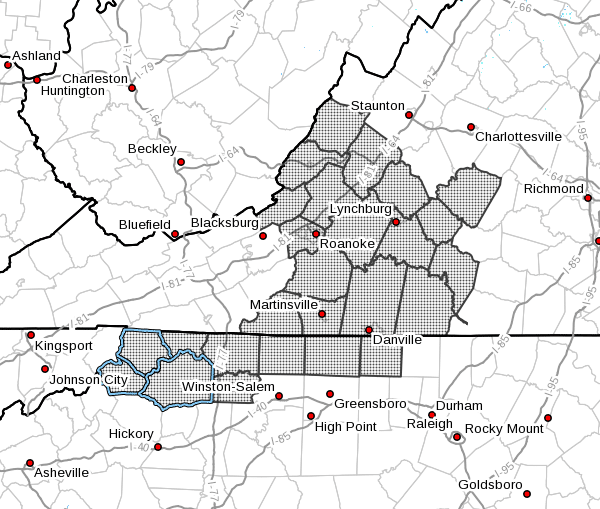 Last Updated on March 7, 2023 7:57 am
NCZ001>006-018>020-VAZ018>020-022>024-032>035-043>047-058-059-
080100-
Ashe-Alleghany NC-Surry-Stokes-Rockingham-Caswell-Watauga-Wilkes-
Yadkin-Craig-Alleghany VA-Bath-Roanoke-Botetourt-Rockbridge-
Patrick-Franklin-Bedford-Amherst-Henry-Pittsylvania-Campbell-
Appomattox-Buckingham-Halifax-Charlotte-
Including the cities of West Jefferson, Sparta, Dobson, Danbury,
Eden, Yanceyville, Boone, Wilkesboro, Yadkinville, New Castle,
Clifton Forge, Covington, Hot Springs, Roanoke, Salem, Fincastle,
Lexington, Buena Vista, Stuart, Rocky Mount, Bedford, Amherst,
Martinsville, Danville, Lynchburg, Appomattox, South Boston,
and Keysville
629 AM EST Tue Mar 7 2023
…Increased Fire Danger This Afternoon and Evening…
Across the Foothills and Piedmont region of Virginia and North
Carolina, relative humidities will reach a minimum of 20 to 30
percent during the afternoon hours. Sustained winds will be 10 to
20 mph with gusts of 20 to 30 mph.
These winds, low relative humidity levels, and low fuel moistures
will increase the risk of ignition and spread of wildfires this
afternoon and evening.
Across the North Carolina mountains, northwest winds will
be 15 to 30 mph sustained with gusts around 35 mph. The strongest
of these winds are expected in the morning hours, not coinciding
with the afternoon minimum relative humidities of 30 to 50 percent.
Residents in these areas are encouraged to postpone burning and
to properly extinguish all smoking materials. Many destructive
wildfires each year are started due to improperly discarded
smoking materials.