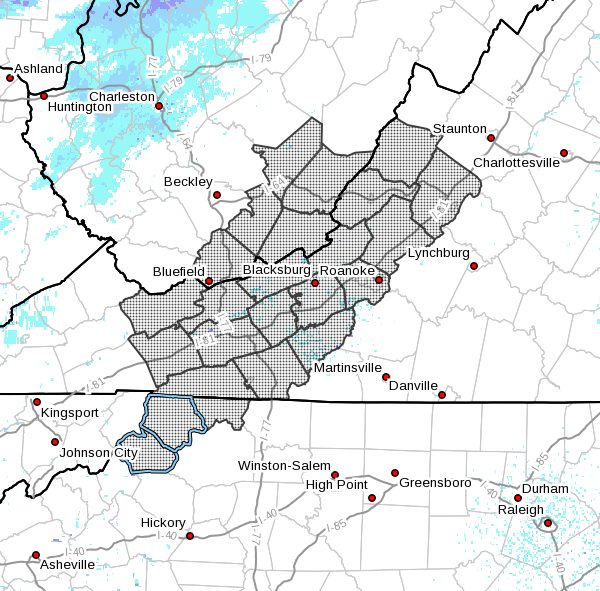 Last Updated on November 14, 2021 5:49 am
NCZ001-002-018-VAZ007-009>020-022>024-WVZ042>044-507-508-141800-
Ashe-Alleghany NC-Watauga-Tazewell-Smyth-Bland-Giles-Wythe-
Pulaski-Montgomery-Grayson-Carroll-Floyd-Craig-Alleghany VA-Bath-
Roanoke-Botetourt-Rockbridge-Mercer-Summers-Monroe-
Eastern Greenbrier-Western Greenbrier-
Including the cities of West Jefferson, Sparta, Boone, Tazewell,
Marion, Bland, Pearisburg, Wytheville, Radford, Pulaski,
Blacksburg, Independence, Whitetop, Troutdale, Volney, Galax,
Floyd, New Castle, Clifton Forge, Covington, Hot Springs,
Roanoke, Salem, Fincastle, Lexington, Buena Vista, Bluefield,
Flat Top, Hinton, Hix, Union, Lewisburg, White Sulphur Springs,
Alderson, Quinwood, Duo, and Rainelle
528 AM EST Sun Nov 14 2021
…Strong Cold Front to Bring Snow Showers to the Mountains Along
with Gusty Winds and Colder Temperatures Tonight and Monday…
A strong cold front will move through the region from northwest to
southeast late today and overnight. The front will bring notably
colder air into the region overnight and early Monday, likely the
coldest air of the season so far. Strong and gusty northwest winds
will accompany the front as well, especially along and west of the
Blue Ridge tonight and early Monday. Wind gusts of 45 to 50 mph
will be possible along the higher terrain of the Blue Ridge as
well as in localized spots across northwest North Carolina,
Southwest Virginia, and Southeast West Virginia such as Whitetop,
Mt. Rogers, Jefferson, and Hot Springs. The winds will combine
with the cold temperatures in the lower to mid 20s early Monday to
produce wind chill readings in the single digits and teens for
areas west of the Blue Ridge and 20s for the Piedmont.
In addition to the wind and cold temperatures, periods of snow
showers are expected overnight and early Monday across the western
mountains. The greatest snow accumulations will be across western
Greenbrier County West Virginia where 2 to 3 inches of snow are
possible. Elsewhere from Summer and Mercer counties in West
Virginia south to Grayson County VA and Watauga County North
Carolina around an 1 inch of snow is possible by early Monday with
locally 2 inches at the higher elevations above 3000 ft.
Note that a Winter Weather Advisory has been posted for Western
Greenbrier County West Virginia from 4 PM EST Today through 10 AM
EST Monday morning and a Wind Advisory has been posted for
Roanoke, Floyd, Carroll, and Grayson Counties in Virginia from 4
PM EST Today through 9 AM EST Monday morning.
Those planning to be out Monday morning should be prepared for
some of the coldest temperatures and wind chills of the season so
far as well as snow accumulations on roads and sidewalks in the
higher terrain of the western mountains, especially in southeast
West Virginia.
Stay tuned to NOAA Weather Radio for further information. You can
also access our web page at www.weather.gov/Blacksburg for
detailed weather information at any time.