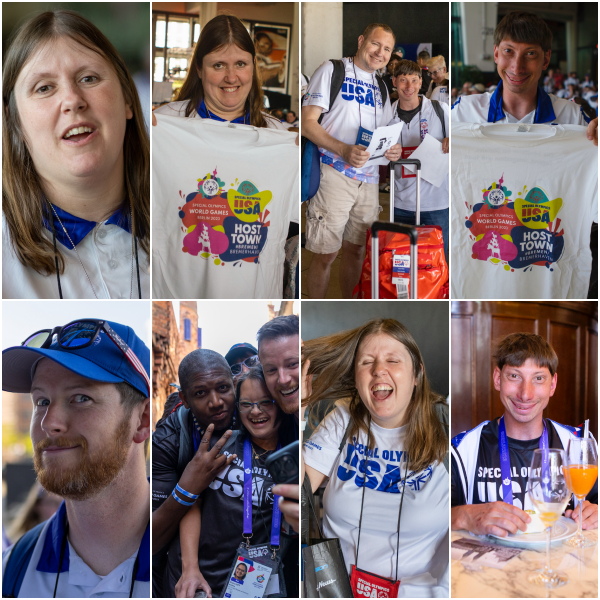 Last Updated on June 14, 2023 7:24 pm
Special Olympics USA's first full day in Germany was an amazing experience! On June 12, Special Olympics North Carolina athletes Philip Blount of Mecklenburg County (athletics) and Erin Cagle of Wake County (artistic gymnastics) as well as head coaches Jake Harkey of Watauga County (cycling) and James Price of Davidson County (bocce) arrived in Berlin, Germany with the Special Olympics USA delegation.
From Berlin, the group traveled by bus to partake in the World Games Host Town Program. As Host Town locations for Special Olympics USA, Bremen and Bremerhaven are among 200 Host Towns selected to welcome Special Olympics delegations from across the world. The city of Bremen has rolled out the red carpet for the athletes, Unified partners, coaches, and support staff. June 13 highlights included a city tour through Bremen, sports training opportunities, and a fun celebration at the town's main square.
June 14, Special Olympics USA's second full day in Germany, was an immersive experience for athletes, Unified partners, coaches and support staff. Visiting the Host Town location of Bremerhaven, a port city on Germany's North Sea coast, delegates were welcomed by city representatives during a welcome ceremony at Klimahaus Bremerhaven, a museum focused on the subject of climate. From there, groups toured Klimahaus Bremerhaven, Zoo am Meer Bremerhaven (Bremerhaven Zoo), Deutsches Auswandererhaus (German Emigration Center) and the New Harbour by barge.
The day's activities concluded with a farewell dinner on the shore of the river Weser, complete with live music, dancing and words of inspiration by city representatives.  
Photos: James Price & Philip Blount, Philip Blount 1, Philip Blount 2, Erin Cagle 2, Erin Cagle 1, Jake Harkey 2, Jake Harkey 1, Erin Cagle 3