Last Updated on October 2, 2022 5:44 pm
Continuous updated reports coming in from our facebook, twitter, email and text.
Monday Oct 29 2012
10:39pm – Ending reporting on conditions for Monday night. More updates starting early Tuesday morning.
10:27pm – tree down in the road at Dewitt Barnett Road & Broadstone Road in Valle Crucis
10:09pm-Possible power line down on Ransom Street in Blowing Rock per scanner traffic
9:57pm – Watauga County Schools closed for student and teachers on Tuesday Oct 30
9:50pm – 9:49pm – Current power outages – Ashe 876, Watauga 60, Wilkes 44, Alleghany 5
7pm audio update

6:32pm – From Boone PD twitter (@boonepolice): Hwy 421 near Mo's Boots/Yosef Dr is back open at this time. Drive carefully.
From Roan Mountain, TN

6:17pm – via twitter – Traffic moving on #105 – is visibly clear, for NOW. Private/secondary roads getting iffier by the minute.
6:16pm via twitter -Blowing Rock near Food Lion and the Outlets is laying up and becoming very slick.
6:10pm – twitter report of periods of white out in Banner Elk/Matney
6:05pm- Road conditions across the High Country have gone down hill FAST just in last hour
6pm – highway 105 and 105 bypass reported very slick
6pm -Oct29_Meat Camp Road from Savannah Miller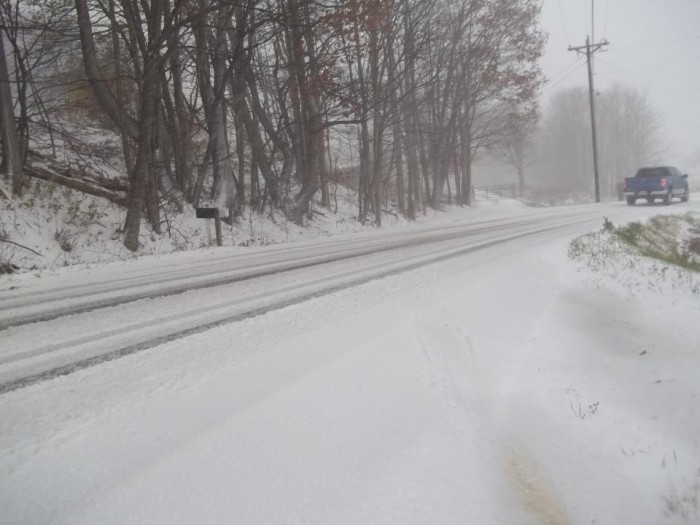 5:53pm – starting to get more reports and pics of snow covered roads across all of the county. The heavy snow is still on the way
5:51pm – Beaver Dam Road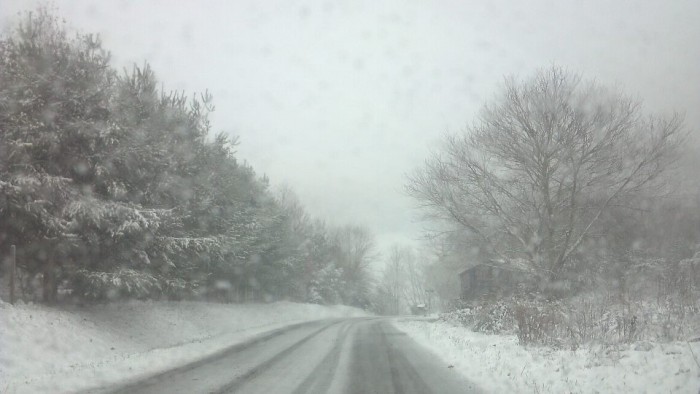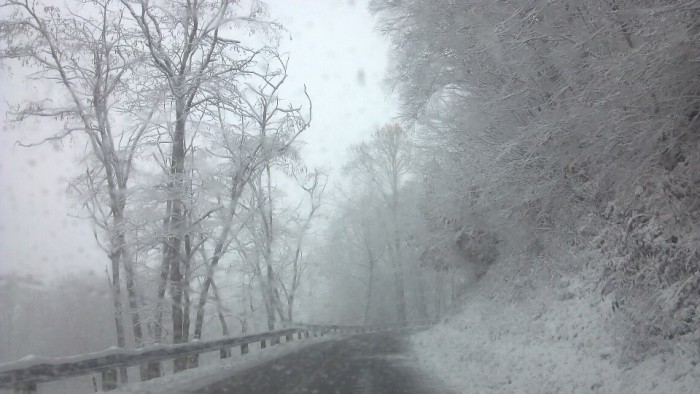 5:42pm – still delays all around the area of Mo's Boots on 421 due to a down line. Traffic being detoured still
5:16pm – Less than 4 total Blue Ridge Electric members without power
4:58pm – Per scanner – 421 is being shut down near Mo's Boots, to deal with down power line
4:55pm- Traffic being detoured in the area of Mo's Boots and Yosef Drive due to a down power line
4:46pm – Power outages – Alleghany 205, Watauga 10, Ashe 3
4:42pm – scanner report of power lines down near the red light to WHS
4pm audio update

4pm – Video of NC Gov Perdue press conference declaring 40 eastern counties & 24 western counties under disaster declaration.
3:43pm -From National Guard twitter feed:We are closely watching potential effects of winter storm expected to hit NW NC. We are readying people & equip to respond if called.
3:42pm – NC Gov Perdue: 40 eastern counties already under disaster declaration. 24 western counties now under such for winter storm. ""Counties included in the declaration are: Alleghany, Ashe, Avery, Buncombe, Burke, Caldwell, Cherokee, Clay, Graham, Haywood, Henderson, Jackson, Macon, Madison, McDowell, Mitchell, Polk, Rutherford, Surry, Swain, Transylvania, Watauga, Wilkes and Yancey."
3:32pm – ASU ANNOUNCEMENT: Classes on main ASU campus that begin at 6 pm or later Monday Oct 29, 2012, have been cancelled. Classes that begin before 11 a.m. on Tuesday Oct 30, also have been cancelled due to storm conditions from Hurricane Sandy – via twitter @appstateclosing
3:17pm report from twitter – Everything has a light coat of snow and 31 deg up here at 4000′ NW Watauga Co
We'll really start to see an increase in our snow starting now. Snowfall has already gotten heavier for some – 3:09pm
3pm – Blue Ridge Electric video update

2:40pm – Hickory Nut Gap, photo from Melissa Parker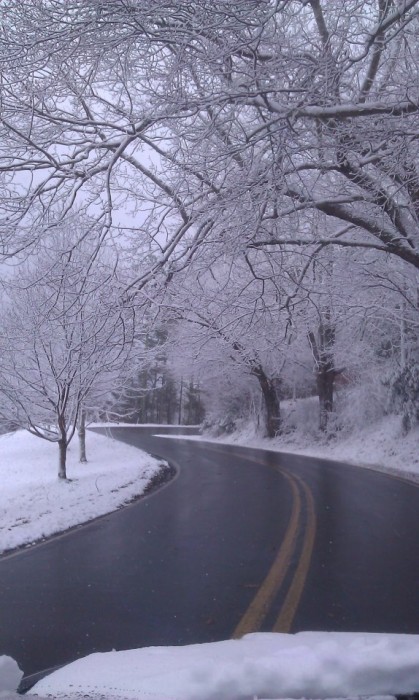 1:55pm – Blue Ridge Electric members currently without power: 63 in Ashe, 9 in Caldwell
1:50pm audio update

1:09pm – 85 Blue Ridge Electric members currently without power in Watauga, 62 in Ashe
12:36pm Video update from Brad Panovich

12noon – power has been restored to the section of Blowing Rock (Goforth and Rankin roads) where power line was down.
Video update from NWS
10:41 – 43 Blue Ridge Electric members currently without power, could be due to the downed power line in the Goforth/Rankin roads area in Blowing Rock
Scanner report of a tree and possible power line down in the area of Goforth and Rankin roads – 10:27am
One of the greatest live wind maps on the net, http://ht.ly/eQDnt
10:10am – check out this image of Sandy from NOAA

10am – Starting to see the first issues locally with Sandy, power glitches/outages, loss of satellite signals, scattered black ice on some roads.
9:44am audio update

Just had power glitch in Valle Crucis, was off about 3 seconds – 9:26am
9am – Wind chill values as low as 10 above today, tonight, tomorrow per NWS. Report of black ice on top of Friendship Church Rd
8:54am – Getting report of "black ice forming towards top of friendship church rd."
8:27am – Photo from Beech Mountain by Amy Morrison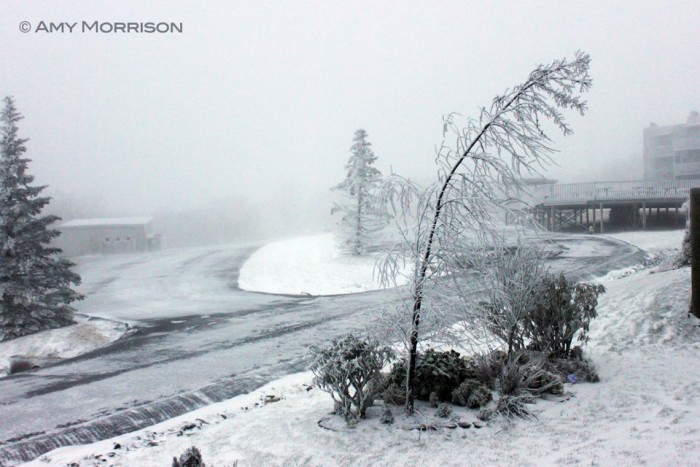 via http://www.facebook.com/BeechMountain
7:41am – Continued scattered icy spots being reported from Blowing Rock
7:20am audio update
7:12am – fb report "Beech mountain parkway from emerald mountain entrance on is snow covered"
Per police scanner – Avery County Schools are now CANCELLED – 7:05am
7am – Been warning about possible power outages with this storm, already over 3600 outages mostly in southwestern NC. Not hearing of any in our area yet. Duke Energy outage map for southwestern North Carolina.
6:45am – More reports coming into the facebook page that roads are mostly wet, there are isolated areas where some roads are starting to get covered.
6:10am – No other road reports are coming into the facebook or twitter pages, which is usually a good sign that by and large conditions are ok as far as driving goes. Expect winds to pick up as the day goes along which could cause power outages already.
5:30am audio update –
5:20am – The peak wind gust so far at the Watauga Medical Center reporting station is 41mph
5:06am – Some slick spots starting to be reported in Blowing Rock
4:54am- Even though snow has stuck to some surfaces early reports coming in are roads are just wet
Winter Storm Warning and High Wind Warning are both in effect for the entire High Country
4:38am Monday Oct 29 -Make no mistake, it's cold this morning. Temps are in the 30s with winds of 13-30mph
——————————————————————————————————–
Sunday Oct 28, 2012 Reports
8pm – taking an early break from updates for Sunday night due to storm lasting for several days. More updates posted starting early Monday morning.
7:12pm – Snowball on Beech. Photo by Zack Tostevin.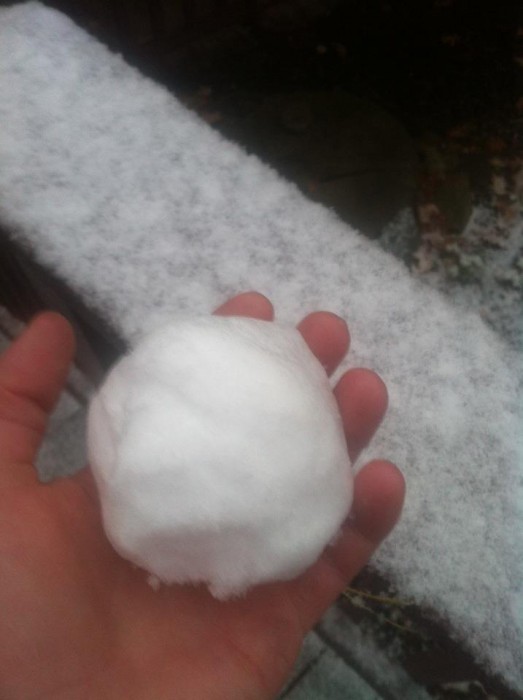 6:35pm Sunday – here's the first video of snow to come into the website.

6:11pm – multiple reports of either snow,sleet, rain or a mix coming into the facebook page.
5:54pm – getting fb report of mix between rain and snow on the top end of Meat Camp.
5:37pm – Winter Storm Warning has been issued for the entire High Country now
5:22pm – reports of snow falling in Matney, Banner Elk and Beech Mtn
Now getting reports from our fb page of snow in Banner Elk and Beech Mountain – 5:18pm
5:06pm – getting facebook report that it's 33 and sleeting at the top of Beech Mountain as well
5pm Sunday Oct 28 – seeing a twitter report that it is SLEETING at the foot of Beech Mountain