Last Updated on October 2, 2022 5:41 pm
This weekend is shaping up for another round of snow for the High Country. Here's some of the data coming in about snow possibilities this weekend.
Feb 17
Afternoon video from NWS
Morning video briefing from National Weather Service
Feb 16
*Graphics below via NOAA and Brad Panovich at wxbrad.com*
Probabilities of 4" or more from HPC/NOAA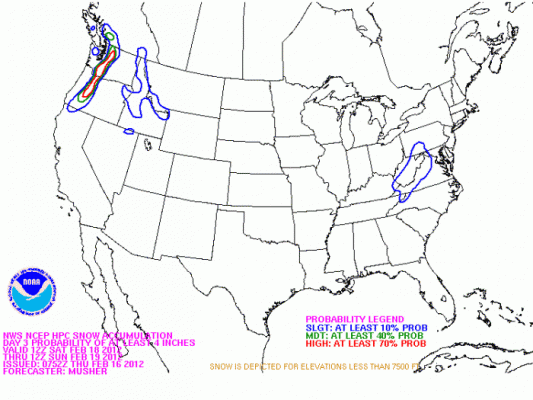 Analog chances of 2" or more based on similar storm set-up over history.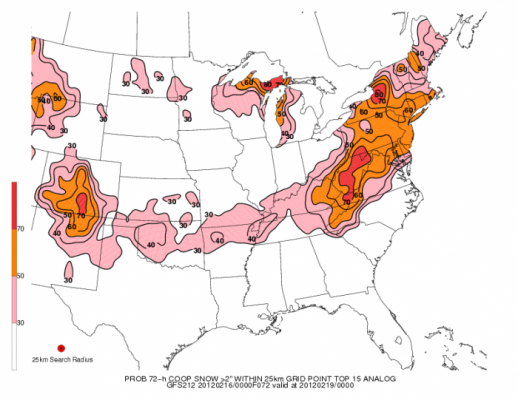 John L'Heureux of L'Heureux's Weather – www.facebook.com/LHeureuxs.Weather
"Rain Saturday day switches to a rain/snow mix early Sunday morning before changing back to rain mid Sunday morning. My concern is the potential for large, fat snowflakes to ignore the above-freezing temperatures at the surface and survive to the ground.
This greatly increases the complexity of the forecast, especially since one the low matures, the High Country sits right on the line between the rain/snow sectors. Putting everything together, the final piece that determines if this is rain or snow is how hard it is precipitating.
Larger, fatter snowflakes take longer to melt and are more likely to survive down to the surface. Look to see alternating periods of light rain and fat snowflakes Sunday. Based on what I am seeing, the High Country is looking at 1-3″ of slushy snow. These numbers are prone to fluctuations, especially if there is a shift in the storm track."