Last Updated on October 2, 2022 5:21 pm
Meteorologist, forecasters and High Country residents and motorist are still trying to pinpoint when or if we'll get snow this coming week.
Here's what happening around facebook, twitter and other outlets as to when and how much snow we may get. First to the rain, Phil Hysell of the National Weather Service Blacksburg forecast office passes along via twitter "NWS Blacksburg rainfall accumulation forecast through Tue shows ~3 inches of rain expected in the NW NC mountains"

Phil also passes along via twitter "HPC's probability of snow accumulating to 2 inches or more forecast shows best chance in our area the NW NC mountains"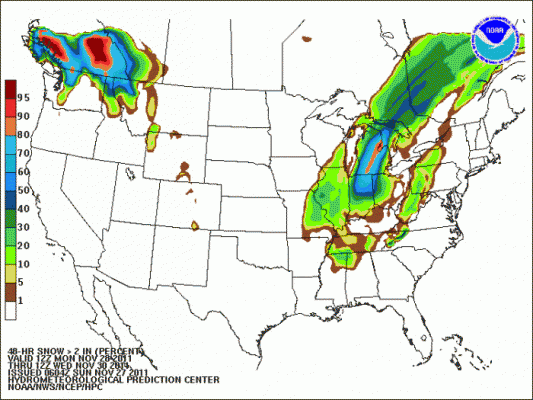 The Hazardous Weather Outlook from the National Weather Service "DAY ONE…TODAY AND TONIGHT.
STRONG SOUTHERLY WINDS MAY GUST TO 45 MPH ESPECIALLY ALONG THE
HIGHER RIDGES AND IN AREAS WHERE WINDS TEND TO CHANNEL MORE.
.DAYS TWO THROUGH SEVEN…MONDAY THROUGH SATURDAY.
A STRONG STORM SYSTEM WILL BRING AN INCREASE IN SOUTHEAST WINDS
THROUGH MONDAY AND MONDAY NIGHT…AS WELL AS A PERIOD OF HEAVY
RAINFALL LATE MONDAY AND MONDAY NIGHT…ESPECIALLY NEAR THE BLUE
RIDGE. THIS RAINFALL COULD BE ENOUGH TO PRODUCE SOME MINOR
LOCALIZED FLOODING. IN ADDITION…SOUTHEAST WINDS ALONG THE
HIGHEST RIDGES…AS WELL AS ON THE NORTHWEST SIDE OF HIGH RIDGES…
COULD BE STRONG ENOUGH TO PRODUCE LOCALIZED DAMAGE…AND WITH WET
GROUND SOME TREES COULD MORE EASILY BE UPROOTED. THE WINDS AND HEAVY
RAIN WILL MOVE NORTHEAST BY LATE MONDAY NIGHT."
John L'Heureux of L'Heureux's Weather "Minor fluctuation in snow forecasts for Tuesday: this is due to a lack of moisture more than anything else.
Tuesday morning (Monday night for areas south of Asheville) through Tuesday night, the snow coming in is very elevation dependent. Western AND eastern slopes are about equal for snow chances, although higher peaks farther south will luck out with more snow.
Snowfall amounts: Boone and everyone below 3500′ – a dusting
3500′ – 4500" – a dusting to 1″
Above 4500′ – 1-2″ (2″+ for highest elevations)."
Brad Panovich of WCNC TV talks on his blog about how tough the forecast for this week will be. Check out his blog entry
Here's a graphic that Brad shared on facebook "Waiting for the upper trough to cut-off and the fun to begin across the mid-south and southeast."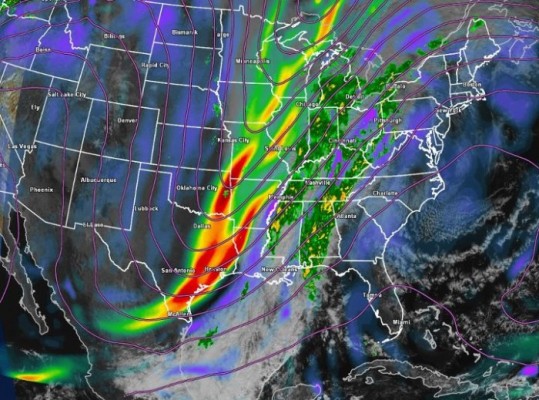 Brad also passed along Sunday night via facebook "Not much change to my thinking on the forecast just 24 hours slower. Heavy rain 1st for everyone Monday. Then snow mainly above 2500′ by Tuesday afternoon 1-3" in the NC mountains.