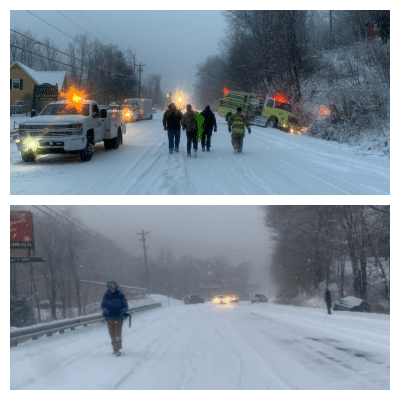 Last Updated on January 20, 2020 11:57 am
A winter weather system that brought a quick drop of snow lead to the closing of a section of Highway 105 in Foscoe early Monday morning.
The first reported accident involved a jackknifed tractor and trailer on the mountain between Foscoe in Watauga County and Tynecastle in Avery County. That occurred early in the 6 am hour, according to incoming social media reports at the time. As falling snow flurries/showers continued, and single-digit windchills also leading to some icing conditions, reports of multiple accidents were also noted in the same area. As of the writing of this article it is unknown just how many accidents occurred.
That section of the road was totally reopened around 9:15 am.
One incoming Twitter report noted that many people had taken refuge in a gas station due to the road closure.
Photos courtesy of Banner Elk Volunteer Fire & Rescue