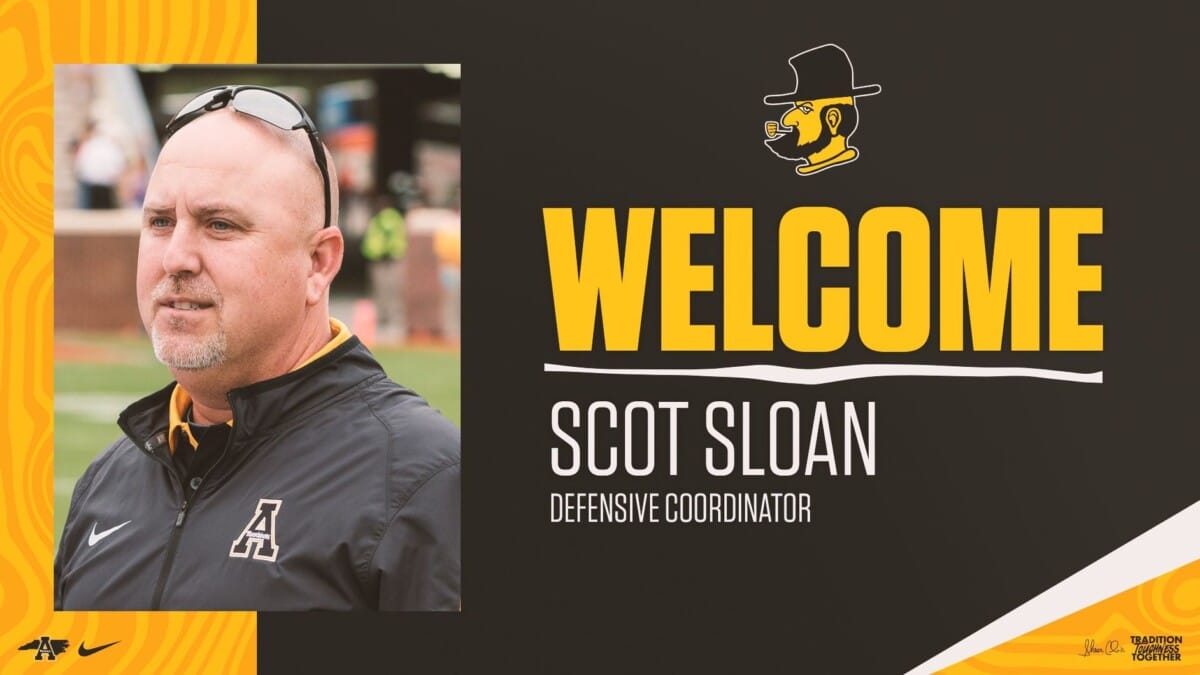 Last Updated on January 13, 2023 10:49 am
BOONE, N.C. — Scot Sloan, who helped App State Football rise to prominence in its unprecedented transition from the FCS to FBS ranks, is returning to Boone as defensive coordinator, head coach Shawn Clark announced Friday.
Sloan will oversee a Mountaineer defense that was annually rated among college football's best during his time on staff from 2010-17.
"We are excited to welcome Scot and his family back to Boone," Clark said. "Scot played a key role in our championship success and recruiting during his first stint here. He has coordinated successful defenses with multiple programs, and he will instill a tough, sound, disciplined approach for our defense moving forward."
Before spending last season as co-defensive coordinator and safeties coach for an Army team that ranked third nationally in passing yards allowed, he was the defensive coordinator and safeties coach at Georgia Southern from 2018-21.
"I would like to thank Coach Clark, Doug Gillin and Chancellor Everts for this opportunity to return to App State," Sloan said. "The eight years that my family and I spent at App State earlier in my career were very special years. My wife Stephanie and I are very excited to rejoin the Mountaineer family. I am looking forward to meeting all of the players and to building a relationship with them. I can't wait to take the field again at The Rock!"
A veteran defensive coach with 30+ years of experience, Sloan has served as either defensive coordinator or co-defensive coordinator in 15 of those seasons. He also spent seven years as App State's recruiting coordinator from 2011-17, with App State's 2017 class being hailed as the nation's No. 13 haul in The Athletic's re-rank four years later.
Sloan's defenses at Georgia Southern included a 2020 squad that was No. 1 in the country for interceptions (18) and ranked 14th in total defense, 14th in rushing defense and 12th in red zone defense. The 2019 Eagles were tops in the Sun Belt in tackles for loss and fumbles recovered, while the 2018 team led the FBS with a +22 turnover margin in large part thanks to 15 interceptions by Sloan's defense.
Among his standout pupils in Statesboro were All-Americans Kindle Vildor and Raymond Johnson III as well as Freshman All-American Derrick Canteen. Vildor was selected by the Chicago Bears in the fifth round of the 2020 NFL Draft and has enjoyed NFL success along with Sloan-coached defenders Johnson, Joshua Moon and Donald Rutledge Jr.
Sloan spent eight seasons as App State's secondary coach and was promoted to co-defensive coordinator in the spring of 2017. During that time, Sloan mentored the Mountaineers' first FBS Freshman All-American in Clifton Duck in 2016, two NCAA Division I FCS All-Americans (Mark LeGree in 2010 and Demetrius McCray in 2011) and 16 all-conference honorees.
Sloan mentored one of the nation's top secondaries and pass defenses during his last three seasons at App State, helping lead the Mountaineers to a pair of Sun Belt titles and three bowl wins (in their first three bowl eligible seasons – an FBS record). App State had 53 interceptions in his last three seasons, second-most nationally behind San Diego State during that span.
In 2017, seven defensive players earned first-team All-Sun Belt honors, including three from his secondary, as the Mountaineers were ranked in the top 20 nationally in interceptions, sacks and turnover margin en route to capturing the Sun Belt title.
App State allowed only 10.8 points per game and went 7-1 in league play en route to its first Sun Belt title in 2016, a season that saw the Mountaineers finish with 20 interceptions (the sixth-highest total in the FBS) and rank 11th nationally in pass efficiency defense.
In 2015, the Mountaineers intercepted 18 passes, good for 12th in the nation, and won the Camellia Bowl in the school's first bowl appearance in its first eligible season.
During his first eight years in Boone, Sloan coached two NFL Draft picks (LeGree and McCray), while former safety Doug Middleton played six years in the league and cornerback Tae Hayes has spent four years in the league. Safeties Alex Gray, A.J. Howard, Austin Exford and Josh Thomas have also spent time on NFL teams.
As the program's recruiting coordinator, Sloan helped nail down several highly regarded signing classes, the first in 2012 coming despite him not taking over as recruiting coordinator until just six weeks prior to National Signing Day. The Mountaineers' 2014 recruiting class — its first as an NCAA Division I FBS program — was ranked No. 1 in the Sun Belt by 247Sports while Sloan was tabbed as the Sun Belt's top recruiter by Scout.com.
Sloan spent three years at Riverside Military Academy in Gainesville, Ga., culminating with him serving as the program's head coach in 2009. During his three-year stint at Riverside, which included two seasons (2007-08) as defensive coordinator, he helped lead the Eagles to three playoff berths and an 18-15 overall record. He was also the school's athletics director for two years (2008-09).
Prior to his stint at Riverside, Sloan was the defensive coordinator at Griffin (Ga.) H.S. in 2006, when his squad posted an 11-1 record and advanced to the second round of the Georgia state playoffs. The team's lone loss came at the hands of future Kansas City Chiefs All-Pro Eric Berry.
Before spending four years in the high school ranks, Sloan was a successful assistant at Georgia Southern (defensive backs, 2002-05), Georgia Military College (defensive coordinator/recruiting coordinator/defensive backs, 1996-2001) and Clemson (graduate assistant, 1992-95).
He played defensive back at Clemson from 1989-91, was a member of three bowl teams and helped lead the squad to the 1991 Atlantic Coast Conference championship.
Sloan holds a pair of degrees from Clemson and one from Lincoln Memorial University. He is married to the former Stephanie Crisco. They have two sons: Seth and Samuel.

SLOAN AT A GLANCE
Coaching Experience
1992: Clemson (Video graduate assistant)
1993-95: Clemson (Graduate assistant)
1996-99: Georgia Military College (Defensive coordinator/Recruiting coordinator/Defensive backs)
2000-01: Georgia Military College (Assistant head coach/Defensive coordinator)
2002-05: Georgia Southern (Defensive backs)
2006: Griffin (Ga.) High School (Defensive coordinator/Defensive backs)
2007-08: Riverside (Ga.) Military Academy (Assistant head coach/Defensive coordinator/Athletics director)
2009: Riverside (Ga.) Military Academy (Head coach/Athletics director)
2010: App State (Secondary)
2011-16: App State (Secondary/Recruiting coordinator)
2017: App State (Co-defensive coordinator/Secondary/Recruiting coordinator)
2018-21: Georgia Southern (Defensive coordinator/Safeties)
2022: Army West Point (Co-Defensive coordinator/Safeties)

Playing Experience
1989-91: Clemson

Alma Mater: Clemson, 1992 (Master's – Clemson, 1994)
Hometown: Woodruff, S.C.
Birthdate: August 25, 1970
Wife: Stephanie (Crisco)
Sons: Seth and Samuel
Twitter: @coach_sloan

College Bowl/Postseason Experience
Coach:
1993 Peach (Clemson vs. Kentucky)
1995 Gator (Clemson vs. Syracuse)
2002 NCAA FCS Semifinals (GS)
2004 NCAA FCS First Round (GS)
2005 NCAA FCS First Round (GS)
2015 Camellia (App State vs. Ohio)
2016 Camellia (App State vs. Toledo)
2017 Dollar General (App State vs. Toledo)
2018 Camellia (GS vs. Eastern Michigan)
2019 Cure (GS vs. Liberty)
2020 New Orleans (GS vs. Louisiana Tech)

Player:
1989 Gator (Clemson vs. West Virginia)
1990 Hall of Fame (Clemson vs. Illinois)
1991 Citrus (Clemson vs. Cal)