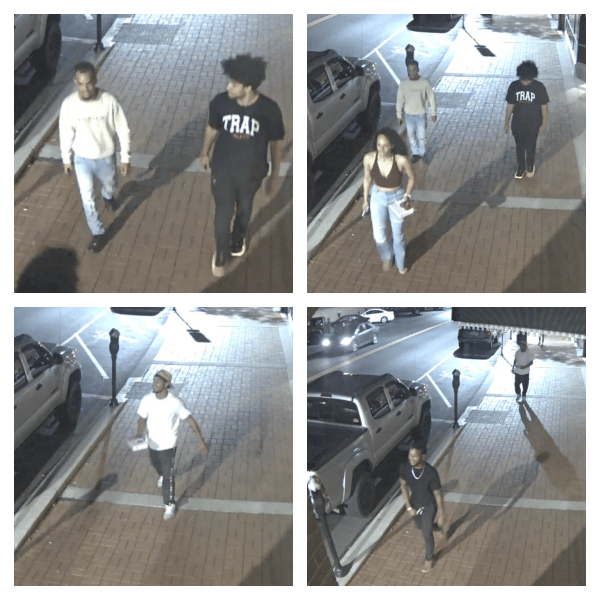 Last Updated on August 21, 2022 10:57 am
High Country Crime Stoppers and Boone Police seek the public's assistance in solving the following crime:
On Sunday, August 21, 2022, at approximately 1:15 AM, Boone Police, along with members of the Watauga County Sheriff's Office and Appalachian State University Police Department responded to reports of shots fired in the 700 Block of West King Street. Witnesses observed a verbal altercation between the occupants of an older model, black Chevy truck and pedestrians in the area of 600 and 700 Block of West King Street which precipitated the shooting. The occupants of the truck left the area in the vehicle, and the pedestrians began running away.
Responding officers located the truck and the occupants. The vehicle sustained multiple bullet holes, but no one in the vehicle sustained injuries. There was also damage incurred to two downtown businesses.
The pedestrians involved in the verbal altercation with the occupants of the vehicle were not present upon the arrival of law enforcement. Two males in the photographs were reportedly seen running towards the truck at the time shots were fired, and the other males and a female were seen on surveillance footage in the vicinity of the altercation and shooting.
The individuals identified as being involved or witnesses to this incident are described as following: The individual who was seen shooting the weapon is described as a black male, appearing to be in his early to mid-20's, facial hair, white t-shirt, black athletic pants, white shoes and a light brown baseball hat. The other persons shown in the images are individuals that we would like to speak with to learn more about what happened. The second individual observed on surveillance footage running towards the truck that was fired upon, was described as a black male, appearing to be in his early to mid-20's, wearing a black t shirt, black jeans and tan shoes.
Additional photographs show two other males and one female who may have been involved in the initial altercation and witnesses to the incident.
The Boone Police Department is asking that anyone who was witness to this incident or has knowledge of the identity of any of the individuals on surveillance footage, regarding the Discharging of a Firearm into an Occupied Vehicle, and Assault with a deadly weapon or any other crimes, is asked to call Crime Stoppers / Boone Police Department at 828-268-6900. You may also submit a Crime Stoppers Tip via our website at:
https://cityprotect.com/agency/f834e5ed-493f-4118-a5dc-03d5d7347b22
All information will be kept confidential.