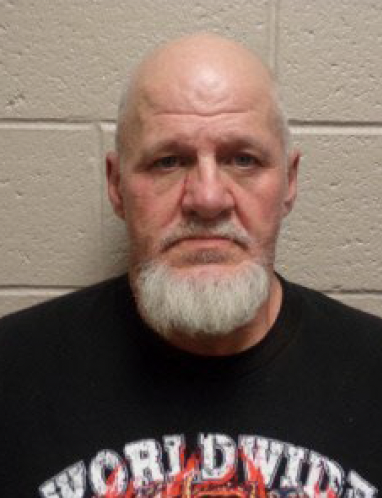 Last Updated on September 22, 2023 1:00 pm
Creston, N.C. – Sheriff B. Phil Howell announces the capture of 57-year-old Michael William Brown of Creston. Brown faces multiple charges in two states. 
On Monday, September 11th, Deputy Josh Carter was patrolling the Creston area and noticed a vehicle traveling toward Tennessee on the wrong side of the road. Deputy Carter attempted to initiate a traffic stop. The vehicle, at times traveling 30 MPH over the posted speed limit, crossed into Tennessee, where Johnson County Deputies assisted. Ashe & Johnson Deputies apprehended Brown after wrecking his vehicle, followed by a foot chase. K9 Handler Deputy Bledsoe deployed K9 Keeko to aid in tracking. After a search was conducted, deputies found Methamphetamine on Brown. 
The suspect was known to the Johnson County Sheriff's Office, where he was transported to their Detention Center, where he was booked under a $100,000 bond, and a detainer prevented his release through bond. 
Browns Charges from Tennessee include: 
• Evading Arrest
• Possession Of Methamphetamine
• Unlawful Removal of Registration Plate
• Driving on Suspended License
• Fugitive from Justice for Crime in Another State
Browns Charges from North Carolina include:
• Felony Flee/Elude Arrest with Motor Vehicle
• Felony Possession Methamphetamine
• Driving While License Revoked
• Resisting Public Officer
• Fictitious License Plate
• Possess Open Container