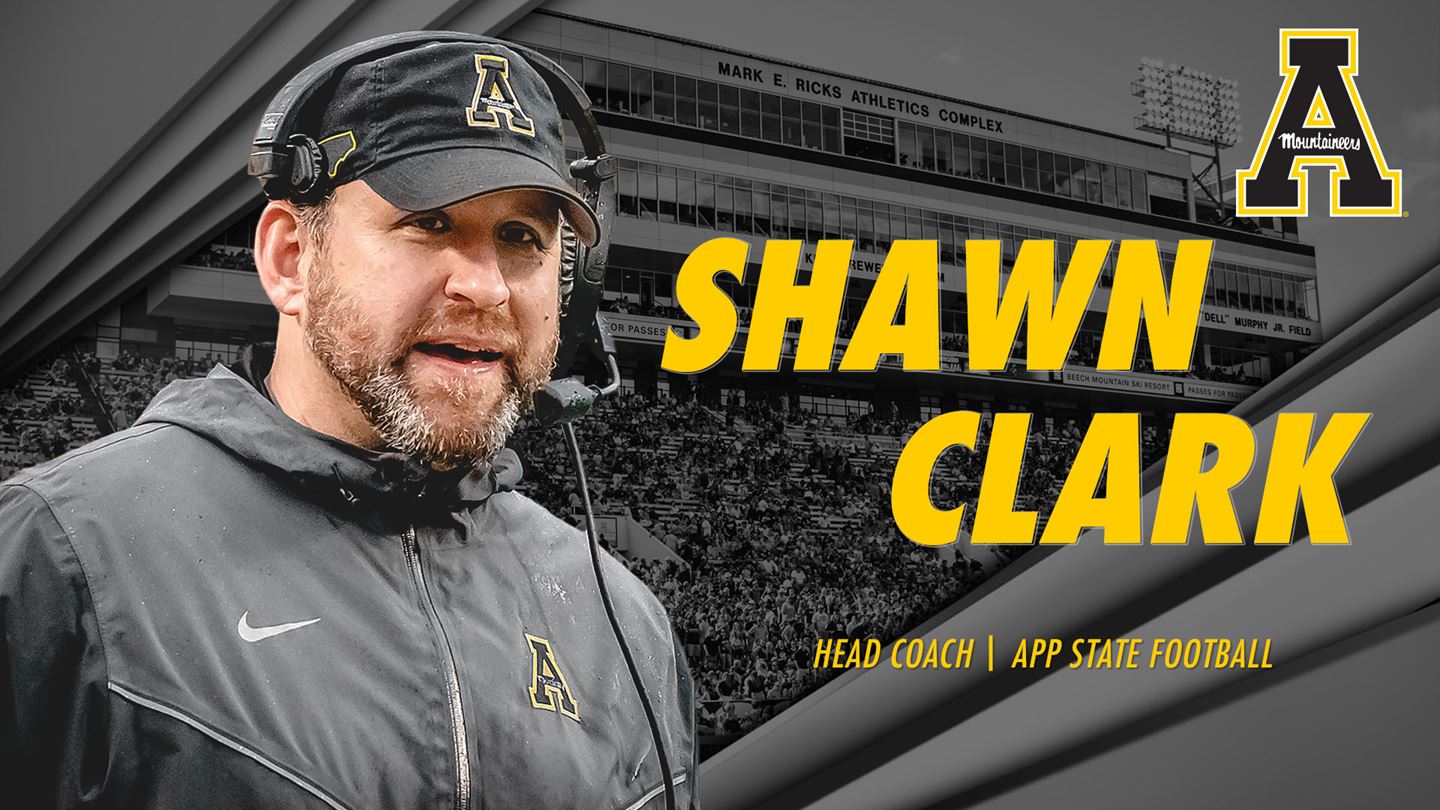 Last Updated on February 12, 2022 6:45 pm
BOONE, N.C. — A champion as an Appalachian State player and coach, Shawn Clark has been chosen to lead App State's championship football program.

Clark, 44, has agreed to become the 22nd head football coach in App State history. His five-year contract, which runs through the 2024 season, was approved Friday afternoon by Chancellor Sheri Everts and the Appalachian State University Board of Trustees and is subject to North Carolina Board of Governors approval.

Clark will be the head coach when the 20th-ranked Mountaineers (12-1) wrap up the 2019 season by facing UAB on Dec. 21 in the R+L Carriers New Orleans Bowl. He will be formally introduced today during a 4:30 p.m. press conference that's open to the public and can be seen by clicking HERE.

"I am thrilled to officially welcome Appalachian alumnus Shawn Clark as our new head football coach," Everts said. "I appreciate his steadfast leadership and know we all look forward to his continued success with our history-making team."

"It's a great day to be a Mountaineer," Director of Athletics Doug Gillin said. "We are thrilled to announce Shawn Clark as our new head coach. He's been a great leader for us since the day he returned to his alma mater. He has experience at both Power Five and Group of Five schools and is highly respected among his peers, his players, on campus and in the community. His experience as a leader, play-caller and recruiter will help us to continue to raise our football program to new heights."

Today, you can renew your App State season tickets and Yosef Club membership or purchase new seats for the 2020 season by clicking HERE, calling 828-262-2079 or visiting the App State Athletics ticket office, located at the Holmes Center.

Clark has helped lead record-setting runs to conference titles and bowl victories, not just at App State, where he played from 1994-98 and had served as an assistant since 2016, but also in four other leagues during his two decades of college coaching experience.

Working for championship-winning programs at Louisville and Eastern Kentucky before being part of a bowl win for Big Ten member Purdue and coaching at Kent State, Clark has been a vital part of App State's historic success in the last four seasons.

Overseeing talented, hard-working offensive lines the entire time, he followed a December 2018 coaching change involving college teammate Scott Satterfield's departure for Louisville by excelling as an aggressive offensive play-caller in a 45-13 bowl victory against Middle Tennessee. With valuable experience at his disposal, Clark was promoted to assistant head coach before the 2019 season with Eliah Drinkwitz in his first year as a college head coach.

In each of Clark's four seasons coaching App State's offensive line, with the Mountaineers earning four straight Sun Belt Conference titles while compiling a 42-10 record in that span, the line has ranked in the top 25 nationally in both rushing yards per game and fewest sacks allowed. The unit has been recognized by the Joe Moore Award as one of the nation's top 15 offensive lines in each of the last two years, and all five starters on this year's line have received All-Sun Belt Conference recognition.

An offensive lineman in college, Clark was a two-time All-American (1996 and 1998) and three-time all-conference selection (1995, 1996, 1998) for teams that went a combined 45-16 during his first five years in Boone. In fact, as a player during the 12-0 start in 1995 and a coach for the 2019 team that has set a single-season record for wins by an FBS program in the state of North Carolina, Clark has been part of the two App State teams to post 11 regular-season victories.

"This is the opportunity of a lifetime to be named the head football coach at my alma mater, the school that I love so much," Clark said. "I would like to thank Chancellor Everts, the Board of Trustees and Doug Gillin for entrusting me with this great responsibility. I am excited to keep pushing our players to greatness on and off the field and to work with a great coaching staff to win championships. My family and I are grateful to stay in Boone and keep pushing this program to new heights."

Clark graduated from App State with a bachelor's degree in criminal justice in 1988 and earned a master's degree in education from Louisville in 2003.

His wife, Jonelle, was a standout softball student-athlete at Eastern Kentucky and was inducted into EKU's Athletics Hall of Fame in 2008. The Clarks have two children: a daughter, Giana, and a son, Braxton.

Clark began his college coaching career at Louisville in 2001 and has been part of six teams that won at least nine games. The Cardinals won a Conference USA championship and bowl game during an 11-2 season in 2001, when Clark was a graduate assistant, and he coached the offensive line at Eastern Kentucky from 2003-08.

The Colonels had a winning record in each of those six seasons, and Clark coached three All-Americans who went on to play in the NFL. Eastern Kentucky went a combined 17-7 with back-to-back league titles and FCS playoff appearances before Clark moved on to Purdue for a stint that ran from 2009-12. Two offensive linemen from the 2010 team were drafted, the Boilermakers capped a seven-win season in 2011 with a victory in the Little Caesars Pizza Bowl, and they made another bowl appearance a year later.

A head coaching change contributed to Clark relocating to Kent State, where he coached the offensive line from 2013-15. He was quickly promoted to run game coordinator at Kent State and served as the program's assistant head coach in 2015, before Satterfield brought his college teammate back to Boone.

In 2016, the Mountaineers led the Sun Belt in rushing offense (250.9 yards per game to rank No. 10 nationally as well as No. 2 in Sun Belt history) and ranked 16th nationally in sacks allowed. The line also paved the way for running back Jalin Moore to be named the Sun Belt's Offensive Player of the Year and steered Marcus Cox toward becoming the program's all-time leading rusher with more than 5,000 career yards.

The Mountaineers led the Sun Belt in both rushing yards and fewest sacks in 2017, as they allowed only eight sacks (No. 2 nationally) and averaged 223.6 rushing yards per game to rank 22nd nationally. App State averaged 315.8 rushing yards during its 4-0 finish, going over 300 yards in each of the last three games, and it became the first Sun Belt program with three offensive linemen (Colby Gossett, Beau Nunn, Victor Johnson) named to the all-conference first team.

The 2018 team ranked 14th nationally in rushing yards per game (240.3) and 20th nationally with only 18 sacks allowed. Quarterback Zac Thomas was named the Sun Belt's Offensive Player of the Year, and Darrynton Evans rushed for 1,187 yards even though he didn't become the team's primary back until after a season-ending injury sidelined Moore in Game 5.

Offensive linemen Parker Collins, Gossett and Nunn joined NFL franchises after learning from Clark at App State, and Johnson has accepted an invitation to play the NFLPA Collegiate Bowl. He's the only senior starter on an offensive line that's helped the 2019 team rank 17th nationally at 229.2 rushing yards per game and No. 19 with only 17 sacks allowed.

By defeating Louisiana in last weekend's Sun Belt Championship Game, App State joined Clemson and Oklahoma as the only FBS programs with at least four straight conference titles.