Last Updated on October 2, 2022 5:38 pm
Tornado possibilities graphic from Brad Panovich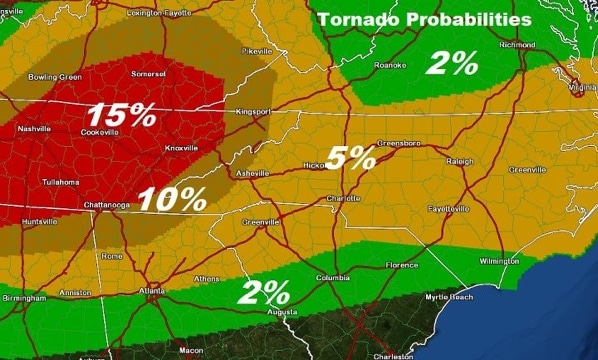 136 PM EST WED From NWS
…SEVERE THUNDERSTORMS POSSIBLE LATE THIS AFTERNOON THROUGH THE
EARLY MORNING HOURS ON THURSDAY ACROSS WESTERN NORTH
CAROLINA..UPSTATE SOUTH CAROLINA..AND NORTHEAST GEORGIA…
THUNDERSTORMS ARE EXPECTED TO DEVELOP LATE THIS AFTERNOON ACROSS
EASTERN TENNESSEE AHEAD OF A COLD FRONT…WITH THE STORMS REACHING
THE MOUNTAINS OF NORTH CAROLINA AFTER 6 PM THIS EVENING. THERE IS
A GOOD CHANCE THAT SEVERAL OF THE STORMS WILL BE STRONG ENOUGH TO
PRODUCE WIND DAMAGE AND LARGE HAIL. THE STORMS MAY CONSOLIDATE
INTO A SQUALL LINE THAT COULD PRODUCE SWATHS OF DAMAGING WIND. THERE
WILL BE ENOUGH WIND SHEAR IN THE LOWER PART OF THE ATMOSPHERE SUCH
THAT TORNADOES WILL ALSO BE POSSIBLE. ALTHOUGH TORNADOES ARE RARE
OVER THE MOUNTAINS…PARTICULARLY IN WINTER…THE WEATHER
SITUATION THIS EVENING IS MUCH MORE LIKE SPRINGTIME…SO A FEW
TORNADOES SHOULD NOT BE RULED OUT.
ADDITIONAL STRONG TO SEVERE THUNDERSTORMS MAY DEVELOP LATE IN THE
DAY ACROSS NORTHERN ALABAMA AND NORTH GEORGIA…REACHING NORTHEAST
GEORGIA DURING THE MIDDLE PART OF THE EVENING. IF THESE STORMS
DEVELOP…THEY WOULD MOVE ACROSS THE UPSTATE LATE THIS
EVENING…AND TOWARD THE CHARLOTTE METRO AREA IN THE EARLY MORNING
HOURS…PRODUCING DAMAGING WIND GUSTS AND LARGE HAIL. A FEW SUPERCELL
THUNDERSTORMS WILL BE POSSIBLE…WHICH WOULD INCREASE THE THREAT
FOR A FEW TORNADOES.
IT IS UNCERTAIN IF STORMS WILL MOVE EAST OF THE BLUE RIDGE OVER
THE NORTH CAROLINA FOOTHILLS AND NORTHWEST PIEDMONT…BUT THERE IS
A SLIGHT RISK OF SEVERE THUNDERSTORMS WITH DAMAGING WIND GUSTS IN
THOSE AREAS LATE TONIGHT.
LATER DEVELOPMENTS…SUCH AS THE DEGREE TO WHICH THE ATMOSPHERE
BECOMES UNSTABLE AND THE AMOUNT OF WIND SHEAR…WILL DETERMINE IF
ANY SEVERE THUNDERSTORM OR TORNADO WATCHES ARE ISSUED FOR THE
WESTERN CAROLINAS AND NORTHEAST GEORGIA. MONITOR THE FORECAST
LATER THIS EVENING…ESPECIALLY BEFORE GOING TO BED TONIGHT"
Video update from Brad Panovich, WCNC NewsChannel 36 Chief Meteorologist, Twitter Facebook