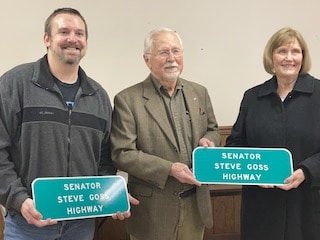 Last Updated on January 19, 2022 10:30 am
January 14, 2022 DEEP GAP – The Hon. Cullie Tarleton joined the state legislature the same year that the late Steve Goss joined the state senate.
They shared the same goal of increasing safety and connectivity on U.S. 221 from Deep Gap to West Jefferson. Construction is nearing completion on the highway in Ashe and Watauga Counties.
There is a new designation, too.
Tarleton emceed a small ceremony designating a five-mile stretch of U.S. 221 from Windy Hill Road to the Ashe/Watauga County Line as the Sen. Steve Goss Highway.
"We had a shared goal of getting Highway 221, which was a dangerous two-lane highway, widened and four-laned from Deep Gap to West Jefferson," said Tarleton, the N.C. Board of Transportation member for Division 11. "Working together, and with the support of the Senate and House leadership, we accomplished that goal.
"Steve Goss is an Ashe County legend."
The N.C. Board of Transportation unanimously passed a resolution last summer to dedicate the stretch of highway in Goss' honor. NCDOT crews unveiled the road signs on Friday.
Part of the resolution reads, "Goss spent several years teaching and coaching in Ashe County; and Goss was an ordained minister and also pastored churches in Ashe County; and that the Ashe County Commissioners recommends that the NCDOT designate a portion of the new highway 221 for Senator Goss."
Family members, including Goss' wife Phyllis and son Andy, along with close friends attended the ceremony Friday at Gap Creek Baptist Church.
"I know hard Steve worked and I watched him over the years work for this," Mrs. Goss said. "U.S. 221 was a very dangerous road and it's just amazing how nice it is today."
The Hon. Cullie Tarleton presents replica signs to the wife (Phyllis) and son (Andy) of Sen. Steve Goss on Friday.