Last Updated on October 2, 2022 5:47 pm
With temperatures in the 60's in Boone on Sunday, it was not the warm weather catching the attention of some motorists, instead it was seagulls.
Numerous Facebook posts on the Watauga County Road Conditions and Weather Updates page commented about seeing the rare sight for the mountains, and at least two people posted that they also saw them in Wilkesboro. A majority of the birds seem to be in the Boone Mall parking lot, but there were also reports of them at different locations along Blowing Rock Road.
It's not the first time seagulls have been spotted in the High Country, as some Facebook comments noted seeing them before over recent years. But many people are puzzled as to why so many were together at one time, and why they choose the places to gather in such large numbers. Some Facebook comments posted that this is part of their migration route.
Photo & Video: Candace Presnell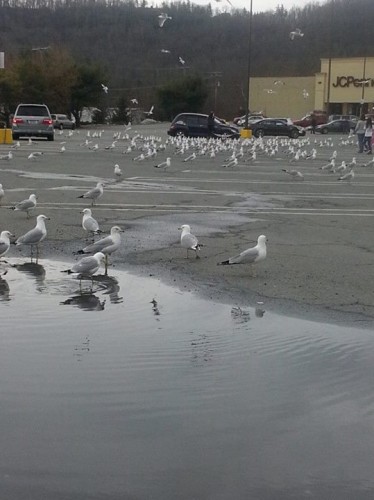 Photos from the Boone Mall parking lot by Cassandra Hartley