Last Updated on October 2, 2022 6:03 pm
The Watauga Roads and Weather social media outlets received several reports of very light snow flurries in the area on Saturday night (October 4).
Flurries were reported from parts of Banner Elk, Sampson Road, Crossnore, Parkway/Aho and Newland.
It's also of note that three years ago this week the earliest measurable snow was recorded in North Carolina.
NWS Statement via wxbrad.com 
Photo via  wxbrad.com  on Beech Mountain Oct 1, 2011
Photo via wxbrad.com  on Beech Mountain Oct 1, 2011
 Photo submitted to Watauga Roads Facebook page on Oct 1, 2011 from Meat Camp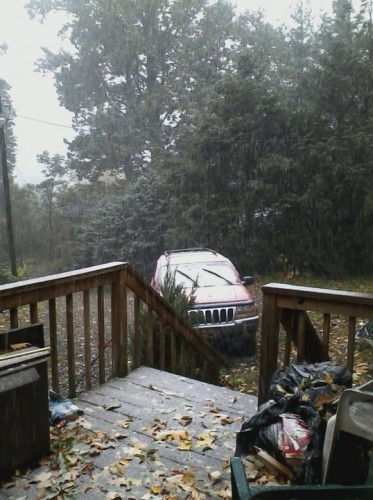 Photo from Beech Mountain Facebook Page on Oct 1, 2011