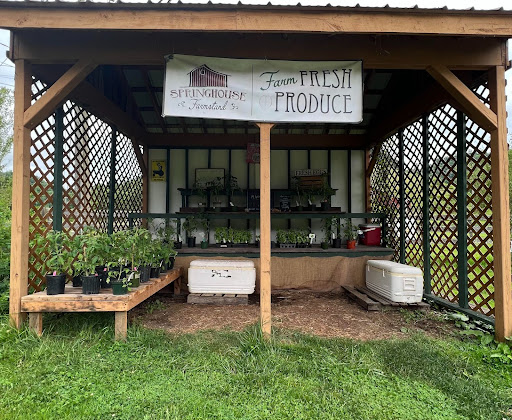 Last Updated on August 23, 2023 11:49 am
AppHealthCare is working to increase local healthy food access to more people so the healthier choice can be an easier one.
There are many barriers to overcome when trying to access healthier food for families. Many families live in a food desert, where healthy options are very limited, or struggle with the expense of fresh fruits and vegetables. AppHealthCare, along with community partners, is addressing these barriers by providing resources and support to farm stands which can serve as a place for people to get local healthy food in rural areas without the added cost of transporting foods to market.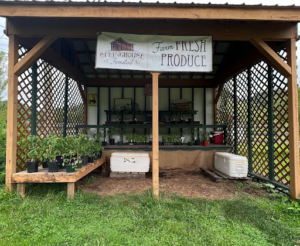 AppHealthCare has worked closely with Amy Fiedler, who owns and operates Springhouse Farm and Farm Stand, to learn about the successes and challenges of operating a farm stand. Amy has operated the Springhouse Farm Stand since 2008 when it began as just a table and an umbrella. Amy has grown the farm stand and now offers a variety of fruits, vegetables, and plant starters.
"Our produce stand has been a great way to offer our community access to fresh, organically raised vegetables 7 days a week, May through October. Our stand is based on the honor system. By stocking the stand daily, our neighbors get the tastiest, most nutrient-dense vegetables available, while supporting our small, female-owned farm," stated Amy Fiedler.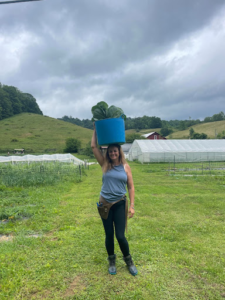 From the successes and challenges learned from Amy, AppHealthCare is able to take that knowledge to help others who want to either set up a farm stand or enhance one they already have. Amy is an advocate for increasing local healthy food access and is passionate about helping other farmers who share her mission to make healthier food available for more people.
AppHealthCare is able to provide resources and support to farm stands from the Advancing Equity grant received from the North Carolina Division of Public Health and Centers for Disease Control & Prevention.
If you are in the Vilas area of Watauga County, check out the Springhouse Farm Stand at 433 Silverstone Road to get your fresh flowers and vegetables while supporting our local economy. The farm stand is operated on an honor system and accepts cash, check, and Venmo.
To learn more about Springhouse Farm and Farm Stand, visit their website and Facebook page.
For additional information about AppHealthCare or other community resources and health-related data, please call our offices, Alleghany (336) 372-5641, Ashe (336) 246-9449, Watauga (828) 264-4995 or visit our website at www.apphealthcare.com and follow us on Twitter and Facebook.