Last Updated on November 18, 2013 8:12 pm
Over 90 tornado reports were recorded by the National Weather Service on Sunday November 17, 2013, according to preliminary data. Illinois, Kentucky, Indiana, Ohio & Tennessee were all impacted by the late year storms.
Local Red Cross chapters in those areas are working to meet the basic needs, while Red Cross for western North Carolina are on stand-by.
"Should Red Cross in the impacted states request volunteers the Heart of Carolina Region will send as soon as they ask." according to Leigh Brock the Regional Communications Director for American Red Cross – Heart of Carolina Region.
"The typical sequence of events is that they will call in help from the surrounding states, if they need it, then the states surrounding them… then the states surrounding them", adds Brock. "It's just more cost effective to call in people and supplies that are closer".
Assessors with Samaritan's Purse, based in Watauga County, have arrived in the hardest hit areas in Illinois, including Washington County and Gifford. At least 200 homes were damaged in Gifford, a town whose population is around 1,000 people.
Graphic courtesy of Storm Prediction Center/NWS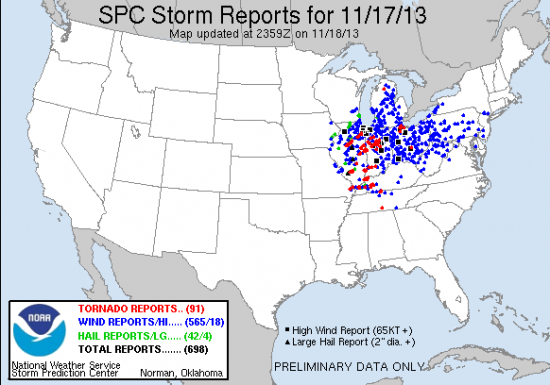 Graphics courtesy of USTornadoes.com