Last Updated on February 25, 2017 2:59 pm
Little Tikes Company is recalling approximately 540,000 units of the "2-in-1 Snug 'n Secure" pink swings manufactured during the time period of November 2009 and December 2013.
The plastic seat can crack or break leading to a possible fall hazard, according to the company. The company has received about 140 reports of the swing breaking, including 39 injuries to children including abrasions, bruises, cuts and bumps to the head. Two of the reported injuries included children with a broken arm.
This recall involves Little Tikes 2-in-1 Snug'n Secure pink toddler swings. The swings have a pink T-shaped restraint in front with a Little Tikes logo. The swing is suspended by four yellow ropes.  The model number 615573 is molded on the back of the swing seat and there is a manufacturing date code stamp on the back of the seat. The molded INNER arrow of the date code stamp points to "10", "11", "12" or "13", it is included in the recall.  In addition, swings with a date code stamp of "9" on the INNER arrow combined with "43" or higher number stamped on the OUTER are included in this recall. No other date codes or other colored swings are affected.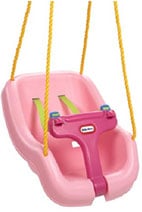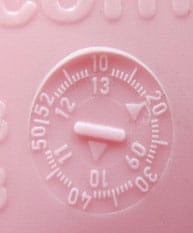 Consumers should immediately stop using the recalled swings and contact Little Tikes for a refund in the form of a credit towards the purchase of another Little Tikes product.
Sold By: Walmart, Toys "R" Us and other stores nationwide and online at www.littletikes.com and other websites from November 2009 through May 2014 for about $25.
Consumer Contact: For additional information, contact Little Tikes at www.littletikes.com, or for those without internet access phone: 1 – 855-284-1903 between 8 a.m. and 8 p.m. ET Monday through Friday.