Last Updated on September 27, 2015 6:44 pm
Cooler conditions and near constant rain provided a stark reminder that the change of seasons is upon us. With peak wind gusts between 20-30 mph, High Country motorist probably noticed the number of leaves already falling from the trees.
Boone officially recorded over an inch of rain on back to back days for the first time since May 2014, and for the first time in at least five years, three consecutive days with more than an inch was recorded. From Friday until 6am Saturday – 2 inches (which is now the second most rain for a Sept 26), Saturday until 6am Sunday – 1.85 inches, Sunday – 6am Monday – 2.65 inches.
The National Weather Service noted on Sunday morning that locations across Watauga County had recorded between 7.38 inches in Blowing Rock, to 1.14 in Valle Crucis for the 72 hour period ending just before 10am. High winds also resulted in power outages in at least one section of the Vilas community on Saturday night, according to social media reports.
Rainfall on Saturday Sept 26, 2015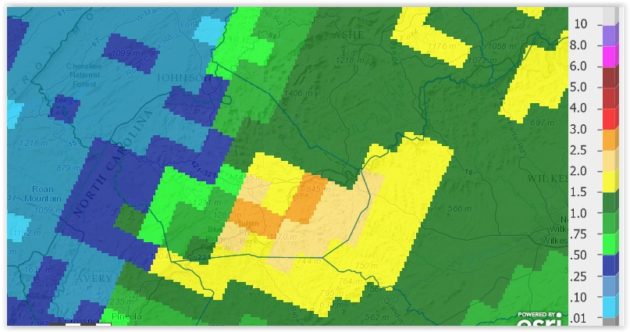 Rainfall on Sunday Sept 27, 2015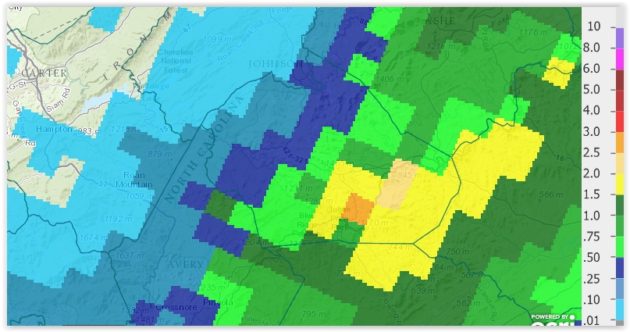 Graphic: National Weather Service Blacksburg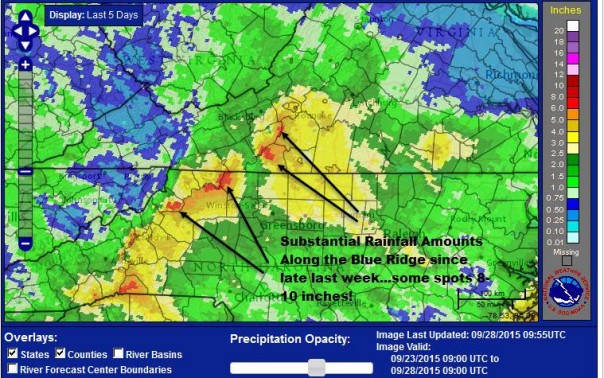 Data from NWS for the 72 hour period ending just before 10am Sunday
...WATAUGA COUNTY...

    7.38   BLOWING ROCK 4.4 NE COCORAHS
    5.73   BOONE RG (TVA)
    5.12   HOWARDS KNOB IFLOWS
    4.58   BOONE 1 SE COOP
    4.35   BLACKBURN KNOB IFLOWS
    3.91   BOONE 4.6 E COCORAHS
    3.49   FOSCOE 1.2 WSW COCORAHS
    3.08   SANDY FLATS IFLOWS
    2.11   SHAWNEEHAW FD IFLOWS
    1.67   WATAUGA R/FOSCOE IFLOWS
    1.14   VALLE CRUCIS COCORAHS