Last Updated on February 12, 2022 6:35 pm
2013 continues to be on pace to become the wettest year on record for Boone and Watauga County.
After more days of rain than not, the WataugaRoads.com weather station measured 24 days with rain, new records have been set for July.
The Boone 1 Se weather reporting station measured 18.15 inches of rain for the month. In the 34 years that station has been gathering data (starting on June 1, 1980) it's not only the most for a July but the most on record period.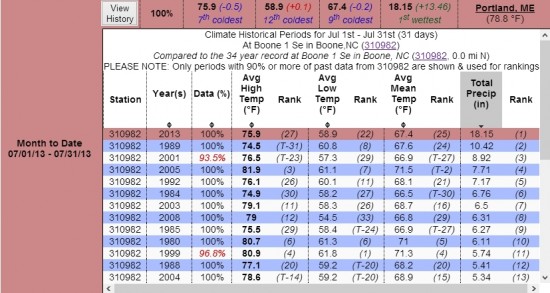 A previous official weather station for Boone recorded data from 1929 until 1980, and those records show that double digit rainfall amounts occurred only 3 other times for July:
1933 – 11.18
1941 – 13.05
1949 – 11.80
*it is possible of a fourth time in 1939 as the data for that month is incomplete*.
The highest yearly total on record for Boone from 1929-1980 is 82.79 inches recorded in 1979. For the period of 1980-2012 the highest yearly total is 69.54 in 2009.
*NOTE – some years have incomplete/missing data which could mean that those years totals are higher than the years with complete data. Example – 1940 was the year of the great flood but yearly totals only show 56.97. 77 days of data are missing for that year*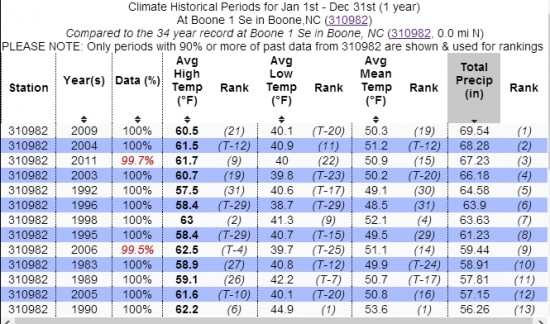 For 2013 Boone has recorded 60.59 inches, as of July 31. The year is on pace to break the 82.79 inches recorded in all of 1979.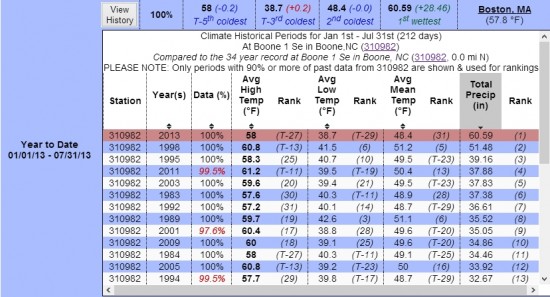 *data above courtesy of The Southeast Regional Climate Center*
Rainfall for July 2013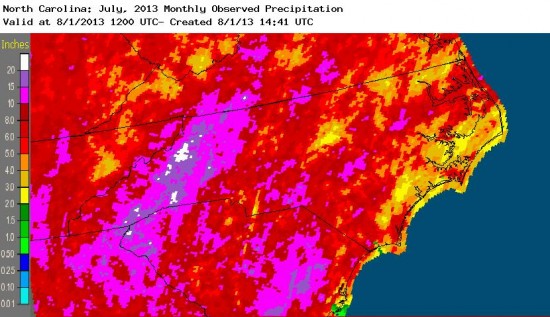 July 2013 departure from normal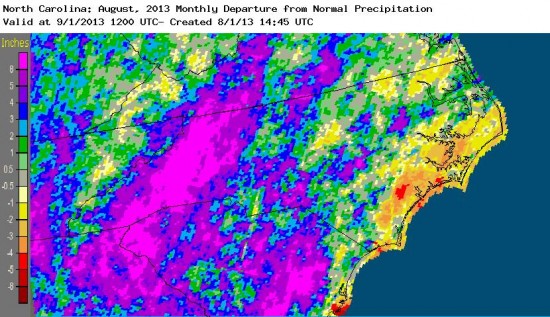 United States for July 2013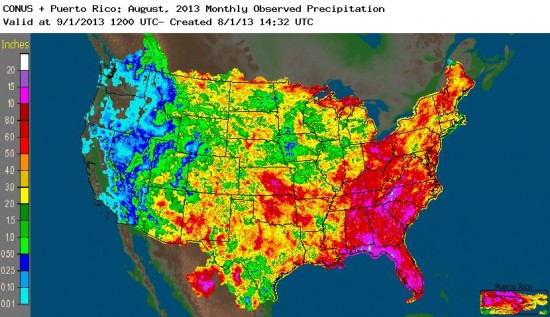 *data above courtesy of National Weather Service Advanced Hydrologic Prediction Service
The Watauga River also recorded flood levels at 12.58 feet on July 5 4:45am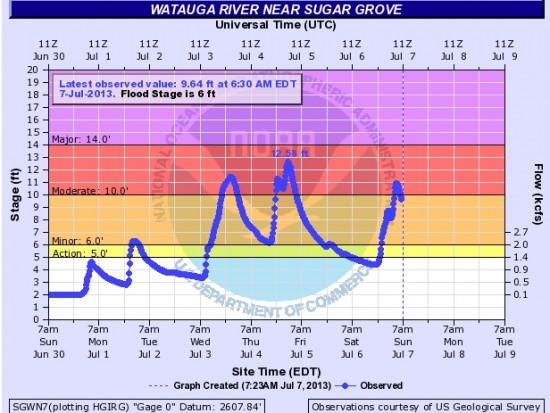 *Watauga River data courtesy of National Weather Service Advanced Hydrologic Prediction Service*