Last Updated on November 10, 2015 9:28 am
A good section of Watauga County received over 3 inches of rain on Monday alone, as low lying roads and bridges became flooded. According to the National Weather Service, seven measuring stations in the county recorded at least three inches of rain, while three more nearly did. For a full list of rainfall reports see below.
Many of the usual flood prone areas were already facing road closings by early afternoon. The Boone Mall parking lot facing 321, sections of Deerfield at the Moose Lodge, Bamboo near the airport, section of Roby Greene Road and most low water bridges were already under water by 2pm. Rain for most of the county started to subside in the 3pm hour, but flooding conditions continued for many until late Monday evening.
The Watauga River flood gauge peaked at 9.84 feet at 5pm Monday afternoon, flood stage begins for that station at 6 feet which occurred at 2:15pm.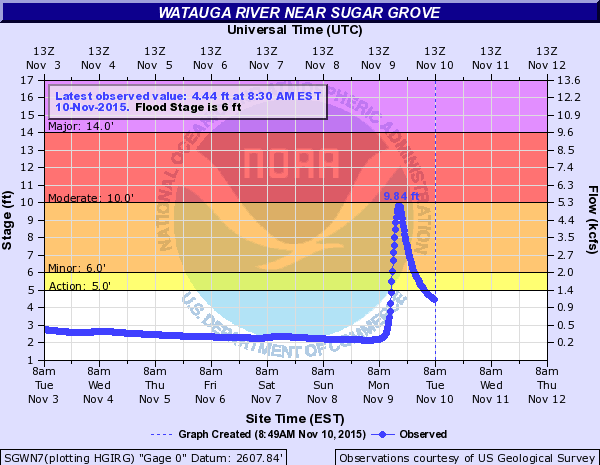 National Weather Service rainfall reports:
Station ID – Inches – Reporting Time
BOONE –  3.58 IN – 0823 AM 11/10
2 W BLOWING ROCK –  3.44 IN –  0826 AM 11/10
BLOWING ROCK 4.4 NE –  3.44 IN –  0700 AM 11/10
FOSCOE 1.2 WSW –  3.43 IN –  0645 AM 11/10
BOONE PRECIP (TVA) 2S –  3.41 IN –  0815 AM 11/10
3 SSE FOSCOE –  3.23 IN –  0826 AM 11/10
1 ESE BOONE –  3.23 IN –  0655 AM 11/10
WATAUGA RIVER/FOSCOE –  2.95 IN –  0650 AM 11/10
BLOWING ROCK 2.8 ENE –  2.75 IN –  0700 AM 11/10
VALLE CRUCIS –  2.64 IN –  0700 AM 11/10
BOONE 0.6 N –  2.30 IN –  0730 AM 11/10
BETHEL 2.5 N –  1.74 IN –  0700 AM 11/10
BEECH MOUNTAIN 1.2 SE –  1.47 IN –  0530 AM 11/10
1 NNW BEECH MOUNTAIN –  1.33 IN –  0829 AM 11/10