Last Updated on September 28, 2015 10:59 am
As more rain continues to fall the possibility of flooding issues is also rising. As of Monday morning WataugaRoads.com has not received any reports of flooding, but the National Weather Service is advising it seems most likely that a flood or flash flood watch will be issued by Tuesday morning.
A weather station in Blowing Rock has received over 10 inches of rain since Thursday, while Boone is over 7 inches. You can find total amounts below the video update below.
National Weather Service Monday morning update
Video Update – Brad Panovich, NBC Charlotte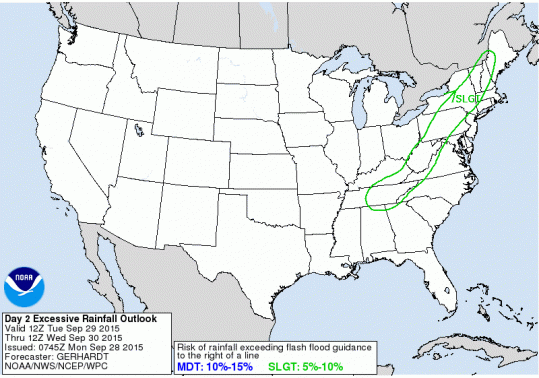 NATIONAL WEATHER SERVICE BLACKSBURG VA
902 AM EDT MON SEP 28 2015

THE FOLLOWING ARE UNOFFICIAL STORM TOTAL OBSERVATIONS FROM THURSDAY
NIGHT THROUGH MONDAY MORNING FOR THE STORM THAT HAS BEEN AFFECTING
OUR REGION.
...WATAUGA COUNTY...
   4 NE BLOWING ROCK    10.46   700 AM  9/28  COCORAHS
   BOONE PRECIP (TVA) 2  7.76   715 AM  9/28  GOES
   3 ESE BOONE           7.22   700 AM  9/28  COCORAHS
   5 E BOONE             7.00   745 AM  9/28  COCORAHS
   1 ESE BOONE           6.96   755 AM  9/28  AWOS
   BOONE                 6.70   758 AM  9/28  CWOP
   1 WSW FOSCOE          6.26   650 AM  9/28  COCORAHS
   2 NE BLOWING ROCK     6.00   522 AM  9/28  COCORAHS
   3 SSE FOSCOE          4.95   746 AM  9/28  CWOP
   5 SE BOONE            4.95   800 AM  9/26  COCORAHS
   HOWARDS KNOB          4.36   700 AM  9/28  IFLOWS
   3 ENE BLOWING ROCK    4.06   700 AM  9/28  COCORAHS
   1 N BOONE             3.45   730 AM  9/26  COCORAHS
   BOONE 1SE             2.65   700 AM  9/28  CO-OP OBSERVER
   2 W BLOWING ROCK      2.36   752 AM  9/28  CWOP
   1 SE BEECH MOUNTAIN   2.00   630 AM  9/26  COCORAHS
   1 NNW BEECH MOUNTAIN  1.65   759 AM  9/28  CWOP
   BLACK BURN KNOB       1.64   700 AM  9/28  IFLOWS
   WATAUGA RIVER/FOSCOE  1.38   750 AM  9/28  IFLOWS
   2 SSW VILAS           1.06   700 AM  9/28  COCORAHS
   1 SSE VALLE CRUCIS    0.57   800 AM  9/25  COCORAHS
   3 N BETHEL            0.53   700 AM  9/25  COCORAHS