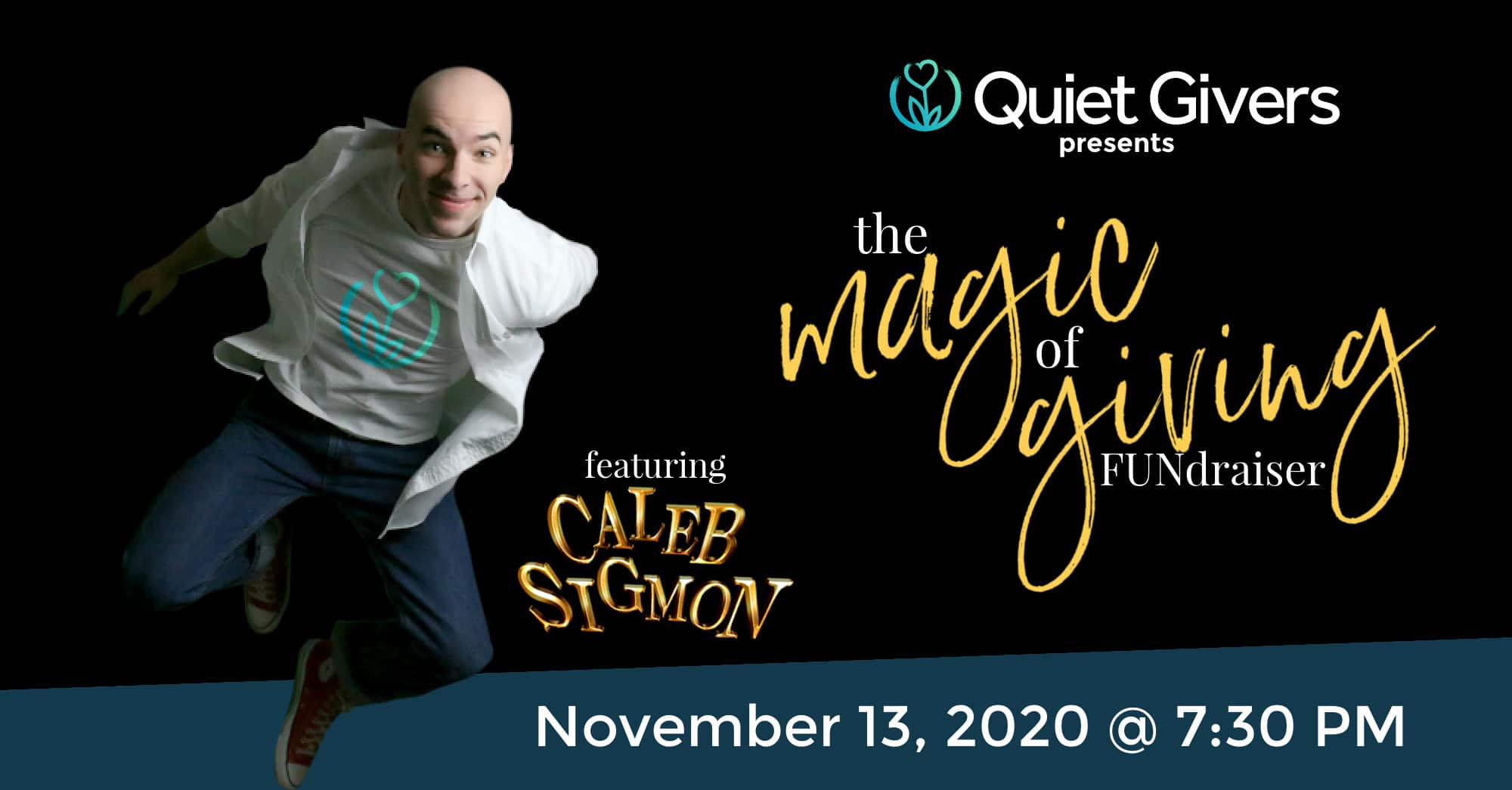 Last Updated on November 5, 2020 10:06 am
BOONE, NC – Quiet Givers will present its first annual "Magic of Giving" FUNdraiser on November 13 at 7:30 PM exclusively on Facebook Live.

This interactive magic show will feature nationally acclaimed magician, Caleb Sigmon, and will raise funds for Quiet Givers' mission to catch needs that fall through the cracks in our area by filling needs that other organizations aren't able to fill. Originally from Hudson, North Carolina, Sigmon is an Illusionist, Comedian and Speaker that travels with his one-man-show across the nation sharing theatre and magic, and has brought amazement and laughter to millions of people throughout the country.
"We're very excited about our first ever fundraising event." Said Executive Director, Matthew Lucas. "While we wish that we were able to hold the event in person, we're thrilled to be able to bring this show into folks' homes for a safe, socially distanced evening of family fun that everyone can enjoy."

The event is free to watch, but Quiet Givers is asking for a suggested donation of $10 to the organization.
"I'm honored to lend my special blend of magic to the Quiet Givers' cause." Said Sigmon. "This organization does such important work in the High Country, literally creating true-life miracles for the people it serves. Our virtual show will be a really fun way to celebrate and support that. We'll share a night of wonder, laughter, and real magic through giving."
"We've seen a 184% increase in needs over last year, and the year isn't over yet." Lucas said. "2020 has been a year of unprecedented need and we hope this fundraiser will allow us to bring a little joy into the world, while helping us continue to grow and fulfill our mission of helping folks in need in our area who have nowhere else to turn. We think this is really going to be something special"
To view the show, visit https://www.facebook.com/quietgivers on Friday Nov. 13 at 7:30 PM. The event will be live and fully interactive.
Quiet Givers collaborates with other non-profits, organizations, churches, and government agencies to fill needs that cannot be filled through the current social safety net. So far in 2020 they have filled over 140 needs impacting over 700 people in Watauga, Ashe, and Avery counties – paying rent, utility bills, car repairs, and other necessities for people who have fallen on hard times through the act of anonymous giving. You can learn more by visiting www.quietgivers.org.