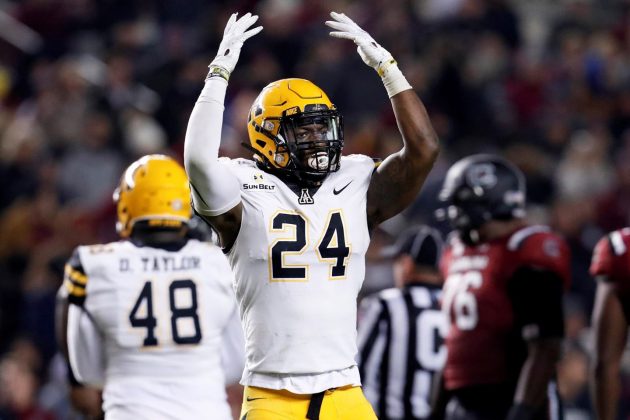 Last Updated on November 30, 2019 9:56 am
POSTGAME NOTES:

App State is the first Sun Belt team to win eight of its first nine games of the season since Troy in 2016.

App State claimed its first win over a team in the SEC at the time of the game. (The Mountaineers beat the Gamecocks 39-34 in 1975 when South Carolina was an independent)

App State is the first Sun Belt team with two P5 wins in a season.

App State is the first G5 team with two P5 road wins in a season since 2013, when ECU won at UNC and NC State and Northern Illinois took down Iowa and Purdue on the road.

Since the Sun Belt was established in 2001, App State is the seventh G5 team with two P5 road wins in the same season. In addition to ECU and Northern Illinois in 2013, the other four are 2009 Houston (Oklahoma State, Mississippi State), 2009 TCU (Virginia, Clemson), 2001 Bowling Green (Missouri, Northwestern) and 2001 BYU (Cal, Mississippi State)

The Mountaineers are the first team to win road games at North Carolina and South Carolina in the same season since Clemson in 1991.

App State gave South Carolina its first home nonconference loss since 2017 (Clemson) and first to a team not named Clemson since 2015 vs. The Citadel.

Since 2015, counting bowl games but not season openers, App State improved to 22-0 in games in which it had more than a week to prepare.

App State improved to 11-1 in games on ESPN2.

Since moving up to the FBS level in 2014, App State is 23-11 on the road, putting the Mountaineers in a tie for fourth place nationally for the most road wins in that span, even with Ohio State's 23. Clemson has 25, followed by Oklahoma and Boise State with 24 apiece.

DEFENSE

App State allowed just 21 rushing yards on 27 Gamecock attempts, the fewest rushing yards allowed by the Mountaineers since holding Texas State to 14 rushing yards on Nov. 5, 2016.

True freshman Nicholas Ross intercepted a pass for the first time in his career and returned it 20 yards for his first career touchdown.

Josh Thomas registered a career-high 10 tackles.

Akeem Davis-Gaither tied career highs with 2.5 TFLs and 1.0 sack.

App State broke up 11 passes, with Desmond Franklin posting three PBUs and two apiece coming from Shemar Jean-Charles, Akeem Davis-Gaither and D'Marco Jackson.

OFFENSE

Zac Thomas improved to 18-3 as App State's starting quarterback.

Darrynton Evans posted 158 all-purpose yards to give him 1,269 for the season.

Zac Thomas improved his career total to 15 rushing touchdowns, including his fifth one this season.

SPECIAL TEAMS

Chandler Staton had two field goals, including a season-long effort of 47 yards, and he's now 14-for-17 on field goals in road games during his career. One of the misses was a 56-yard attempt at the end of regulation in the 2018 opener at Penn State.

Jalen Virgil had a career-long kick return of 57 yards to set up App State's third-quarter touchdown. He has four career kick returns, including a 41-yarder against Charlotte.